The first Regional Transport Aircraft (RTA) to be built in India will cost at least $2 billion, according to the director of the National Aerospace Laboratories (NAL).
In an interview, Dr. Abhay A. Pashilkar, director of NAL, stated that the 90-seater RTA will be operated by a special purpose vehicle at an estimated cost of $2 billion.
According to Dr. Pashilkar, full-scale engineering development typically costs $1 billion, after which industry will handle production.
"As a result, generally speaking, a clean sheet design costs around $2 billion to develop. Therefore, the derivative design, where we use an existing aircraft, would probably be less expensive in that sense, but that is just a rough estimate."

Dr. Abhay A. Pashilkar, director of NAL
Dr. Pashilkar explained the project's current status as follows:
"We are currently in the project definition phase, which began in April and will conclude in September of this year. We will provide the government with a detailed project report once the project definition phase is completed."
"The detailed project report essentially contains what needs to be made, designed, how it needs to be done, and who can work on this project in India and abroad."
"So, once that report is accepted by the government, full-scale engineering development will begin. So, expect that to be addressed after the detailed project report is released," he added.
Dr. Pashilkar also stated that the RTA will be developed in collaboration with private sector companies as well as Hindustan Aeronautics Limited (HAL) and the Defence Research and Development Organization (DRDO).
"Because it is a larger aircraft, we intend to develop it in a partnership mode from the start for the RTA. So, we currently have HAL and the DRDO as partners in the conceptual design stage, and we are actively looking for the industry, both in India and abroad, to come forward and become a partner in the supply chain, design development, and, eventually, production after the aircraft is certified."

Dr. Abhay A. Pashilkar, director of NAL
Dr. Pashilkar explained the Saras MK II development status, saying, "SARAS MK II, which is our big project right now, is currently in detailed design, and very soon we should start getting drawings, after which we will get it fabricated in India."
"We expect that once the drawings are released, we will gradually begin our manufacturing process, and we should have the components coming together sometime next year, and we will then be able to essentially roll out the aircraft, and once that is complete, then the flight testing part will begin," he added.
The Saras MK-2 Aircraft is the first Indian multi-purpose civilian aircraft designed by the CSIR-NAL in the light transport aircraft category.
According to NAL, the 19-seat multi-role light transport aircraft will be ideal for commuter connectivity under the government's region connectivity UDAN scheme for a variety of applications such as air taxi, executive transport, light package carrier, border patrol, air ambulance, and other community services.
Dr. Pashilkar also stated that HAL will produce a total of 15 aircraft, with a projected completion date of 2026.
Last week, an Indian private defence company called 'Paras Defence' signed a contract with NAL to supply an avionics suite worth Rs 64 crore for the Saras MK II.
In addition, the NAL is working on another aircraft project, the HANSA-NG, a two-seater trainer aircraft for civilians aspiring to be commercial aviation pilots.
"We have been working on a two-seater HANSA aircraft, the HANSA Next Generation or NG," said Dr. Pashilkar.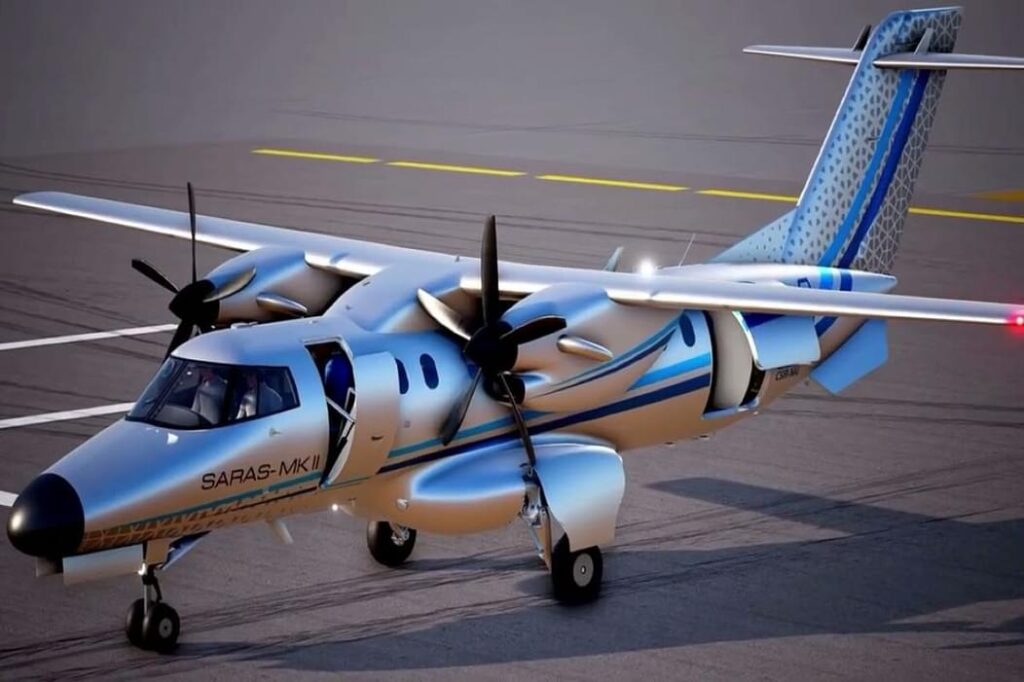 "This aircraft is intended for initial training, which means that it is intended for all young pilots or those who want to become pilots and obtain a commercial pilot licence."
"We just finished all of the testing and design last year, and we're just waiting for the final type certificate from the Indian DGCA (directorate general of civil aviation)."
Also read:
Oman Air Celebrates Its 30th Anniversary | Exclusive
Air India to Provide TUMI Amenity kits for First and Business Class Passengers
Follow us on Google News for latest Aviation Updates
Join us on telegram group
Stay tuned…