FLORIDA- On August 12, 2023, Atlanta-based Delta Air Lines (DL) flight from Atlanta Airport (ATL) to Key West (EYW) operated by Airbus A319 experienced a bird strike upon landing at Key West Airport.
Further, the airline currently operates four daily flights between ATL and EYW.
Delta A319 Bird Strike
The Federal Aviation Administration (FAA) has reported the incident and stated that "A Delta A319 aircraft encountered a bird strike upon landing, resulting in damage to the aircraft's nose in Key West, Florida."
Now let us establish a flight timeline with the help of FlightRadar24 (FR) data.
According to FR24, the Delta (DL) flight DL2408 from Hartsfield-Jackson Atlanta International Airport (ATL) at around 1:19 PM UTC. After completing a flight, the plane landed at Key West International Airport (EYW) at 2:53 PM UTC.
The flight remained airborne for almost one hour and 30 minutes, but upon landing, the aircraft was hit by a bird. Following this, the aircraft nose was mildly damaged.
The aircraft involved in the incident is Airbus A319-114, registered as N363NB. Further, it is a 20.9-year-old aircraft delivered to Northwest (NW) in 2002.
The Delta TechOps did a great job and repaired the aircraft in just two hours. The aircraft was then ready for its return flight back to Atlanta.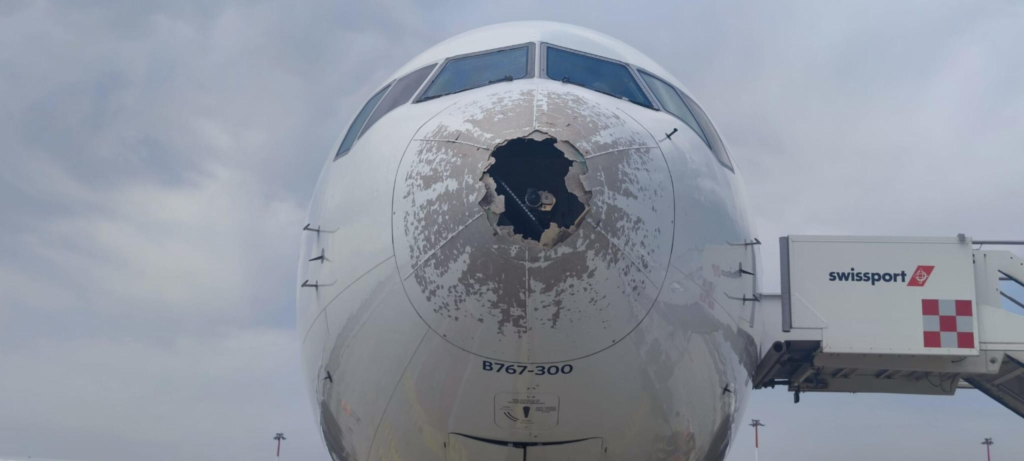 Similar Incident
On July 24, 2023 (Today), Atlanta-based Delta Air Lines (DL) flight from Milan (MXP) to New York (JFK) diverted to Rome (FCO) amid hailstorm damage.
The Delta flight DL185 was operated by the Boeing 767. Further, it landed safely in Rome and is preparing to continue its flight to New York JFK. But a few minutes before publishing this post, Delta Canceled the flight.
As per the data from Flight Radar 24, Delta flight DL185 took off from Milan Malpensa Airport (MXP) at 10:51 AM UTC. A couple of minutes later, after takeoff, the flight, instead of heading towards the west, went southward, towards Rome.
If we analyze the data from FR24, the flight speed remained the same shortly after takeoff and, at one point, dropped. This can be possible due to a bird strike or hailstorms.
According to reports, the Delta 767 was damaged by the hailstorms and received severe damage shortly after takeoff from Milan.
Stay tuned with us. Further, follow us on social media for the latest updates.
Also Read: US Airlines, Including American, United, Delta, and Southwest, want you to Dress Properly – Aviation A2Z
Join us on Telegram Group for the Latest Aviation Updates. Subsequently, follow us on Google News.