JAIPUR- Tata-owned Air India (AI) Group unveiled its new branding on August 10, 2023, unveiled its new branding, it got mixed reviews from the media, experts, and avgeeks, but we asked a planespotter about his Point of View (POV).
Harsh Tekriwal, a renowned planespotter using the name Avgeek with Lens on social media, shared his thoughts. He wrote this opinion himself and is independent of Aviation A2Z.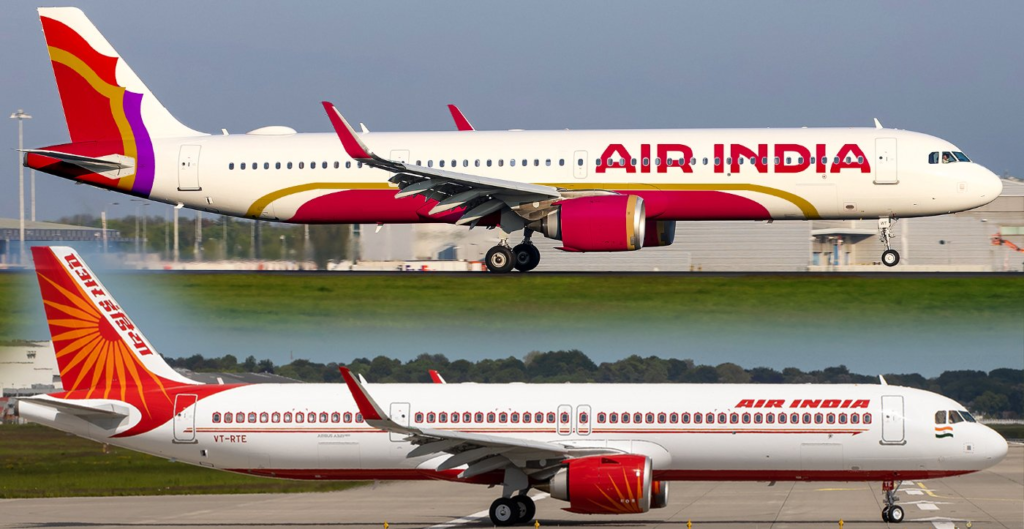 Air India Rebranded: Planespotter POV
The new livery and logo of Air India were a letdown, but the new cabin looks very impressive. There was an expectation from Tata to introduce a new and elegant look considering the importance of Air India to them.
Further, when they picked FutureBrand for rebranding, my expectations were high as they had done an impressive rebranding for Fiji Airways (FJ), Air Tahiti (VT), and American Airlines (AA).
If you look at the livery of Fiji Airways and Air Tahiti, FutureBrand has picked up symbols and designs from their culture and incorporated them into their livery. I was expecting something similar for Air India as well.
During the launch event, when they first showed the Jharoka frame, I was happy that they were retaining it. But the way it is used in the livery and logo is weird.
The Jharoka frame can easily be mistaken as a bird or something else in the logo and livery. The purple color with red and gold looks very odd, and even the font they have chosen doesn't look appealing.
When I see the livery as a whole, it just looks like someone has put up a sticker on the tail and the belly of the aircraft. It doesn't look like Tata has put much thought into the logo and livery of the airline.
Similarity with Asiana Airlines
The choice of colors and logo looks very similar to Asiana Airlines (OZ). Just like Asiana Airlines, even Air India has a similar-shaped symbol on the top right corner of the name, which is the top half of Jharokha for Air India.
For choice of colors, Asiana has red, yellow, purple, and gray, which are also the choice of colors for Air India, except there is no gray and gold instead of yellow. Many avgeeks have also pointed out that the livery looks very similar to Iberia Airlines.
One of the big disappointments for me was that the new livery didn't have the Devanagari script which they have on the current livery. On the contrary, I was hoping that Air India could have used scripts of other Indian languages and English.
For example, one aircraft has Air India in English and Hindi, other aircraft in English and Tamil, and like that, Urdu, Bengali, Telugu, Malayalam, etc. Having different Indian language scripts on different aircraft would have shown the diversity of our country.
I even shared this idea on Twitter a month back which was received well with some criticism from those who think Hindi is the only national language of India, which is not. Many Middle Eastern and Chinese airlines also have airline names written in their local language and English.
Lack of Innovation
The new logo looks like they have taken a few elements like the Jharokha frame, red color, and purple color and simply put these elements together and presented it. Instead, they should have worked with these elements to create something.
For instance, they could have Magenta as the theme color, which is a combination of red and purple instead of having both.
Then they could have the whole Jharokha frame as a logo, and inside Jharokha, they could have some design/pattern related to their mission statement/vision.
With only the Jharokha frame as their logo on the livery, they could also have a few special liveries by adding different domestic and international monuments inside Jharokha.
Some Positives
However, I really liked the interiors shown in the rendered video by Air India. Apart from this, I loved that they retained the iconic Maharaja there. I would have loved it more if they have actually position Maharaja in the mainstream brand.
Overall, I am pretty disappointed with Logo and livery; the lack of innovation by leading global brands is not expected. But anyway, we don't have much choice but to accept it. I hope the New Air India Express Livery will be more innovative, elegant, and classic.
I look forward to capturing the first aircraft with this new livery and enhancing my portfolio.
This is just my first impression and opinion, and I have no intention of damaging the reputation of the airline and brand.
Written By: Harsh Tekriwal, Edited By:- Bhavya Velani
Follow Him Here: Harsh Tekriwal (@avgeekwithlens) • Instagram photos and videos and (1) Harsh Tekriwal (@avgeekwithlens) / X (twitter.com)
Stay tuned with us. Further, follow us on social media for the latest updates.
Also Read: Indian Students Deported Back to Delhi from USA on Delta Flight – Aviation A2Z
Join us on Telegram Group for the Latest Aviation Updates. Subsequently, follow us on Google News.