LOS ANGELES- Atlanta-based Delta Air Lines (DL) flight from New York (JFK) to Los Angeles (LAX) has declared a general emergency. Further, it circles over the pacific ocean near the long beach coastal area.
The Delta flight is operated by a 22.6-year-old Boeing 767-400ER, registered as N838MH. The exact reason for this emergency is unknown at the time of writing this article.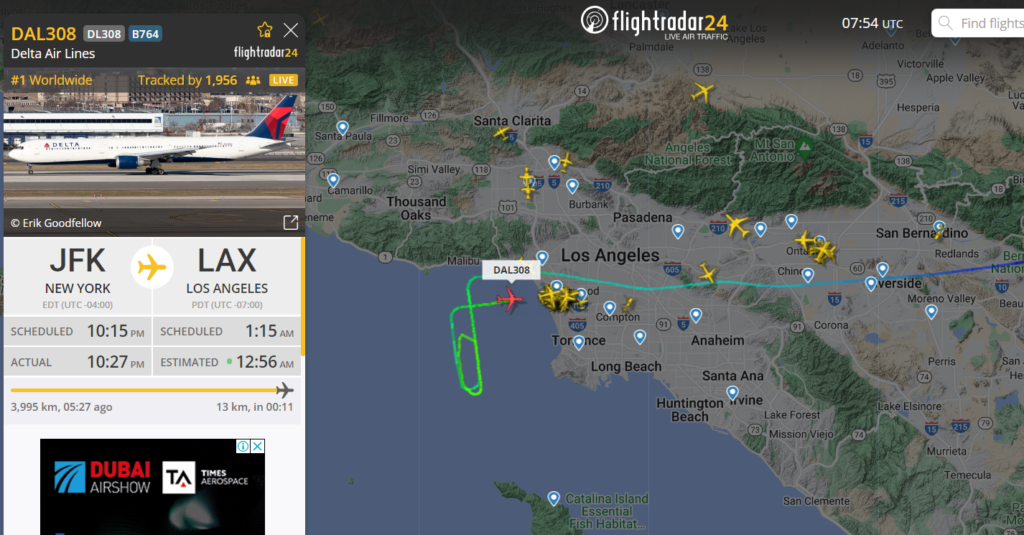 Delta Los Angeles Flight Emergency
The FlightRadar24 data shows that Delta flight DL308 took off from New York (JFK) at 2:27 AM UTC. After being airborne for almost five hours and 10 minutes, the flight declared an emergency.
The flight then made a couple of loops over the pacific ocean and is aligning with the runway to land at LAX.
The flight landed safely at 7:57 AM UTC. More details are awaited, so stay tuned.
Similar Incident
On August 2, 2023, Chicago-based United Airlines (UA) flight from Dulles International Airport (IAD) in Washington to London Heathrow (LHR) made a U-turn due to a problem with the landing gear.
Further, the United Airlines 22.3-year-old Boeing 767 operated the flight. It is registered as N676UA.
Federal Aviation Administration (FAA) officially reported,
United Airlines Flight 924 safely executed a return to Dulles International Airport after the flight crew notified of a landing gear concern at approximately 2:35 a.m. local time on Thursday, August 3. Subsequently, the passengers disembarked on the taxiway and were transported to the terminal via buses. The Boeing 767, originally en route to London Heathrow International Airport, was involved in the incident.

FAA Statement
Stay tuned with us. Further, follow us on social media for the latest updates.
Also Read: US Airlines, Including American, United, Delta, and Southwest, want you to Dress Properly – Aviation A2Z
Join us on Telegram Group for the Latest Aviation Updates. Subsequently, follow us on Google News.