TEXAS- American Airlines (AA) has finalized a firm order for seven brand-new Embraer E175s, solidifying their ongoing partnership with the Brazilian aerospace company at Paris Air Show 2023.
America's wholly-owned subsidiary, Envoy Air, will operate these state-of-the-art planes. With deliveries scheduled to commence in the fourth quarter of 2023.
Further, Envoy Air's E-Jet fleet will surpass 141 aircraft by the end of 2024. Subsequently, the contract, valued at $403.4 million at list price, will contribute to Embraer's 2023 second-quarter backlog.
American Airlines Orders Embraer E175s
Pedro Fábregas, President & CEO of Envoy, expressed his excitement for the expansion
He stated, "Our journey with Embraer began 25 years ago with the ERJ145. Subsequently, our partnership continues to grow today as we take these additional aircraft and grow our all-Ejet fleet."
"Not only are our customers happy with the aircraft, but the jet's outstanding performance and reliability have allowed us to continue providing excellent service to American Airlines and the thousands of customers we serve daily," added Pedro.
This latest order underscores the E175's vital role in enhancing connectivity throughout the United States. Particularly in the face of regional sector challenges.
Arjan Meijer, CEO and President of Embraer Commercial Aviation expressed gratitude towards American Airlines and Envoy for their longstanding partnership.
Meijer highlighted the impact of the E175, describing it as a "hardworking aircraft" that provides essential service and acts as an economic lifeline for communities across North America.
With over 620 aircraft sold and an 86% market share since 2013, the E175 has become the backbone of the US regional network.
Comfort and Efficiency
Since its introduction to North America in 2005, the E175 has risen to prominence due to its exceptional comfort, high performance, and efficiency.
Embraer's trademark two-by-two seating configuration ensures passengers a more enjoyable travel experience with no middle seats. The E170/E175 fleet has accumulated over 18 million flight hours worldwide. Subsequently, Envoy alone contributed 1.1 million flight hours.
Embraer, headquartered in Brazil, is a renowned global aerospace company that manufactures aircraft for commercial, executive, defense, security, and agricultural purposes.
The company's extensive range of products is complemented by a comprehensive network of after-sales services and support provided by wholly owned entities and authorized agents worldwide.
With a rich history dating back to 1969, Embraer has delivered more than 8,000 aircraft. Which take off every 10 seconds on average, transporting over 145 million passengers annually.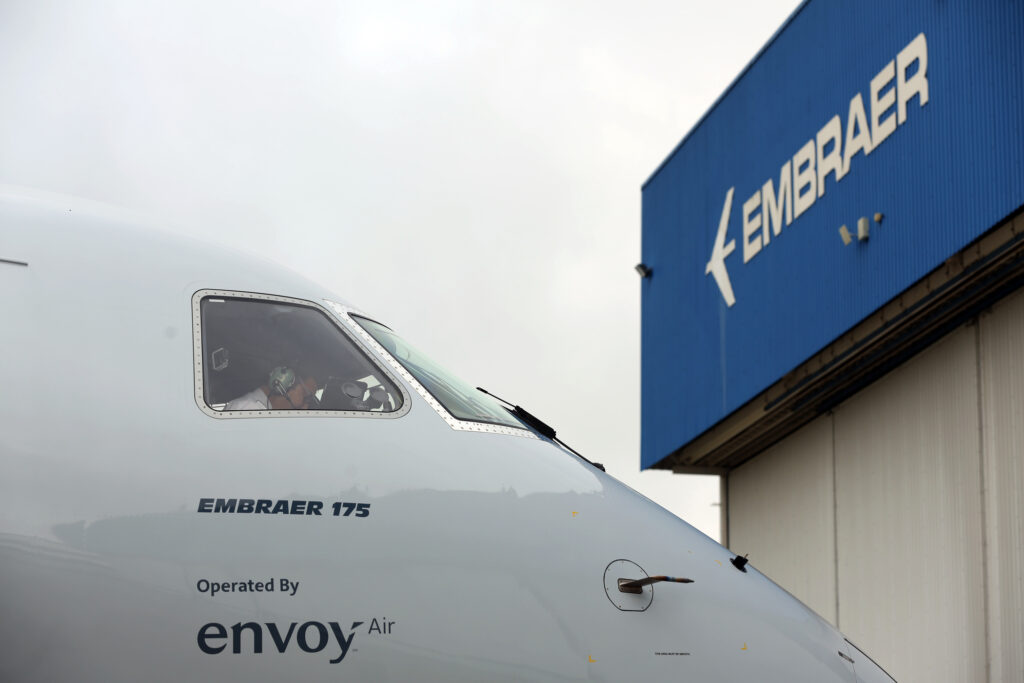 About Envoy Air
Envoy Air Inc., a wholly-owned subsidiary of American Airlines Group, operates a fleet of more than 130 Embraer aircraft. It is serving over 160 destinations across the United States, Canada, Mexico, the Bahamas, and the Caribbean.
Envoy has a dedicated team of 19,000 employees and provides regional flight service under the American Eagle brand. Further offers ground handling services for numerous American Airlines Group flights.
Founded in 1998 through the merger of several regional carriers. Envoy has become one of the world's largest regional airlines.
Headquartered in Irving, Texas, it operates hubs in Dallas/Fort Worth, Chicago, and Miami. With a significant ground-handling operation in Los Angeles.
In conclusion, American Airlines' latest order of seven Embraer E175s signifies the airline's commitment to expanding its fleet. Further providing exceptional service to passengers.
These cutting-edge aircraft will contribute to the growth of Envoy Air's all-Ejet fleet. Further, enhance connectivity across the United States.
With a strong partnership between American Airlines and Embraer, the E175 has become preferred for its outstanding performance and comfort. Subsequently, for efficiency, it solidifies its position as a backbone of the US regional network.
Stay tuned with us. Further, follow us on social media for the latest updates.
Also Read: US Airlines, Including American, United, Delta, and Southwest, want you to Dress Properly – Aviation A2Z
Join us on Telegram Group for the Latest Aviation Updates. Subsequently, follow us on Google News.