Two SpiceJet pilots were grounded after carelessly celebrating Holi while flying. While enjoying gujhiyas on a trip from Delhi to Guwahati last Wednesday, the two held a cup of liquor above the flight deck's center console, where even a small spillage may have jeopardized safety.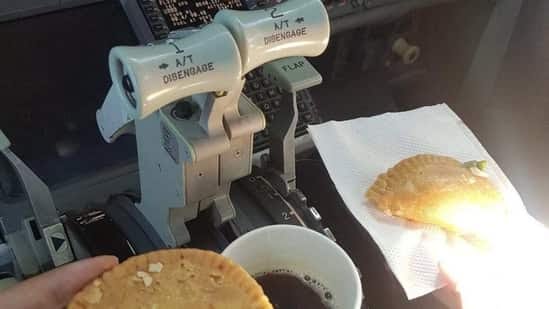 After a photo of the celebration at 37,000 feet while the plane was traveling at 0.79 mach (975 kmph) went viral, the Directorate General of Civil Aviation (DGCA) on Tuesday demanded the airline quickly identify and prosecute the crew members. In accordance with the directive, the airline off-rostered (removed from flying duties) the pilots a day later.
"Both pilots have been deactivated pending an investigation. SpiceJet has a stringent regulation concerning food eating in the cockpit, which is followed by all flight crew. Following the completion of the investigation, appropriate disciplinary action will be taken."

a SpiceJet spokeswoman stated
Veteran pilots have raised their alarm about the dangerous celebration. "The coffee cup has been placed on the aircraft's fuel levers on the center console. The engine and (auxiliary power unit) fire control switches are located just below. If the coffee spills and falls on the fire panel, it could cause a short circuit, resulting in a false fire alarm. The team must release fire bottles and declare an emergency. "The expense to the company will be exorbitant," a senior pilot predicted.
The main computer interface, critical flight controls, engine control, and all communication systems are located on the central pedastel shared by the two pilots.
"This is not a storage facility. Liquids can produce a short circuit and loss of control/communication in this environment. "The central pedestal is crammed with switches, all of which are important for a safe flight," claimed another senior captain.
Also read:
Salman Yusuff Khan claims he was harassed, and asked to speak in Kannada at Bengaluru airport. Watch
Follow us on Google News for the latest Aviation Updates
Join us on the telegram group
Stay tuned…