Mumbai- The leading middle east carrier, Emirates (EK), has changed its livery after more than 24 years. At Dubai International Airport, Emirates presented a new livery and a freshly painted Airbus A380 (DXB).
The airline's president sir Tim Clark following the unveiling of new livery stated,

"Aircraft livery is the most readily recognised brand real estate for any airline. It's a visual expression of our distinct identity, something we proudly wear and display in every city we visit throughout the world. We're modernising our livery while retaining crucial components of our identity, like as the UAE flag on our tailfin and Arabic calligraphy."

Sir Tim Clark, President of Emirates Airline
Emirates unveiled the new livery
Plane spotters and enthusiasts with keen eyes will notice modifications to the tailfin and wingtips right away. The UAE flag on the Emirates tailfin is considerably more dynamic and flowing with 3D effect artwork in this current design.
The wingtips have been painted red with the Emirates emblem in Arabic calligraphy "popping" out in reverse white. Guests with window views onboard will notice the UAE flag colors painted on the wingtips facing the fuselage.
The characteristic gold "Emirates" lettering in English and Arabic over the main body is also bolder and 32.5% larger. Emirates has kept its trademark red branding on the aircraft belly, which it launched in 2005. The URL "Emirates.com" has been removed from the design.
Changes after 24 years
Emirates' official aircraft brand colors have been updated for the third time. With the delivery of Emirates' first Boeing 777-300 at the 1999 Dubai Airshow, the original livery debuted with the airline's establishment in 1985 and received its first refresh 14 years later.
The first aircraft to wear Emirates' new livery is A6-EOE, an Airbus A380 that was overhauled at Emirates Engineering this week. On March 17, it will make its inaugural flight to Munich as flight EK51.
The refreshed livery is expected to be on 24 aircraft, including 17 Boeing 777s, by the end of 2023. The new livery will be gradually applied across the rest of the existing Emirates fleet. The first Airbus A350 to join the fleet in August 2024 will be the first of all future Emirates aircraft to be delivered in this new livery.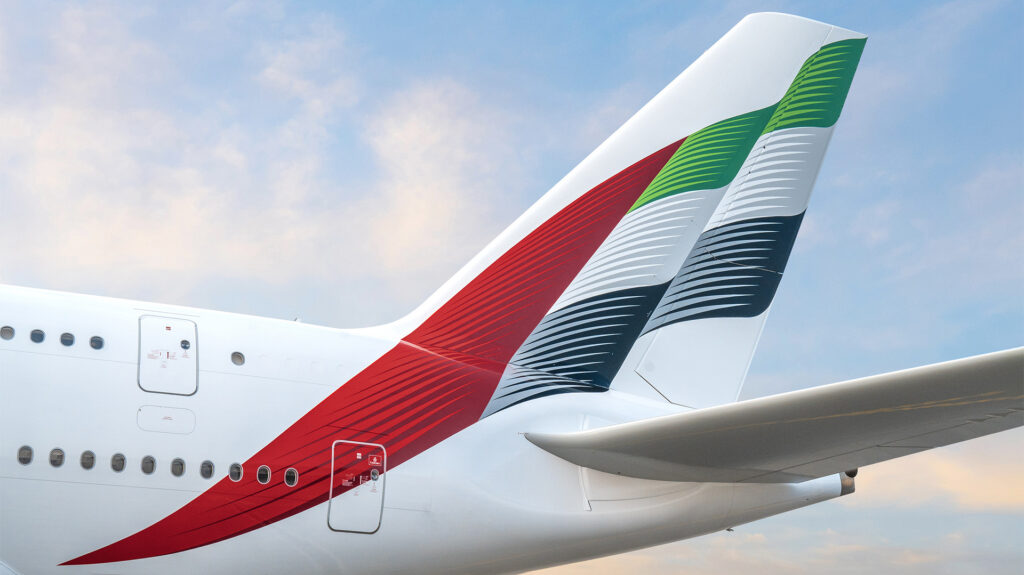 British design firm Negus & Negus created Emirates' initial livery in 1985. The airline's internal design team developed the colors for all of its succeeding planes. Emirates' numerous vibrant and striking aircraft liveries have included custom designs over the years to promote sponsored brand linkage and for important occasions like the UAE's 50th Jubilee livery and Expo 2020 Dubai.
Also read:
Spicejet Grounded Two Pilots For Celebrating Holi Inside Cockpit | Exclusive
Follow us on Google News for the latest Aviation Updates, and Join us on the telegram group
Stay tuned!