In its first seven months of operation, the airline has achieved this. Kolkata has just been added as Akasa Air's 17th destination.
Akasa Air
Further expansion of the airline's network won't come as a surprise to those who have been following its growth narrative thus far. An additional accomplishment for the carrier is that it now serves all Indian metropolises thanks to the addition of Kolkata.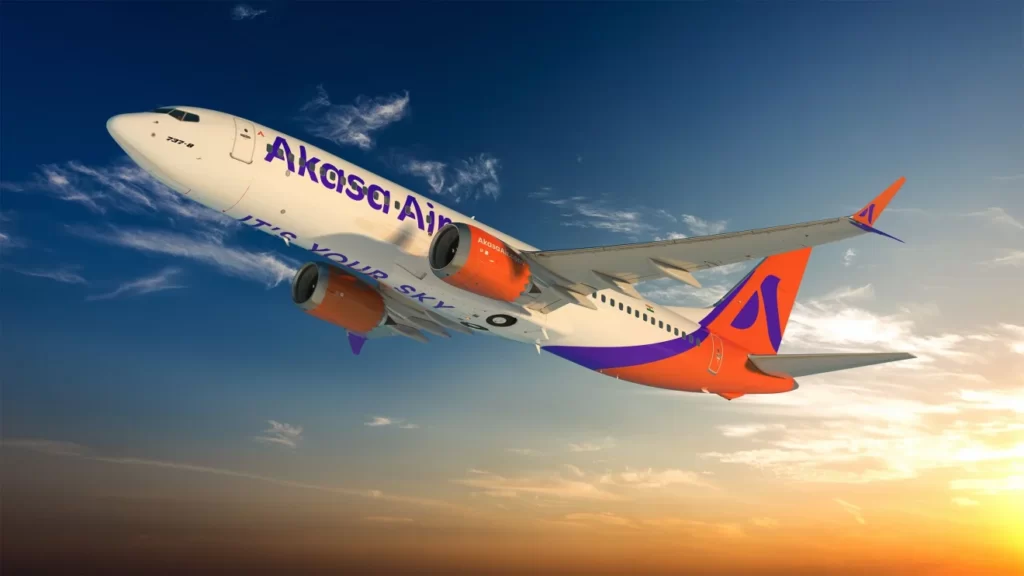 Akasa Air has added Kolkata to its network map and will begin daily nonstop flights on May 18 connecting the East Indian metropolis with Bengaluru and Guwahati.
Akasa's 17th destination is Kolkata
Akasa Air has quickly spread throughout India, flying to both large and small cities, and has reached every part of the nation.
But, the addition of Kolkata is notable because it elevates Akasa to the list of all other significant Indian airlines that serve all critical Indian cities. Within seven months of beginning operations, the airline has accomplished this. Akasa Air's co-founder and chief commercial officer, Praveen Iyer, said,
"As the nation's fastest-growing airline, we are happy to add Kolkata to our constantly developing network and firmly cement our position in all metro areas of the nation. Kolkata is a city that draws a lot of interest from tourists since it is India's most significant center of history, art, and culture. The Akasa network will now connect important East Indian cities with these flights, offering improved connectivity on route segments that are in high demand.
Akasa's flights to and from Kolkata will operate according to the following schedule from May 18th:
| Flight Number | From | Departure Time | To | Arrival Time | Operating Days | Non-stop/Through |
| --- | --- | --- | --- | --- | --- | --- |
| QP 1377 | Bengaluru | 14:30 | Kolkata | 17:15 | Daily | Non-stop |
| QP 1377 | Kolkata | 17:55 | Guwahati | 19:05 | Daily | Non-stop |
| QP 1371 | Guwahati | 19:45 | Kolkata | 21:10 | Daily | Non-stop |
| QP 1371 | Kolkata | 21:50 | Bengaluru | 00:15 | Daily | Non-stop |
Akada Air | aviationa2z. com
Since its founding in August 2022, Akasa Air has carried over 1 million paying passengers and achieved the milestone of doing more than 700 flights every week. In India, there are eight tier 1 city, and Akasa now has access to every one of them through its network. The other major cities are Delhi, Mumbai, Chennai, Bangalore, Hyderabad, Ahmedabad, and Pune, in addition to Kolkata.
Bhubaneshwar, Cochin, Guwahati, Agartala, Visakhapatnam, Lucknow, Goa, Bagdogra, and Varanasi make up the remainder of the Akasa network at the moment.
Also read
Akasa Air is fortunate that the law requiring an Indian airline to operate for five years domestically before expanding abroad has been abolished by the relevant authorities. But, the second restriction—that a carrier must have a fleet of at least 20 aircraft to be qualified to fly internationally—remains in place. And Akasa is rapidly closing in on that goal.
A glance at ch-aviation reveals Currently, Akasa is flying 19 Boeing 737 MAX 8s equipped with LEAP-1B engines. 53 more aircraft from the order placed in November 2021 still need to be delivered.
Akasa's Boeing 737 MAX aircraft
Akasa co-founder and head of operations Neelu Khatri discussed the airline's aspirations for international travel during an exclusive interview with Easy Flying last week. Although Akasa's Boeing 737 MAX aircraft can fly for up to six hours, the airline will begin with Middle Eastern and Southeast Asian routes later this year.
It will be intriguing to see Akasa enter the game given a large number of airlines already saturating these markets. But, Akasa shouldn't have much issue finding clients given the rising interest among Indians to go abroad, particularly to the Middle East.
Thank you
Stay updated with aviationa2z. com