Rolls-Royce & EasyJet have passed a milestone with a successful 1st test of running a hydrogen-powered commercial aircraft engine.
In September 2022, Rolls-Royce presented its AE 2100 test engine at an easyJet conference on the airline's roadmap to net zero aviation. Today the BBC has reported that Rolls-Royce, in collaboration with EasyJet, has begun tests running the AE 2100 on hydrogen.
With hydrogen showing the most assurance for zero-emission aviation, easyJet is also backing the Airbus ZEROe program. This program aims to have the 1st zero-emission commercial aircraft in service by the next year 2023 operating hydrogen technology strong team is on the job rolls-Royce and easyJet is operating together and will run tests on 2 Rolls-Royce engines, the AE 2100 turboprop, and the Pearl 15 jet engine, operated on the Bombardier Global Express 5500 and 6500 business aircraft.
The immediate aim is to demonstrate that a jet engine can run and be controlled using hydrogen fuel. Today's BBC report stated that the tests have shown that a jet engine operating hydrogen can be begun up and run at low speed.
Based on that, the initial ground test has succeeded, which is not startling given the know-how and resources that Rolls-Royce brings to the task. Rolls-Royce director of aerospace technology Alan Newby told, Generally, we would run this thing on kerosene. Kerosene is a hydrocarbon and therefore produces carbon dioxide when it burns. The beauty of looking at a fuel like a hydrogen is that it doesn't contain any carbon and, therefore, when it burns it produces no CO2."
Also, read
Its partner, EasyJet, also believes that hydrogen is the best way to get to net-zero aviation. The leading low-cost carrier found its way to that conclusion, starting by exploring battery technology.
EasyJet's chief operating officer, David Morgan, said
"We looked at battery technology, and it was quite clear that the battery technology was probably not going to do it for the big commercial aircraft that we fly. We have arrived at the conclusion that hydrogen is a very exciting proposition for us."
A long road ahead for hydrogen
While sustainable aviation fuel (SAF) is already powering flights, its widespread adoption suffers from a lack of fuel and the necessary infrastructure to make it available. In the main, the aircraft and engines can operate operating sustainable aviation fuel (SAF), so the shift to its use lies outside the airline industry.
However, for hydrogen-powered commercial aviation to work, not much of today's aviation ecosystem won't require to be reinvented or adapted. To turn hydrogen into a liquid, it requires to be cooled to -253C and turned back into a gas to power the engine.
Also, liquid hydrogen takes up almost 4 times the space as the same volume of kerosine, so new fuel tanks and systems will be required. Newby states it will need a "big change from the aircraft point of view."They're going to have a tank containing the hydrogen [and] you've got to keep it was really cold temperature.
The European Marine Energy Centre Ltd
Then there's the problem of how you feed it through the engine as well."This is green all the way now, most of us have learned that hydrogen is not always a green alternative, with even the so-called blue hydrogen now under attack for its harmful properties.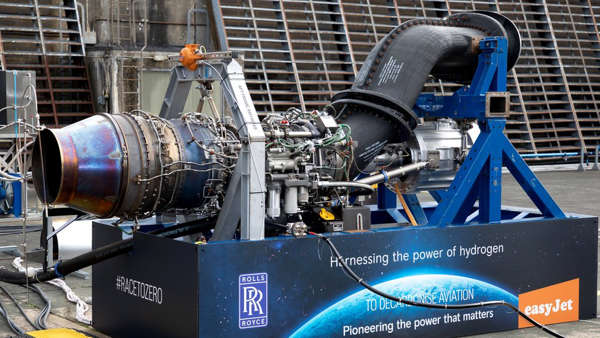 The hydrogen operated in the Rolls-Royce AE 2100 is of the green variety produced at the European Marine Energy Centre in the Orkney Islands of Scotland. The statement said it is made using an electric current to split water into its components, hydrogen, and oxygen.
The electricity required is produced at the center is operating wave and wind power, making it a credible green fuel. Beginning the engine and running it operating hydrogen may seem like a take small step, but it marks a significant milestone on the path to net zero aviation by 2050.
Thank you
Stay updated with Aviationa2z.com and Google News