Bangalore, 28th November, IndiGo-The India's Largest airline has received a BOMB threat through Tissue paper found onboard their Airbus A320 aircraft. The aircraft was at Kempagowda International Airport, Bangalore during this Incident.
BOMB onboard the IndiGo plane
A Tissue paper was found onboard the plane with the word "BOMB" engraved on it. The tissue was behind the passenger seat onboard the flight which landed in Bangalore from Kolkata.
This incident created a critical situation for Security agencies on Sunday morning. But later the threat turned out to be a Hoax and Indigo registered a complaint at the Airport police station.
As per sources at Airport, Indigo 6E Flight 379 departed on time from Kolkata International Airport (CCU) at 5:29 Am IST and touched down at Bangalore Airport (BLR) at 8:00 Am.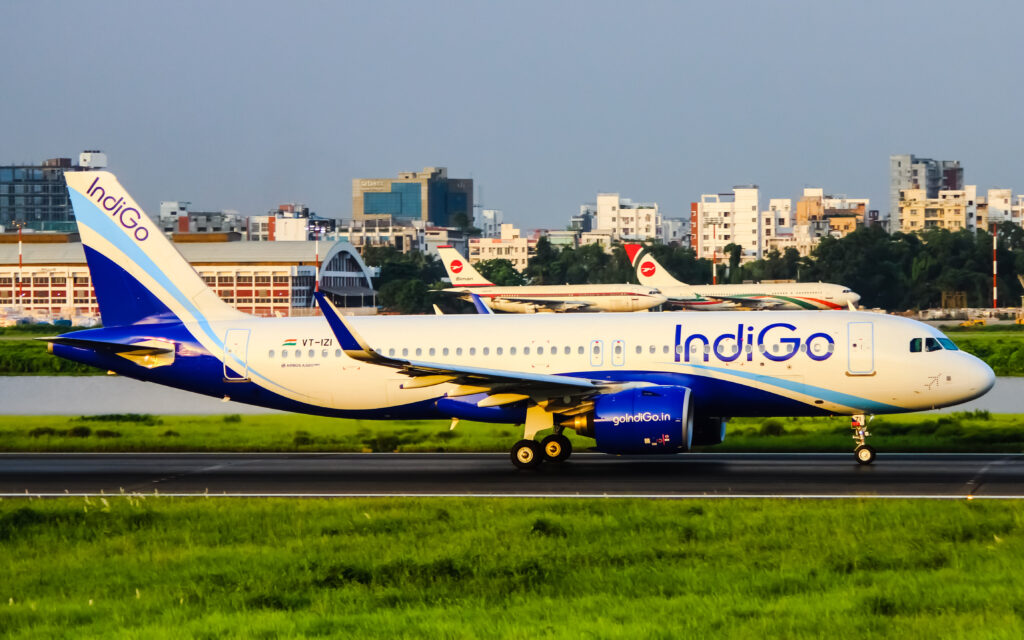 There were 200 passengers onboard the flight, which were successfully deboarded and are absolutely safe. One of the flight attendants found a note stating BOMB.
"The airline received intimation about a bomb threat on board and then alerted security agencies. The empty aircraft was immediately isolated from the parking bay. Checks were carried out inside the aircraft when they came across the tissue paper with an open threat issued anonymously with the letters 'BOMB' (in English) in blue ink behind seat 6D."

Source told The new Indian Express
IndiGo registered a Complaint
The plane was isolated at the bay while authorities and security agencies like Bomb Disposal Squad carried out a thorough check of the aircraft. The CISF also came into action with its highly trained Dogs squad to inspect the interior of aircraft.
The source told that,
" The aircraft was properly inspected with all the standard operating procedures and none of the issues was reported. The plane is completely sanitised and was ready for its next sector flight to Raipur."
The authorities and Security forces have found one passenger a suspect and further investigation is being carried out.
Due to this IndiGo airlines has registered an official complaint and police stated that they received a complaint from low-cost airlines at 8:30 Am IST and Further added,
"We have booked an NCR (Non-Cognizable Report). It will be presented before the Judicial Magistrate First Class Court at Devanahalli on Monday, and an FIR will be filed under the specific sections as directed by the court."

KIA Police Statement
IndiGo has also released a statement saying,
"Due to a specific bomb threat, IndiGo flight 6E 379 was taken for search by the security forces on arrival at Bengaluru International airport. As per protocol, the aircraft was taken to a remote (Isolated) bay."

IndiGo statement over Bomb threat onboard there A321 plane at Bangalore airport
Flight Radar data
According to flight radar, Indigo flight 6E 379 took off from Kolkata Airport and landed at Bangalore Airport on time. Usually, the airline flies Airbus A320 but it decided to go with Airbus A321 Neo with extra seating capacity.
The Indigo's Airbus A321 Neo plane involved in the incident has registration VT-ILY and is new and has not yet completed one year with the Indigo fleet.
IndiGo airlines are one of the world's largest operator of Airbus A320 family planes and have a total fleet of 280+ aircraft.
The VT-ILY landed back in Bangalore from Delhi during the publication of this post. The aircraft is scheduled to fly on 5 more sectors before taking a rest at bay.
We will keep you posted about the latest Aviation News and information so make sure you click on the Bell icon to receive up-to-date notifications.
The BOMB Threat was later identified as Hox by passengers and the passengers have received a four-week sentence for assault while bomb threat charges have been withdrawn.
This is not the first time airline has received a Bomb threat, earlier Dubai bound received a similar threat.
Also Read, Air India received its First B777-200 LR and named "VIHAAN" | Exclusive – Aviation A2Z
Check out, Indigo Dubai flight receives bomb threat | EXCLUSIVE – Aviation A2Z
Join Our Telegram Group for Latest Aviation Updates:-https://t.me/aviationa2z
Follow us on GOOGLE NEWS:- https://news.google.com/publications/CAAqBwgKMPLdrgsw_-jGAw?ceid=IN:en&oc=3
Stay connected with the one and only Aviation A2z!