The fuel provider will now be able to deliver sustainable aviation fuel(SAF0 in much higher quantities.
Finnish fuel provider Neste has delivered 500,000 gallons of sustainable aviation fuel (SAF) to Los Angeles International Airport (LAX). The fuel provider successfully transported high volumes of sustainable aviation fuel(SAF) through LAX's existing jet fuel infrastructure.
More than 500,000 gallons of SAF were delivered to
Neste has declared its biggest sustainable aviation fuel(SAF) delivery to Los Angeles International Airport (LAX) to date, transporting a whopping 500,000 gallons (1,500 metric tons) of its 'MY Sustainable Aviation Fuel to increase the airport's supply. While the company has delivered smaller quantities of sustainable aviation fuel to LAX in the past, it has not done so on such a large scale until recently.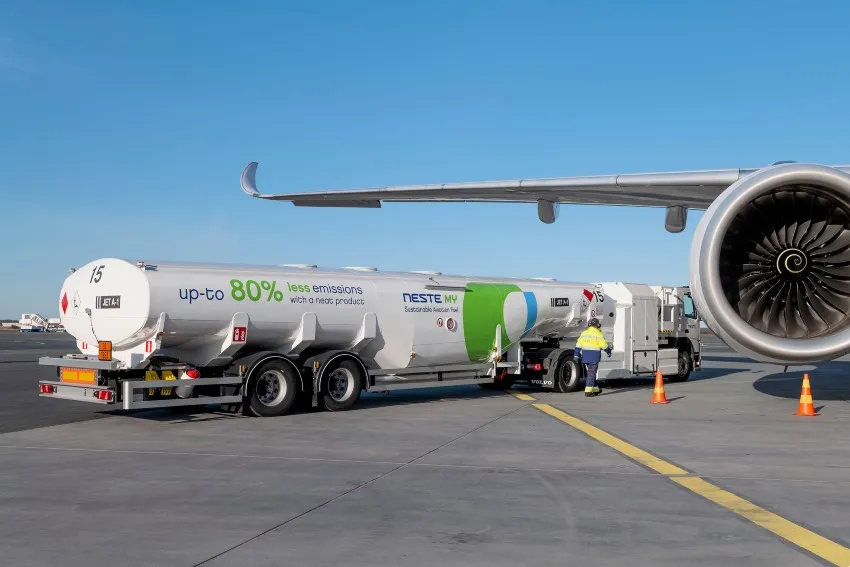 This was made possible by partnering with LAXFUEL, a consortium of airlines that provide the jet fuel supply infrastructure at Los Angeles International Airport. Neste is now able to utilize existing infrastructure at the airport to provide sustainable aviation fuel in greater quantities than ever.
Chris Cooper, President of Neste US, stated,
"Neste is completely committed to supporting the decarbonization of aviation. Our company has been at the forefront of accelerating the availability of sustainable aviation fuel, and this achievement together with LAXFUEL shows how we are taking concrete steps towards a more sustainable future for aviation."
Also, read
Neste has celebrated its recent delivery as the 1st time sustainable aviation fuel has been delivered as a "ready-made fuel blend into the existing fueling infrastructure" at Los Angeles International Airport, said that its sustainable aviation fuel blend, made from "hundred %sustainably sourced renewable waste and residue raw materials, including used cooking oil and animal fat waste," reduces carbon emissions by up to 80%.
Before its agreement with LAXFUEL, Neste had to rely on truck deliveries to transport smaller quantities of SAF. The group's recent delivery represented the 1st time SAF has been transported to LAX via barges, enabling much higher quantities to arrive.
John Trozzo, Chairman of LAXFUEL Corporation, said,
"Sustainable aviation fuel is the fastest, most effective means we have to reduce the greenhouse gas emissions from air travel. We now have the means to supply this low-emission fuel in larger volumes not only to the airlines flying from LAX but also to other airports in the region serviced by the broader fuel infrastructure managed by LAXFUEL in California.
Earlier this year, producers are leading the sustainable aviation fuel race, with Neste arriving on top. The Finnish company can currently produce more thane 100,000 metric tonnes of SAF per year – however, this is set to go up dramatically once its new facility in Tuas is completed within the next 6 months, with the group projecting it could produce up to 1.5 million tonnes annually.
Thank you
Stay updated with Aviationa2z.com and Google News