RIYADH- The Upcoming Saudi Arabian carrier and second flag carrier, Riyadh Air, has shared a glimpse of its new Boeing 787 Dreamliner, which is currently getting painted.
With its strategic location, Riyadh Air aims to play a leading role in the aviation industry. By transforming Saudi Arabia into a global hub for aviation and trade.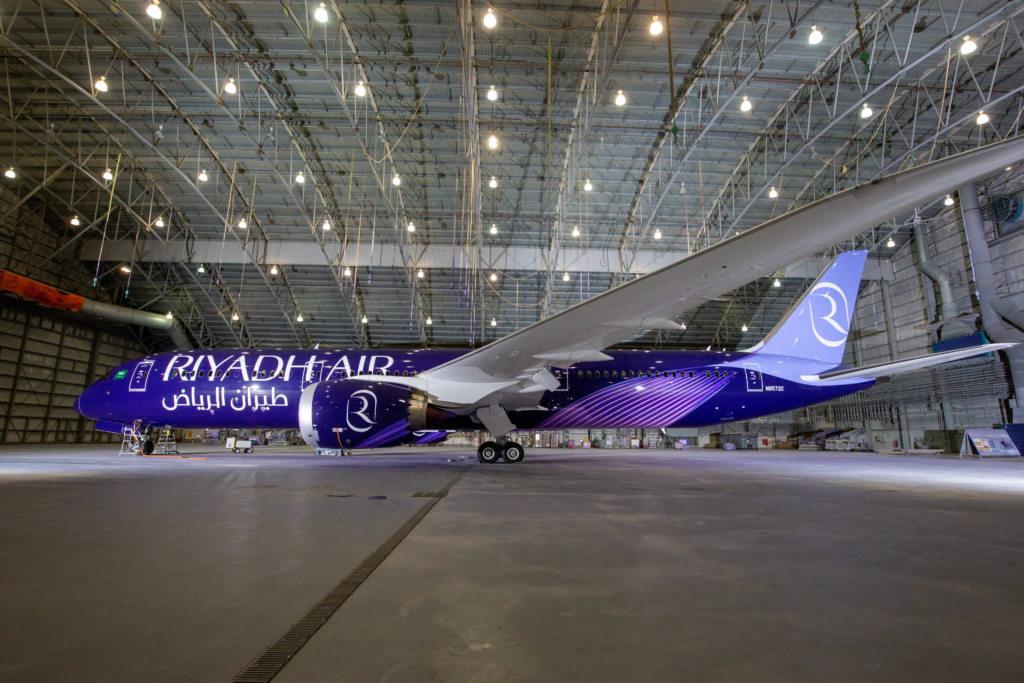 Riyadh Air Shares Pics of Boeing 787
On its social media, the Tony Douglas-led Saudi carrier, Riyadh Air, unveiled the highlights of its Boeing 787 aircraft. The airline wrote, "Here's an exclusive glimpse of our impressive debut design for #RiyadhAir. The #FutureTakesFlight."
The airline then shared the four pictures, including three of the Boeing 787 and one of its brand color.
The airline has yet to reveal its Livery, and it is possible it will soon do it with its 787s. We will keep you posted about it.
Historic Order
In a significant move towards establishing Saudi Arabia as a global aviation hub, Riyadh Air, the new flagship airline launched by the Public Investment Fund (PIF), has announced a groundbreaking order for up to 72 Boeing 787-9 Dreamliner aircraft.
This historic order comprises 39 confirmed aircraft with an option for an additional 33 wide-bodies 787-9 Dreamliners. This further demonstrates Riyadh Air's strong commitment to becoming a major player in the aviation industry.
This strategic agreement is part of Saudi Arabia's comprehensive plan to transform the country into a prominent global aviation hub.
The national carriers have collectively expressed their intent to purchase a remarkable total of 121 787 Dreamliners. Subsequently Made it the fifth-largest commercial order by value in Boeing's history.
Subsequently, this ambitious endeavor aligns with Saudi Arabia's vision of accommodating 330 million passengers. Further attracting 100 million visitors by the year 2030.
The economic impact of this deal is significant, with projections suggesting that it will substantially affect both the United States and Saudi Arabia.
100K Jobs
In the United States, the agreement is expected to generate support for nearly 100,000 jobs, both directly and indirectly, and involve the participation of over 300 suppliers from 38 different states.
This includes collaboration with 145 small businesses in the U.S. Furthermore, in Saudi Arabia, the establishment of the new airline is anticipated to contribute USD20 billion to non-oil GDP growth and create over 200,000 direct and indirect jobs.
Beyond its economic implications, this order highlights the environmental goals of Riyadh Air. The airline aims to operate one of the most modern and sustainable fleets globally, showcasing its commitment to ecological responsibility.
Stay tuned with us. Further, follow us on social media for the latest updates.
Also Read: US Airlines, Including American, United, Delta, and Southwest, want you to Dress Properly – Aviation A2Z
Join us on Telegram Group for the Latest Aviation Updates. Subsequently, follow us on Google News.