MANGALURU- By replacing a total of 1111 conventional lights in different functional areas with LED lights, the Mangaluru Int'l airport has accomplished a complete conversion to LED lighting, marking a 100 percent adoption of these energy-saving lights.
On the eve of World Environment Day, Mangaluru International Airport achieved another significant milestone in its commitment to reaching the Net Zero goal.
The airport has successfully transitioned from conventional lights to an energy-efficient lighting system through a phased approach.
Mangaluru Airport 100 LED
This transition will result in significant energy savings for the airport, amounting to 188,558.96 kilowatt-hours per year. The largest reduction will occur in the National Air Traffic Services (NATS) building area. Where the airport will save 1.17-lakh kilowatt-hours per year by utilizing 752 LED lights.
Mangaluru International Airport will achieve savings of 56,467 kilowatt-hours per year by employing 261 LED lights in the New Integrated Terminal Building.
Additionally, by replacing 98 conventional lights with LED lights in the airside, old terminal building, and NATS area, the airport will conserve 14,673 kilowatt-hours per year.
By transitioning to LED lights, the airport will significantly reduce 148.962 tonnes of CO2 emissions per year. Subsequently, the NATS area alone accounted for 92.761 tonnes of CO2 reduction.
CO2 emissions are widely recognized as a major contributor to global climate change. In the previous fiscal year, 2021-22, the airport had already converted 948 conventional lights to LED. Further reducing 137 tonnes of CO2 emissions.
By replacing the remaining 163 conventional lights, the airport has further advanced its commitment to environmental protection.
The airport has also implemented a controlled lighting system that allows lights to be switched off in areas that are not needed. Timers are utilized to ensure streetlights are only illuminated at specific times.
A spokesperson mentioned that the airport actively follows the practice of switching off office lights when they are unoccupied. By adopting these measures, the airport actively supports the government's goal of achieving a Net Zero emission target by 2070.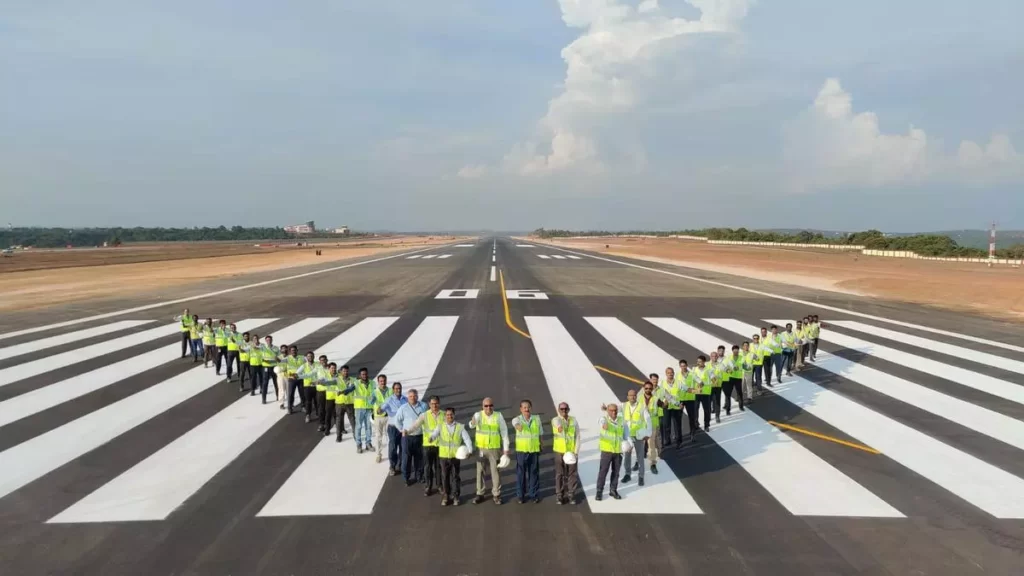 Runway Recarpeting
According to a spokesperson from MIA, the purpose of the work was to comply with the aviation safety regulations set by the regulator.
The project began on March 10 and was completed in 75 working days. In a statement, an MIA spokesperson mentioned that the flexible asphalt overlay on the rigid runway is the first of its kind in India.
MIA is Karnataka's second busiest airport, handling approximately 36 aircraft movements daily. To ensure minimal disruption to scheduled flights, the airport utilized a Notice to Airmen (NOTAM) for 8.5 hours daily, from 9:30 am to 6 pm, to recarpet the runway.
Throughout the 75-day project, a total of 529 hours were dedicated to its completion. Despite this, MIA managed to keep the runway open. For an average of 18 domestic and international flights during the remaining 14.5 hours of the day.
Stay tuned with us. Further, follow us on social media for the latest updates.
Also Read: Indian Students Deported Back to Delhi from USA on Delta Flight – Aviation A2Z
Join us on Telegram Group for the Latest Aviation Updates. Subsequently, follow us on Google News.