On May 22, the National Company Law Appellate Tribunal (NCLAT) reserved judgement in a case brought by Jalan Kalrock Consortium (JKC), the management replacement for Jet Airways.
Further asking for instructions to prevent the State Bank of India (SBI) from invoking its bank guarantee of Rs 150 crore. On May 30, the appeal tribunal will probably issue rulings in the case.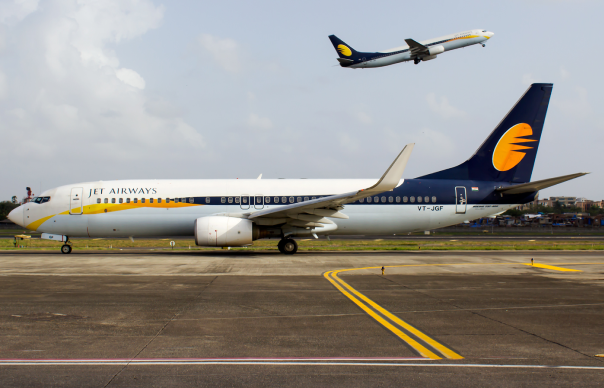 NCLAT handling Jet Airways Case
The Consortium was required to pay the first instalment of the debt to Jet's lenders by May 15. In accordance with an order from the National Company Law Tribunal (NCLT) dated January 13.
However, the consortium has not yet made the payments. Further, they anticipate that SBI would use the bank guarantee of Rs 150 crore in lieu of their outstanding Rs 175 crore debt.
The consortium would not be handed ownership of the airline if the unpaid invoices were not cleared. Jet Airways is also due to have its air operator certificate expire on May 19.
After determining that all requirements had been satisfied in January, NCLT authorised the sale of Jet to JKC.
JKC's request was accepted by the tribunal, which established November 16, 2022, as the time when the resolution plan goes into effect. Further, the airline's lenders contacted the NCLAT because they were opposed to the consortium obtaining ownership of the airline. Subsequently, they argued that the owner should not be transferred since they claimed the consortium had broken their promises.
In April 2019, Jet Airways was forced to stop operations due to mounting losses and roughly Rs 8,000 crore in debt. Further, the restoration plan filed by the Jalan-Kalrock partnership was approved by the airline's Committee of Creditors (CoC) in October 2020.
Uncertain Future
The uncertain future of Jet Airways coincides with a period of turbulence in the aviation industry. Several aircraft leasing companies have resorted to legal measures to repossess their aircraft after the grounding of Go First.
The airline, controlled by the Wadia Group, has sought protection from the NCLT to address the non-supply of engines by Pratt & Whitney. Further, gain more time to settle matters with its financial creditors and aircraft lessors.
JKC and the management of Jet Airways, under the leadership of CEO-designate Sanjiv Kapoor, had originally planned to utilize aircraft leasing as a strategy to revive the airline. According to the DGCA, Jet Airways currently possesses a single Boeing 737-800 aircraft.
Recently, JKC stated its continued dedication to the revival of Jet Airways without disclosing specific information. They mentioned that their executive committee will temporarily assume the responsibilities of Kapoor. Until a suitable replacement is appointed.
Stay tuned with us. Further, follow us on social media for the latest updates.
Also, read FIRST LOOK: Air India Airlines New Possible Branding, Livery, Logo and More | Exclusive – Aviation A2Z
Join us on Telegram Group for Latest Aviation Updates. Subsequently, follow us on Google News.