To date, tata-owned carrier Air India (AI) has taken delivery of three Airbus A321neo, This includes the First A321neo VT-RTD named after Ratan Tata, then VT-RTC, and most recently, VT-RTB and they have empty interiors.
So let us see the first look at the interiors of this new metal bird. Furthermore, this plane is part of the 36 aircraft that Air India signed a lease agreement with lessors. Remember, this is not part of the order that includes 470 aircraft from both Airbus and Boeing.
The 36 planes on lease include both narrow-body and wide-body airliners. They are 21 A320s, 4 A321neos, 5 Boeing 777-200LR, and 6 Boeing 777-300ERs.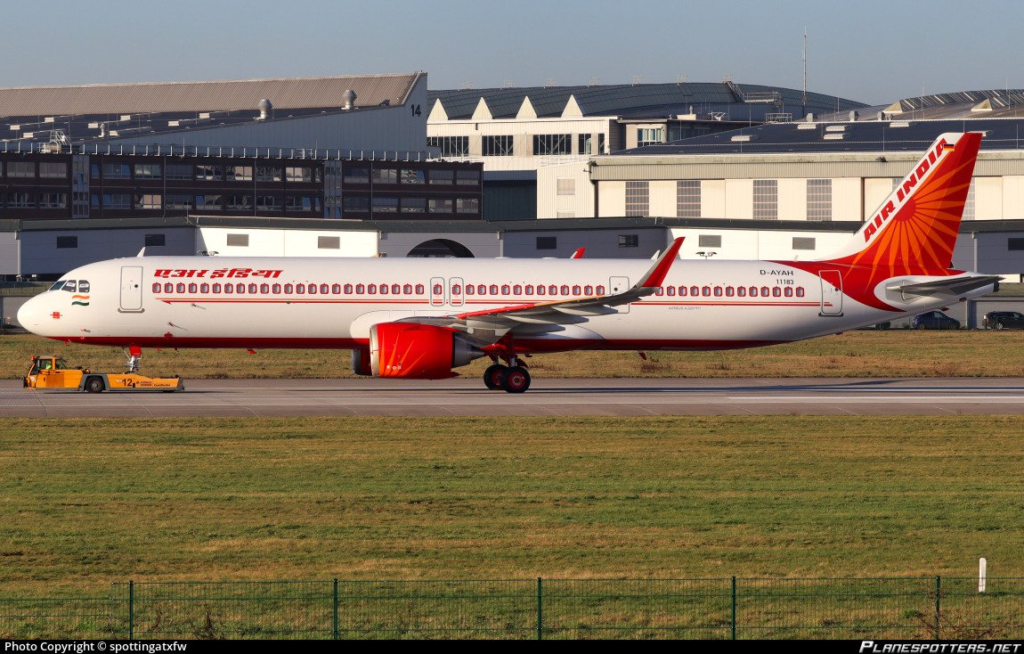 First Look of Air India A321neo Interiors
---
The Air India A321neos are delivered without any seats and have empty interiors. Because they are taken on lease and usually configured by airlines according to their requirements.
Here are some inside pic shared by Twitter user Emirates6Gokul
All three VT-RTD, VT-RTC, and VT-RTB are delivered without seats. The Indian carrier will fill them with Airbus A319 seats, and it will look like below. However, it will be in the Air India livery.
The existing Air India A321-200 standard seating configuration is as follows. But the seating configuration for A321neo will slightly change. However, it will include the small A319 seats.
The Indian FSC, Air India, has a fleet of 118 aircraft, including 18 A319s, 36 A320s, 17 A321s, 20 777s, and 27 787s. Subsequently, it deploys them to over 46 domestic and 38 international destinations in 28 countries by April 2023.
Commenting on the lease of the Aircraft, Mr. Campbell Wilson, CEO & Managing Director of Air India, stated,
"Growing our network is an essential part of Air India's Vihaan.AI transformational journey and we remain committed to increasing connectivity and frequency of flights both domestically and internationally. These additional aircraft leases will support our near term growth even as we finalise plans to refresh and significantly grow our long-term fleet."

Campbell Wilson, CEO & Managing Director of Air India
Other Aircraft Update
---
So far, Airbus has transferred four A350 registration from Aeroflot (SU) to Air India. While remaining will be added shortly to the Indian carrier. Furthermore, this A350s Manufacturer's Serial Number (MSN) is MSN 554, 558, 585, and most recently added, MSN 589.
It has secured a lease of six ex-Etihad (EY) Boeing 777-300ER. It is in the United States and will be ready for delivery in the coming days.
Four of the six ex-Etihad Boeing 777s are currently at Victorville Airport, USA. The MSN number of these planes are MSN 39687; MSN 39700; MSN 39689; and MSN 39690. Furthermore, the Indian FSC is in the stage of receiving its first B777-300ER, which bears MSN 39686.
Stay tuned with us. Further, follow us on social media for the latest updates.
Also, read FIRST LOOK: Air India Airlines New Possible Branding, Livery, Logo and More | Exclusive – Aviation A2Z
Join us on Telegram Group for Latest Aviation Updates. Subsequently, follow us on Google News.
---