MUMBAI- Tata-owned Indian FSC Air India (AI) first Airbus A321neo, named after Ratan Tata, entered the commercial service on June 10, 2023.
The aircraft was delivered to the airline at the end of March 2023. Further, the aircraft has the registration VT-RTD and is the airline's first plane after Tata took over it.
Air India A321neo in Service
The first A321neo VT-RTD was earlier destined for the Russian Joint Stock Company Smartavia Airlines. However, it was painted to new Air India livery after 12 days and spotted in Hamburg for the first time in Feb 2023.
The Aircraft is part of 36 aircraft Air India has taken on lease. The Aircraft includes both narrow-body and wide-body airliners. They are 21 A320s, 4 A321neos, 5 Boeing 777-200LR, and 6 Boeing 777-300ERs.
According to Flight Radar 24, the Air India A321neo VT-RTD flight AI1863 took off from Delhi Airport (DEL) at 5:59 PM IST. After being airborne for two hours and seven minutes and covering a distance of 1135 KM, it landed at Mumbai Airport (BOM) at 8:06 PM IST.
Air India has scheduled the A321neo aircraft for high-capacity routes. Subsequently, connecting the Metro cities such as Delhi, Mumbai, Chennai, Hyderabad, etc.
The seating arrangement of the A321neo consists of 12 seats in the Business class, organized in 3 rows with a 2-2 configuration, and 180 seats in the Economy class, distributed across 30 rows with a 3-3 configuration.
The airline has taken delivery of all four A321neo, which it has taken on lease from AerCap. Further, they will soon be deployed once their interior work will be completed.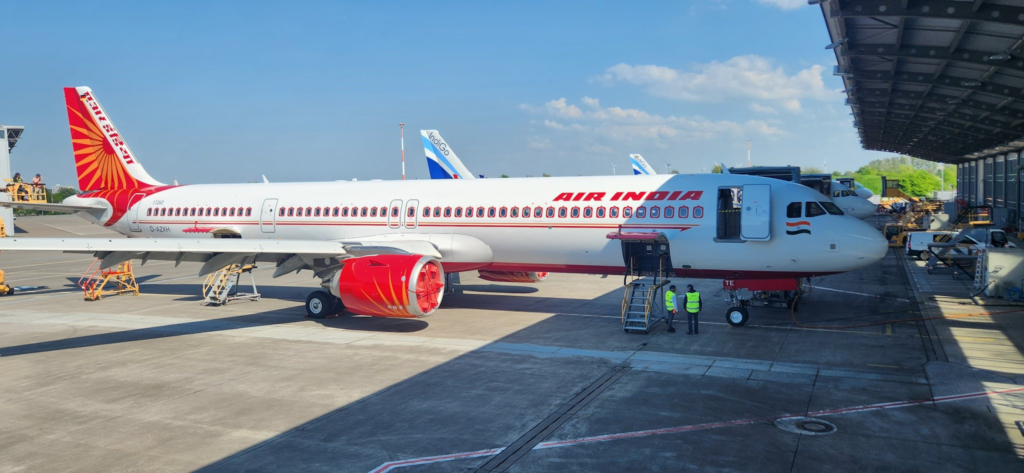 Air India A321neos
The airline took delivery of its first A321neo, having registration VT-RTD (named after Tata Chairman Emeritus Ratan Tata) on 26th March 2023. Subsequently, they took delivery of the second A321neo with Reg VT-RTC five days later, on 31st March.
While the third A321neo VT-RTB was delivered on 28th April, and the final one on VT-RTE on May 19, 2023.
According to Nipun Aggarwal, Chief Commercial & Transformation Officer of Air India, the addition of these four newly leased Airbus A321neo aircraft is a significant milestone in the airline's ongoing transformation.
The main reason for not operating commercial flights or entering the service is a shortage of seats. YES!! This is the primary reason, and to cater to this, they are fitting A319s seat into A321neo.
Other Aircraft Updates
So far, Airbus has transferred four A350 registration from Aeroflot (SU) to Air India. While remaining will be added shortly to the Indian carrier. Furthermore, this A350s Manufacturer's Serial Number (MSN) is MSN 554, 558, 585, and most recently added, MSN 589.
It has secured a lease of six ex-Etihad (EY) Boeing 777-300ER. It is in the United States and will be ready for delivery in the coming days.
Four of the six ex-Etihad Boeing 777s are currently at Victorville Airport, USA. The MSN number of these planes are MSN 39687; MSN 39700; MSN 39689; and MSN 39690. Furthermore, the Indian FSC is in the stage of receiving its first B777-300ER, which bears MSN 39686.
Also, one A320neo is getting ready to be delivered by Airbus in the coming days.
Stay tuned with us. Further, follow us on social media for the latest updates.
Also Read: US Airlines, Including American, United, Delta, and Southwest, want you to Dress Properly – Aviation A2Z
Join us on Telegram Group for the Latest Aviation Updates. Subsequently, follow us on Google News.