JetBlue flight B6 662 was evacuated onto the apron at New York's JFK Terminal 5 operating emergency slides. The flight from Bridgetown was preparing to disembark when passengers reported smoking from a laptop, which quickly started filling in the cabin.
JetBlue flight
Five were minorly injured by the use of the slides, with over 167 onboard. JetBlue flight B6 662 departed Bridgetown, Barbados, at 16:47 local time, about 1 hour and 40 minutes following its scheduled time.
Things went smoothly from there, with the aircraft landing at New York JFK Airport at 20:33 local time, 4 hours and 46 minutes later. However, problems 1st arose as the plane approached Terminal 5.
According to CBS2, the crew members said a laptop emitting smoke in the cabin, which passengers say quickly began filling the cabin. When one passenger yelled fire, passengers started panicking, and the Captain reportedly jumped into action to put out the flames. One of those seated in the 1st row described the pilot's actions as heroic, telling,
"The captain arrived flying out of the cabin
He grabbed a fire extinguisher and was doing like an O. J. Simpson over the seats and passengers. The man was amazing and put the fire out…It was a complete zoo."
Soon after, the cabin crew members evacuated the aircraft operating the emergency slides, with all 167 passengers reaching the tarmac, according to the FDNY. There were four slide-related injuries, but all have been described as minor. Pictures show the jetbridge already attached to the aircraft, meaning passengers would have operated the remaining slides to exit.
JetBlue flight 662 with service from Bridgetown, Barbados (BGI) was evacuated shortly after landing at New York's John F. Kennedy Airport (JFK) after reports of a passengers malfunctioning electronic device or battery."
As mobile phones and laptops become ubiquitous in aircraft cabins, airlines have become vigilant for potential fires. You may have heard the statement on flights asking passengers not to move their seats if they drop their phone, instead requesting you to contact a crew. This is to confirm the seat does not cause the battery to be pierced, which can quickly release smoke into the cabin.
Also, read
While the details of the JetBlue incident remain unconfirmed, a laptop (or its battery) seems to have been the culprit. With large lithium-ion batteries, laptops are at similar risk to mobile phones and laptops when it arrives at fires.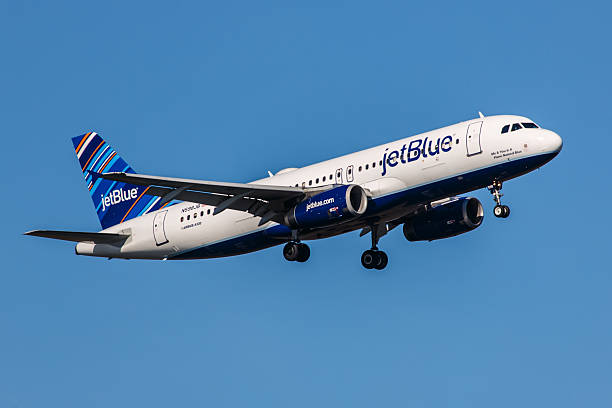 In cases of fire, crew members can either try to place the smoking item in a fire-resistant bag (if available) or operate a fire extinguisher, as in this case. The latter is far more disruptive, which is why most US airlines now carry bags to contain fires instead.
Thank you
Stay updated with Aviationa2z.com