On Sunday night in Maryland, a small plane collided with a transmission tower, trapping the occupants for hours in a nearly 100-foot-high air suspension. Power outages were caused by the collision, which occurred about 15 miles outside of Washington, D.C. and 40 miles southwest of Baltimore.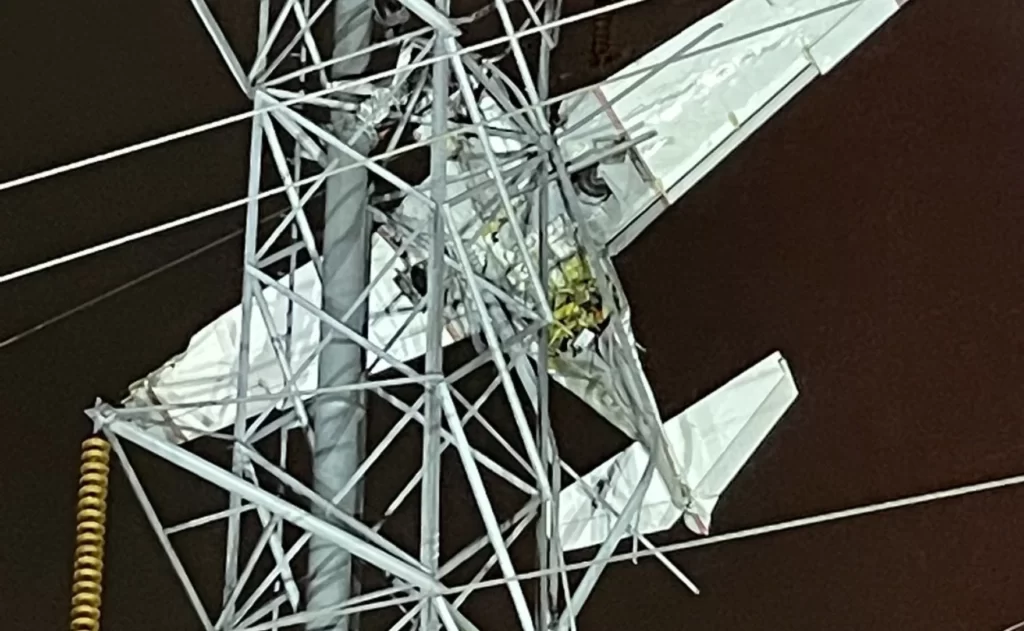 According to Pete Piringer, the county fire department's public information officer, the crash, which happened at about 5:30 p.m. ET, sent the plane into a tower close to Rothbury Drive and Goshen Road. By 8 o'clock on Sunday night, the aircraft and its occupants were still stranded in the tower.
"Because the powerlines are still active, we're waiting for the power company to shut it down. We'll then be able to remove them from that situation."

Piringer explained
Power outages are being caused by the crash, according to Piringer, who added that the fire department is in contact with the plane's pilot and the "one or two passengers who are still missing." Unknown numbers of people were impacted by the outages, but PowerOutage.us estimates that 80,000 customers statewide were without power as of 8 p.m. on Sunday. Along with closing the nearby roads, authorities are waiting for a technical rescue team to arrive.
The plane is visible trapped among the powerlines in video that Piringer posted to his Twitter page about an hour after the collision, and there are fire trucks all around the scene.
Some traffic lights and elevators in the area are no longer functional as a result of the power outages. Flickering lights have been reported by some locals.
80,000 people are affected by the power outage
In Montgomery County, the utility Pepco reported that about 80,000 customers were without power.
Gaithersburg, a small town 24 miles (39 kilometres) northwest of Washington, D.C., was the scene of the accident.
Also read:
Skyroot Aerospace Aims To Reduce Satellite Launch Costs By 50% | Exclusive
Indigo Now Permitted To Wet Lease Turkish Boeing 777 Aircraft For A Year, As The Government Relaxes The Rules | Exclusive
Follow us on Google News for latest Aviation Updates
Join us on telegram group
Stay tuned…