UTTAR PRADESH- The Noida International Airport (DXN) in Jewar has officially revealed its International Air Transport Association (IATA) code, which is DXN. This code will become active once the airport commences its operations, expected by the end of 2024.
IATA codes are unique identifiers assigned to individual airports, ensuring clarity and avoiding confusion between airports worldwide.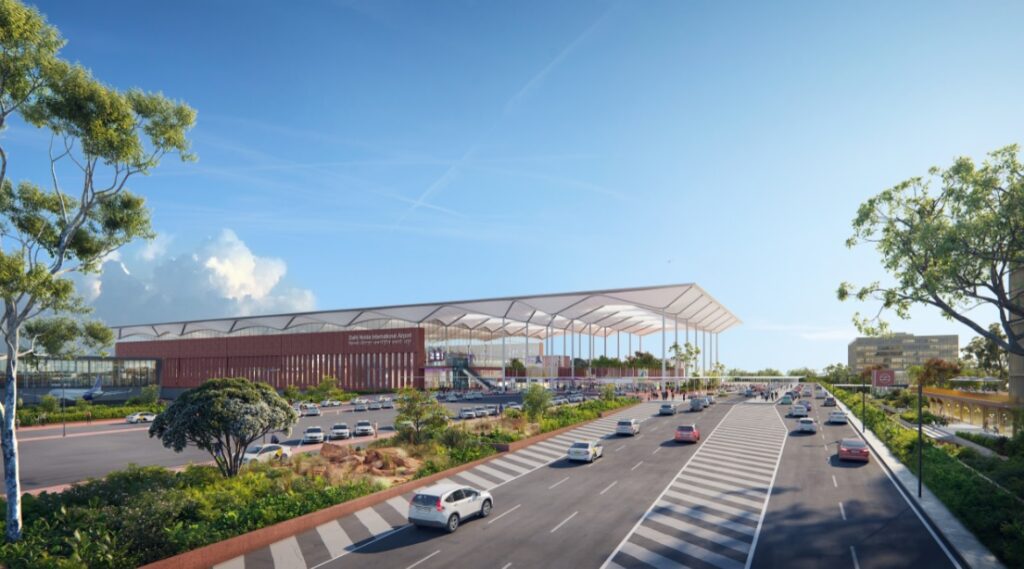 Noida Airport IATA Code
These codes are prominently displayed on travelers' documents and play a vital role in various aspects of daily airport operations, including flight schedules, ticketing, and baggage handling between airports.
Situated over 1,334 hectares in Jewar, Gautam Buddha Nagar district, the Noida International Airport is approximately 72 km away from Indira Gandhi International Airport in New Delhi, 52 km from Noida, and 130 km from Agra.
Zurich Airport in Switzerland oversees the construction of the Noida International Airport, aiming to blend Indian culture and hospitality with Swiss technological efficiency to create a modern, user-friendly, and digitally advanced airport.
Christoph Schnellmann, CEO of Noida International Airport, emphasized the significance of providing a second airport for India's National Capital Region, given its status as one of the world's largest urban agglomerations.
Tata Projects has been entrusted with the airport's engineering, procurement, and construction responsibilities. Currently, the passenger terminal is undergoing structural steelwork to support its roof, while the Air Traffic Control (ATC) tower has reached a height of over 30 meters.
Subgrade work is also progressing along the entire runway length, with a workforce of approximately 7,000 fully engaged on-site.
GroundBreaking Progress
Over the next few months, the Noida International Airport (NIA) site will witness the construction of over 20 buildings, encompassing various facilities such as the passenger terminal, air traffic control tower, office complexes, sewage and water treatment plants, and electric substations, as announced by the airport.
Furthermore, NIA has initiated tendering processes for a range of aeronautical and non-aeronautical concessions, including those for food and beverage services and lounges, while tenders for advertising and ground handling concessions are set to be released in the coming days.
The groundbreaking ceremony for the cargo terminal is also scheduled to take place this week.
Zurich Airport currently manages 10 airports globally, including Zurich Airport in Switzerland and Noida International Airport in India.
The company has previously demonstrated interest in the Indian aviation sector, holding a 17% stake in Bengaluru airport in 1999 as part of a Siemens-led consortium.
Over time, it gradually reduced its stake in the airport and ultimately exited by selling the remaining 5% to Fairfax, led by Prem Watsa, in 2016.
Stay tuned with us. Further, follow us on social media for the latest updates.
Also Read: US Airlines, Including American, United, Delta, and Southwest, want you to Dress Properly – Aviation A2Z
Join us on Telegram Group for the Latest Aviation Updates. Subsequently, follow us on Google News.