The Kafer Group has been appointed as the new catering partner for the Lufthansa First Class Lounges and the First Class Terminal located at Frankfurt Airport.
HON Circle Members and First Class guests can anticipate top-notch products, freshly prepared meals, and personalized hospitality from the Käfer Group as the new catering partner for the Lufthansa First Class Lounges and First Class Terminal at Frankfurt Airport.
The gourmet à la carte service and buffet offer an exceptional experience. Further, a range of high-quality wine, champagne, and beverage brands complements the selection. For those in a rush, the Quick Menu is available all day.
Käfer Group places a high priority on food freshness, being a company with a long-standing tradition. Every two months, the menu is updated with new items or seasonal promotions, featuring an array of choices from meat and fish dishes to pasta, vegetarian, and vegan options.
Lufthansa Partners with Kafer
Käfer leverages its extensive supplier network and the expertise of top chefs to maintain high standards of exclusivity, quality, and sustainability. Further, the company prioritizes collaboration with small, local producers who align with their values.
In addition, Käfer is committed to sustainability across all its divisions, including its Frankfurt location. Subsequently, it involves responsible resource usage through efficient energy management. Further waste reduction through digitalization, adherence to strict sustainability criteria in procurement, and promoting diversity and employee responsibility.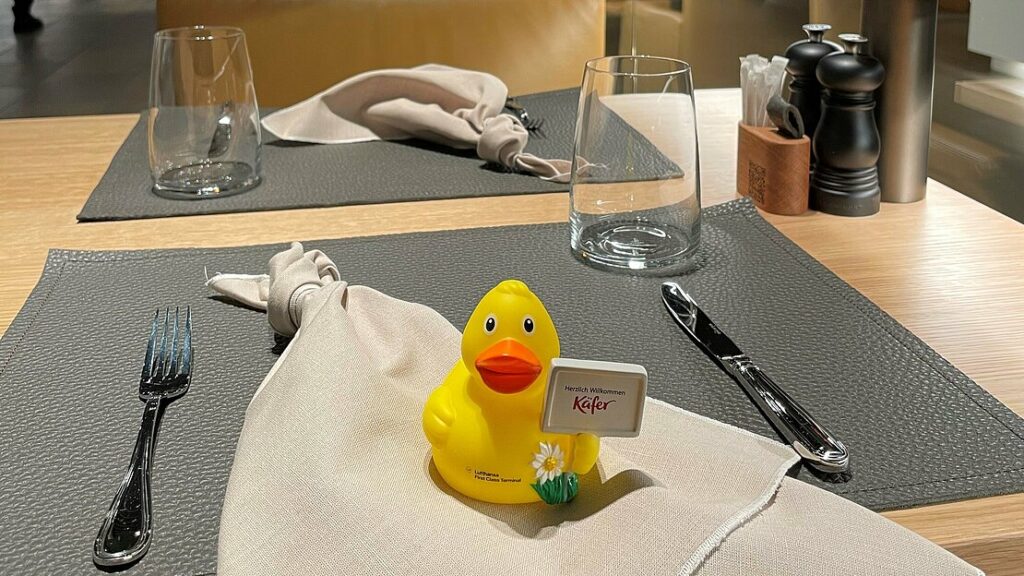 Lufthansa flights
Bangalore and Hyderabad with A350
Lufthansa is adding a new destination in India, Bangalore, to its service from Munich using an Airbus A350 in addition to Delhi and Bombay. LH764 will depart on Sundays, Wednesdays, and Fridays at 12:10 pm to the southern Indian metropolis.
Lufthansa is providing its guests with one of the most advanced and fuel-efficient long-haul aircraft, the Airbus A350-900.
Lufthansa A380 flights to the United States and Bangkok
In the upcoming winter season, Lufthansa is set to expand its Airbus A380 network from Munich with new destinations. Starting from October 5th, the airline will operate a daily A380 flight to Los Angeles.
As a special premiere before the winter flight schedule begins on October 28th, a Lufthansa Airbus A380 will depart from Munich to Bangkok for the first time, increasing the seating capacity by almost 75% compared to the A350.
On this route, Lufthansa will offer a greater premium product than ever before. 8 First Class seats, 78 Business Class seats, and 52 Premium Economy seats are available on the A380.
Stay tuned with us. Further, follow us on social media for the latest updates.
Also Read: US Airlines, Including American, United, Delta, and Southwest, want you to Dress Properly – Aviation A2Z
Join us on Telegram Group for the Latest Aviation Updates. Subsequently, follow us on Google News.