In an unexpected move, Lufthansa is renaming its upcoming seating from nose to tail as the "Allegris" product generation.
New renderings show new first class suites, the business class it has been hyping for five years, the premium economy first announced for Swiss, and a variety of new additional upsell options for passengers travelling in economy class.
Renderings of the brand-new first-class suites, which are quite stunning, should be the first thing we look at.
A single Lufthansa red rose is displayed in its holder, which is a lovely touch, as well as a rich dark sequence of dark blue textures and materials, a coppery metal palette, textured blue-white sky, warm woods, and glossy stone-effect horizontal surfaces.
The two pictures offered are of "A" chairs and are labelled "outboard," but the centre pair likely has additional alternatives.The headline alteration is not simply the doors (already seen on Swiss), but also the "almost ceiling-high walls that can be closed for seclusion."
There are many details in this article, many of which are genuinely wonderful. Watching this in action will be intriguing.
It appears to be small in the seating area for a seat that has not yet been manufactured and may not be available for several more years, with weak armrests that are reminiscent of the late 2000s and acres of smooth white thermoplastic.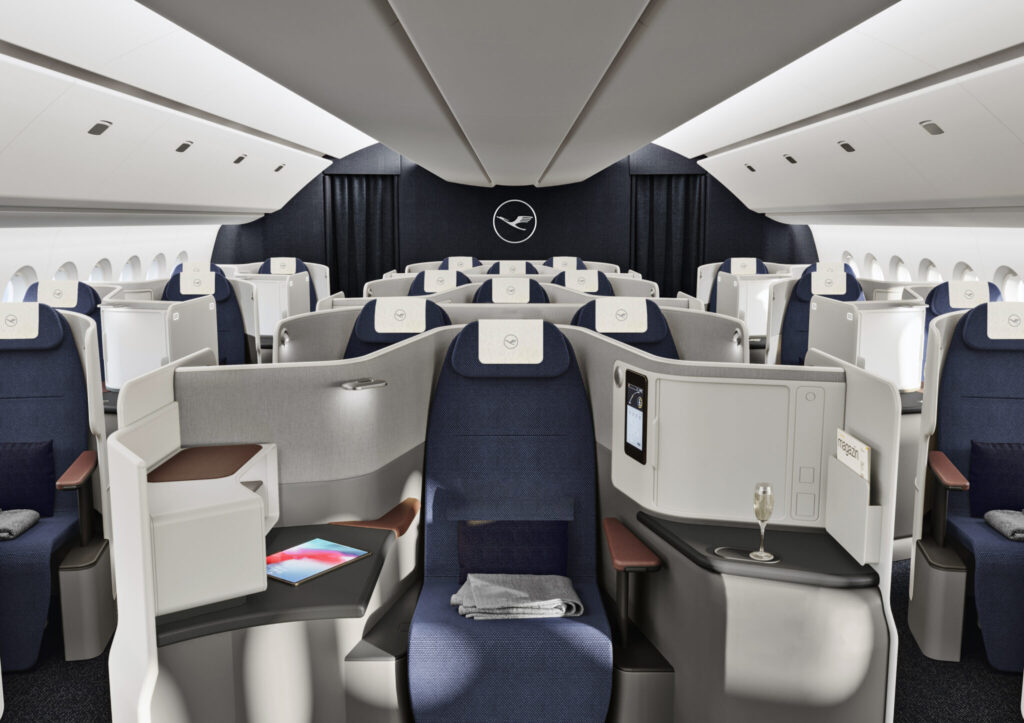 Direct aisle access staggered seats in business class are well into their second decade as a concept, starting with the deployment of the Solstys seat from Stelia in the mid-2000s, then Sogerma, assuming RGN's references are accurate.
Although it is only a rendering, the product that was introduced half a decade ago is not improved by this.
The ZIMprivacy seat, a slide-forward device that looks good but with which we haven't yet had firsthand experience, is the premium economy option that was bought earlier this year.

Meanwhile, it appears like Lufthansa intends to fully segregate the market in the economy class.
The airline plans to offer "Free Neighbour" and "Sleeper's Row 2.0" items in addition to standard economy tickets, which are likely to be offered as additional revenue upsells at some point during the booking process.
Free Neighbour is essentially Lufthansa's business class service for travel within Europe, which creates some cognitive dissonance. With a second tray table that is permanently mounted in the middle seat, it is the only economy image displayed.
It was noteworthy that Lufthansa is emphasising the four Airbus A350-900 and one Boeing 787-9 (of a total of six aircraft) that offer direct aisle access in business class in its press release.

Runway Girl Network first reported on this topic back in June.The airline asserts brashly that it has always promised its customers "premium and quality items."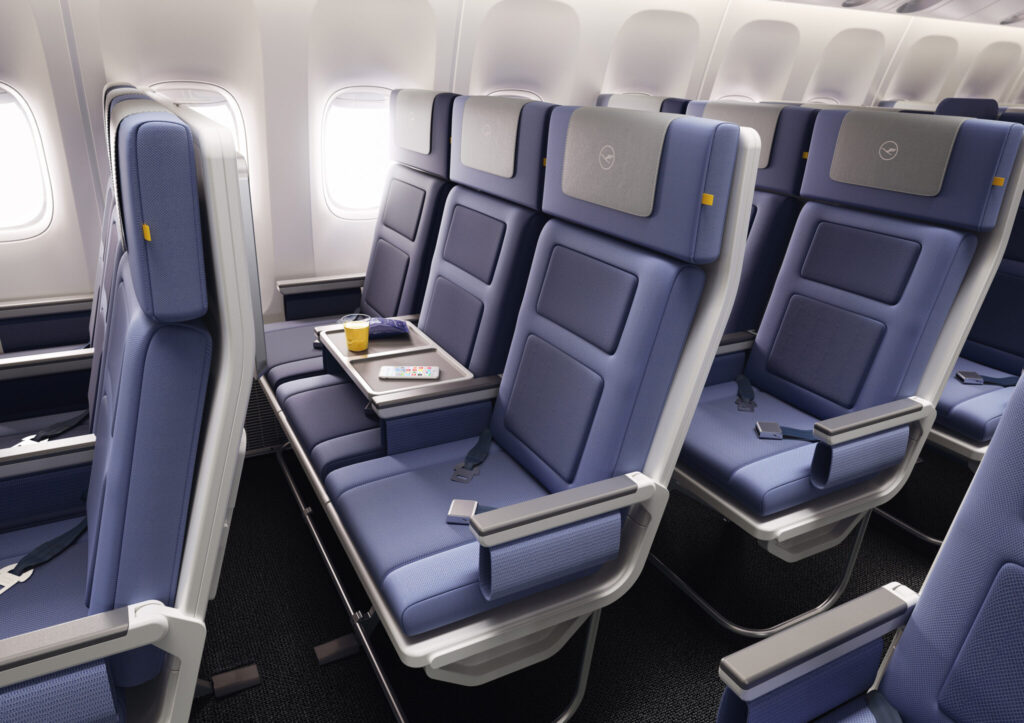 The appeal of flying Lufthansa is not its high network presence or its above-average connection quality for the 50% of its hub operation flights that are based at Munich Airport.
This is a bit of a stretch.Before we see actual seats in the metaphorical thermoplastic, foam, and fabric flesh, we must withhold judgement.
Stay Updated with Aviation a2z.
Join Our Telegram group for Latest Aviation Updates :- https://t.me/aviationa2z