Turkish Airlines flight from Istanbul to Kuala Lumpur diverted to Chennai due to a woman in labour giving birth on the plane. The incident took place on Thursday afternoon.
Turkish Airlines has daily flights to and from Istanbul, Turkey to Kuala Lumpur, Malaysia. The Airline uses its Boeing 777-300 aircraft for this route.
Emergency landing by Turkish airline at Chennai due to woman Labour pain
According to the report, the woman was in labour pain and she gave birth to a child on the plane. But unfortunately, the baby was stillborn which breaks the heart.
Flight Radar 24 gives us more details about the flight. The Daily flight is operated as TK60 with Boeing 777 aircraft having registration TC-JJY. The aircraft took off from Istanbul, turkey at 12:06 Am and was scheduled to reach its destination Kuala Lumpur after 10 hours. But the flight has to be diverted due to a medical emergency at Chennai Airport at around 8:17 Am.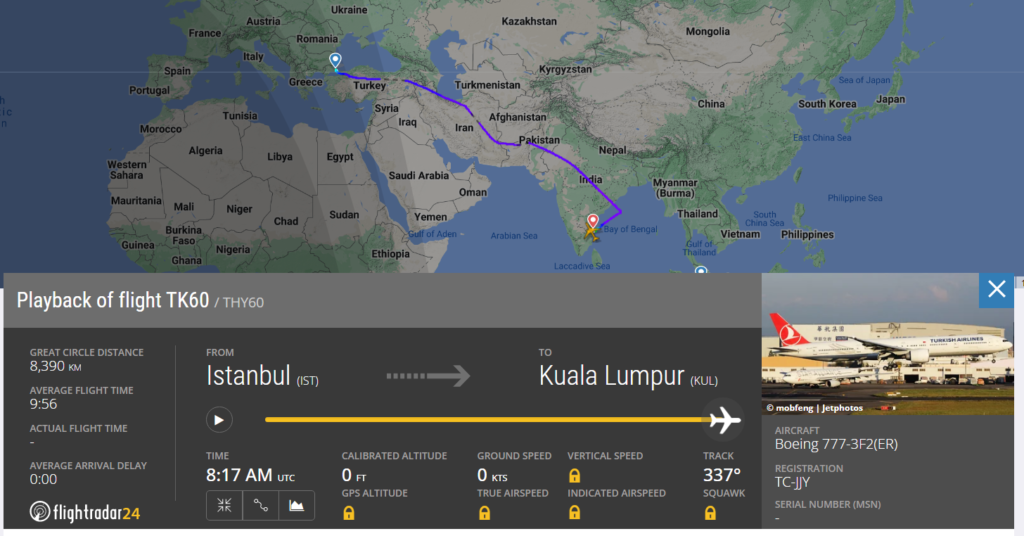 The woman gave birth on the flight but it was stillborn and which is really sad. A similar incident took place when a Saudi Arabia airlines plane diverted to Chennai due to a medical emergency.
The Twitter account of Chennai skies reported the incident,
The plane took off again from Chennai at 10:43 Am UTC and landed safely in Kuala Lumpur at 2:34 Am UTC.
Saudia airlines Emergency Landing at Chennai
According to a source, Saudia Airlines operates regular flights from the Jeddah-Kuala Lumpur route. But on 4th July this year, something happened on board and the plane diverted to Chennai at 7:30 Pm IST with Ambulance kept ready on the ground for quick treatment.
The plane was en route from Jeddah, Saudi Arabia to Kaula Lumpur, Malaysia with Flight Number SV840, But it diverted to Chennai airport due to Medical Emergency.
some travel experts say travel should be restricted to passengers who are having medical conditions, Especially a pregnant woman at the last stage of giving birth.
We will keep you posted about all the Aviation-related updates, make sure you click on the notification bell.
Also read, United Airlines Plane Runs Out of Fuel After Taxiing For Six Hours (aviationa2z.com)
Join Our Telegram Group for Latest Aviation Updates:- https://t.me/aviationa2z and Stay connected with Aviation a2z!
Follow us on Google News For Latest Updates !!