Cricketer Irfan Pathan reported a "poor experience" with the airline employees at Mumbai airport the previous day, and Vistara assur hied him on Thursday that all necessary corrective actions will be done.
Jyotiraditya Scindia, the minister of civil aviation, responded to Pathan's tweet from Wednesday night on Thursday by saying, "@Irfan Pathan, I'm so sorry to hear this! @airvistara, kindly look over and respond ".
Pathan claimed on Wednesday that when departing Mumbai for Dubai, he had a "very terrible experience" at the Vistara check-in counter.
He said that despite having a confirmed booking, the airline was unintentionally reducing his ticket class, and that he was forced to wait at the counter while they dealt with the situation.
Click here to check the Twitter post
"My wife, my 8-month-old child, and my 5-year-old child had to experience this with me. 
The ground crew was nasty and offered several justifications.
 Actually, a few other passengers had to go through the same thing.
 Why they oversold the flight baffles me, and how was this even permitted by management? "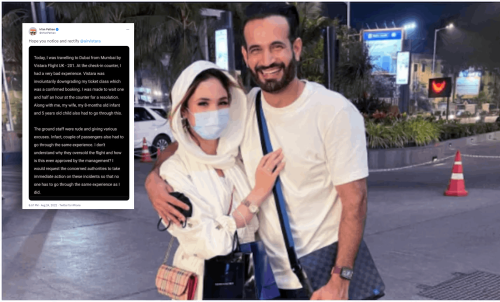 In the tweet, he made a request for quick action.
The airline responded on Wednesday itself, saying it was deeply troubled to learn of the event and was conducting a priority investigation.
Vistara tweeted that it had taken notice of all the information he had provided and would "take all corrective measures as necessary."
Pathan replied, "Thank you for the communication," to the airline.
Also read:
Dubai wants 50,000 more India-UAE seats for its aircraft, alarming Indian airlines | EXCLUSIVE
IndiGo Pilot announcement video in English-Hindi gets Viral on Internet
Stay Informed with us!
Join us on telegram for Latest Aviation Updates :-