Embraer, a Brazilian aerospace company, is steadily raising interest in its next-generation turboprop passenger planes. The most recent teaser is a video presentation from Embraer that has recently appeared on YouTube.
Promotion code:
ERJ
Date of establishment:
1969-08-19
General Director:
Francisco Gomez Neto
Headquarters location:
Sao Paulo, Brazil
Main product lines:
Embraer 170, Embraer 175, Embraer 190, Embraer 195, Embraer 175-E2, Embraer 190-E2, Embraer 195-E2
Business Type:
Airman
Need for Turboprop development
More than ever, the world has high expectations for commercial aviation. A short while ago, the focus was on creating larger aeroplanes, establishing expansive airports, and channelling traffic through massive hubs, whether they were located in Dubai, Singapore, London, or Atlanta. Today, there is intense pressure on the aviation industry to improve, with some European governments even outlawing short-haul flights when a train is an option.
The creation of a new generation turboprop (TPNG), albeit it is difficult to imagine the word turboprop ever being applied to this aircraft, can help Embraer partially address this difficulty.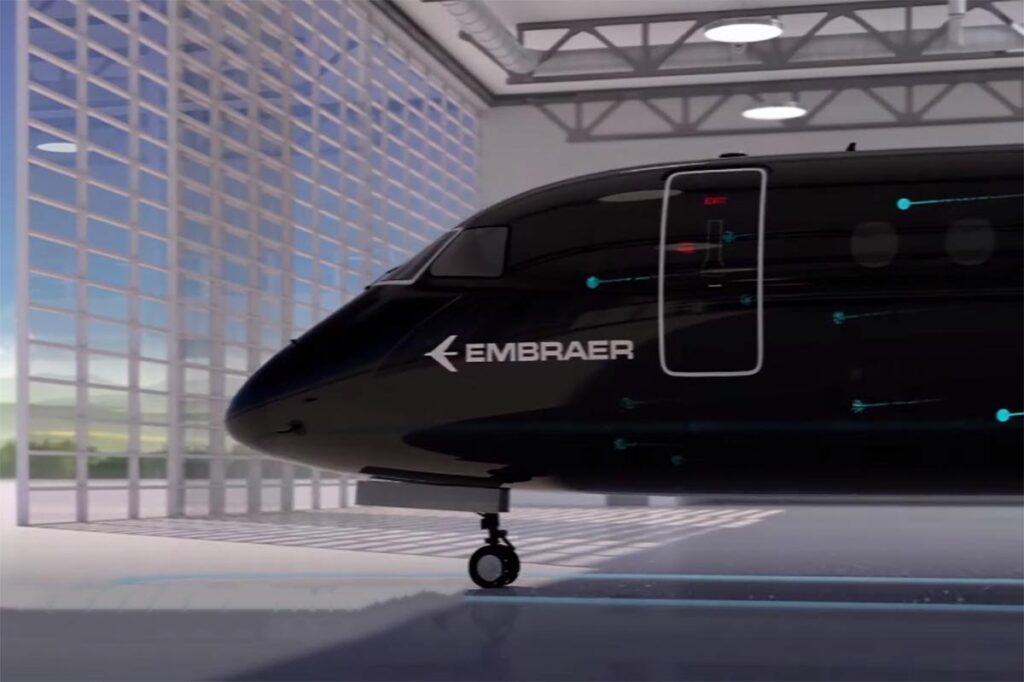 Embraer Turboprop New Generation
Embraer predicts that during the next 20 years, there will be a need for 10,950 new aircraft with up to 150 passengers. 57 percent of all new deliveries will be used to replace old aircraft, and 43 percent will be utilised to expand markets.
Smaller aircraft will likely become more popular, according to Embraer, as demand for flexibility, connection, and efficiency rises. Through new generation aircraft, propulsion systems, and fuel sources, the shift to decarbonization will be accelerated by the desire for greater sustainability.
According to Embraer, 2,280, or 21%, of the approximately 11,000 new aircraft needed would be turboprops.
President and CEO of Embraer Commercial Aviation Arjan Meijer stated that the new aircraft is not a turboprop as we know it.
The new plane is more like an E-Jet E-2 with a different type of propulsion than it is a better turboprop. The TPNG's cabin will be similar to that of the E2 and will be significantly quieter as a result of putting the engines to the back.
Meijer claimed that it will introduce "disruptive economics" to the turboprop industry. It will be available in two versions, a 90-seater and a 50-seater. For instance, he claimed that the TP90 will be 20% faster than current turboprops, have 25% more seats, and have up to 15% cheaper operational expenses.
Without much fanfare, Embraer is actively collaborating with a number of engine producers to identify the TPNG's ideal power source. Embraer doesn't disclose specifics, as it does with practically every aspect of the aircraft, although it has stated that the engine choice should be made this year. It ran full wind tunnel testing this year after finishing wind tunnel testing of prototype propeller systems in March. The business case is being built concurrently, and numerous airlines are being contacted in an effort to find a launch customer.
The ultimate goal is to complete the necessary preparation work and announce the decision to launch the TPNG by early to mid-2023. Embraer claims that if it decides to move through with the new aircraft, it will start the detailed design, manufacture, and certification process, with an entry into service most likely occurring in early 2028.
Also read:
SpiceJet flyers walk on Delhi airport's tarmac after waiting for bus for 45 min; DGCA probe begins
Air India to bring back 10 grounded aircraft by 2023
Join our telegram group for latest Aviation Updates:-
Stay tuned…