Passengers flying between Rome and São Paulo, Brazil with ITA will now get to experience the comfort of the Airbus A350-900.
Italian flag carrier ITA Airways has found another route for its Airbus A350, now operating it on the Rome to São Paulo service. The airline took delivery of its first A350 in May, becoming the 40th airline to operate the type.
ITA announced plans to launch flights to South America
In March, ITA Airways (ITA) declared plans to launch flights to South America, connecting Rome to Buenos Aires, Argentina, and São Paulo, Brazil. The service from Rome Leonardo Da Vinci Fiumicino Airport (FCO) to São Paulo Guarulhos International Airport (GRU) commenced on June 1, operating an Airbus A330-200. Alitalia previously served the route with a Boeing B777-200ER and last operated it on January 12, 2021.
Aviacionline.com reported the A350-900 was introduced to the route on Thursday last week. ITA flight AZ674 departed FCO at 23:16 for the 11:07 hour flight to São Paulo, landing at 05:23 the following day.
The A350-900, registration EI-IFA, left that afternoon at 14:40 and came to Rome at 10:27 on Saturday. The daily route will be operated by both A330 and A350 aircraft, with schedules showing the Thursday and Saturday services from Rome operating the A350. On a sample of one, flight times are comparable, but the superior economics and travelers' experience of the A350 will make it a success and an attractive option on the route.
ITA plans to use the A350 on its longest routes
ITA plans to use the A350 on its longest routes, including Los Angeles in the US, Buenos Aires, and São Paulo. As a full-service carrier, ITA has configured the aircraft in a two-class layout of 334 seats, with 33 in business class and 301 in the economy cabin. The seat map shows business class has 7 rows of four seats, one row of 3, and a back row of two, all of which transform into completely lie-flat beds.
Also, read
With exceptions for exit rows, economy class is a three-by-three layout, with a seat pitch that varies between 31-34 inches (78.7-86.4 cms). Why there are 2 pitch settings is puzzling, provide those seats are still in a nine-abreast layout and ITA does not yet offer a premium economy product on the route. The economy seats are 18″ (46 cms) wide and have a recline of 120º.
ITA is nearly back to total capacity, with 60 of its 63 aircraft back in service. According to ch-aviation.com, it has 18 Airbus A319-100s, 32 A320-200s, eight A330-200s, and 5 A350-900s.
ITA is utilizing 8 wet-leased aircraft: two Boeing B777-200ERs, four Bombardier CRJ1000ERs, one Embraer ERJ 190AR, and one ERJ 190-100LR. It also has 23 A220s, 23 A320neos, nine A321LRs, 17 A330neos, and three A350s on order.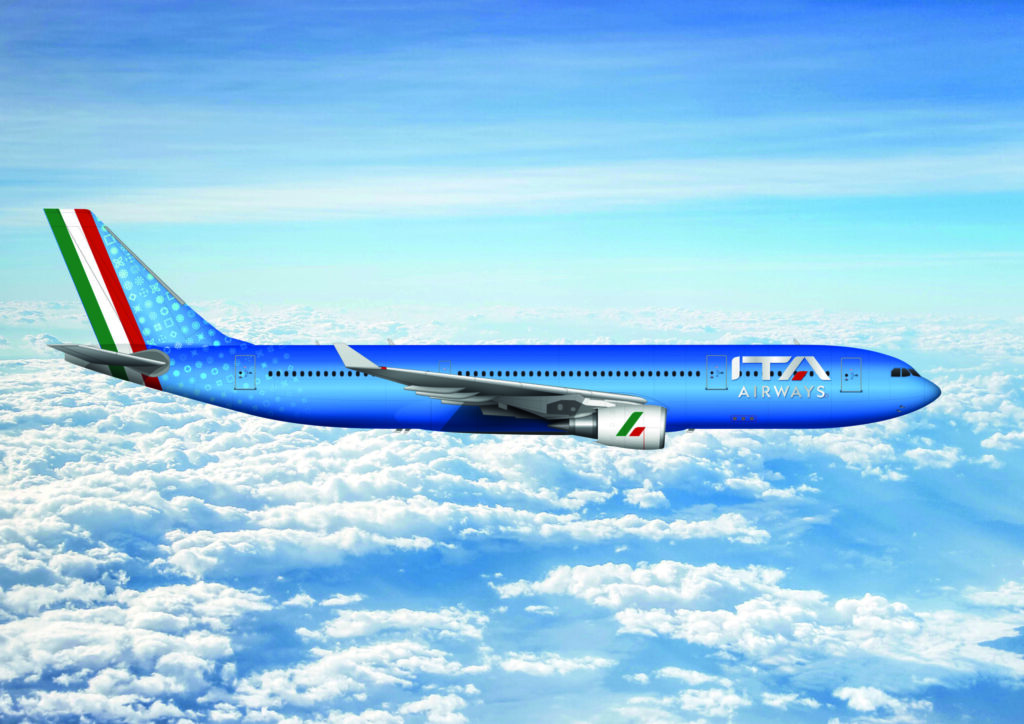 From its main base in Rome, ITA operates 94 routes to 67 destinations in 23 countries, including a complete domestic network in Italy. Some short-haul destinations include Amsterdam, Munich, London Heathrow (LHR), Madrid, Palma de Mallorca, Tel Aviv, and Cairo.
Longer routes head to the US cities of Boston, New York, Miami and Los Angeles, São Paulo, and Buenos Aires, and from December to Malé, the capital of the Maldives.
Thank you
Stay updated with Aviationa2z.com
Join our Telegram group for the latest updates