VIENNA- The Lufthansa (LH) group-backed Austrian Airlines (OS) flights operating Airbus A321 have declared a back-to-back emergency. Further, the Airbus A321 used by OS are both more than 27 years old.
The Austrian Airlines flight OS308 and OS783 have declared a general emergency. One flight is scheduled to arrive at Vienna Int'l Airport (VIE), while the other departs the airport.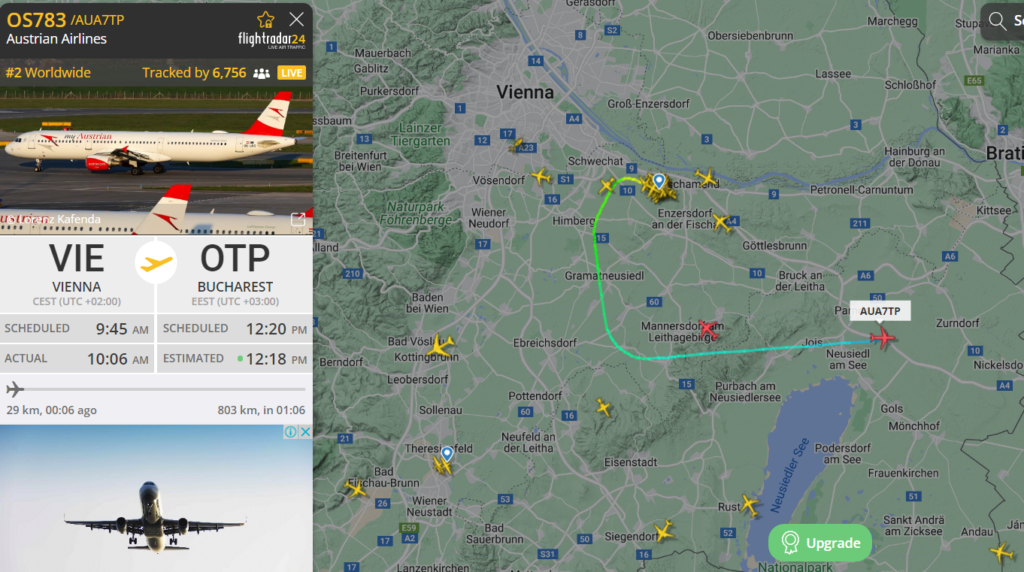 Austrian Airlines Airbus A321 Declares Emergency
Here is the brief about both flights,
Details about OS308
The Austrian flight OS308 took off from Copenhagen Airport (CPH) in Denmark at 6:56 AM UTC. Further, at around 35,000 feet and at 7:47 AM, the airline declared an emergency and decided to follow the route.
The pilot followed the same route but at a lower altitude. Subsequently, the flight crew contacted ATC and safely landed at VIE at 8:16 AM UTC. The reason for the emergency is not yet known.
The aircraft involved in the incident is OE-LBB and is 27.5 years old Airbus A321-100 aircraft.
However, before the OS308 could land at VIE, another Austrian Airlines flight OS783 declared the emergency shortly after takeoff.
Details about OS783
The Austrian flight OS783 took off from VIE at 8:06 AM UTC. Shortly after takeoff, it declared an Emergency on Radar. However, the plane continues its route.
The flight landed safely at Bucharest (OTP) at around 9:18 AM UTC, one hour after it declared the emergency. However, the root cause is not yet known. Fortunately, both planes landed safely at their destinations.
The aircraft involved in the incident is Airbus A321 which has the registration OE-LBC. Further, the aircraft is 27 years and three months old, which OS took back in 1996.
Stay tuned with us. Further, follow us on social media for the latest updates.
Also Read: US Airlines, Including American, United, Delta, and Southwest, want you to Dress Properly – Aviation A2Z
Join us on Telegram Group for the Latest Aviation Updates. Subsequently, follow us on Google News.