MUMBAI- On May 31, 2023, Poonawalla Aviation operated India's first helicopter flight using the Indigenous GAGAN, GPS-aided GEO augmented navigation system.
Poonawalla Aviation Pvt. Ltd. (PAPL) is a non-scheduled operator based in Pune and is part of the prestigious Poonawalla Group of companies.
PAPL is responsible for managing a modern charter fleet, which boasts one of the youngest aircraft fleets in India, with an average age of less than 3 years.
Poonawalla Helicopter Flight Using Gagan
According to the source, the Poonawalla Helicoper registered as VT-NAP operated the flight from Juhu Airport (VAJJ) to Pune International Airport (PNQ).
The trial will lay the foundation for the development of a performance-based approach. Further enabling improved operational capabilities for all-weather and night operations at Juhu.
The poonawalla took delivery of Airbus ACH 145 helicopter back in 2019. Furthermore, This signifies the introduction of the highly successful twin-engine helicopter into India's private and business aviation sector.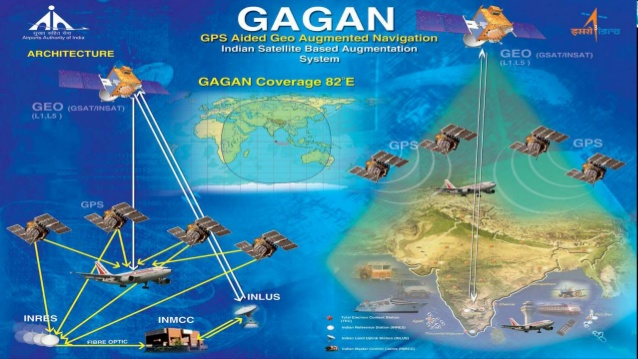 What is GAGAN?
GAGAN, which stands for GPS Aided GEO Augmented Navigation. It utilizes a network of ground stations to enhance the GPS standard positioning service (SPS) navigation signal.
Across India, a series of meticulously surveyed ground reference stations (referred to as INdian Reference Stations or INRES) are strategically positioned to gather GPS satellite data.
Based on this information, the master control center (known as the INdian Master Control Centre or INMCC) generates correction messages to rectify any signal errors.
These correction messages are then transmitted through the INdian Land Uplink Station (INLUS). Further broadcasted via communication satellites (specifically, Geostationary satellites) to receivers on aircraft, utilizing the same frequency as GPS.
The purpose of GAGAN is to provide enhanced accuracy, availability, and integrity. Further enabling users to rely on GPS throughout all stages of flight. Subsequently, including en route and approach, for all qualified airports within the GAGAN service area.
GAGAN also offers the potential for improved precision in position reporting, contributing to more consistent and high-quality Air Traffic Management (ATM).
Furthermore, GAGAN extends its benefits beyond aviation to various modes of transportation, including maritime, highways, and railroads.
Poonawalla Aviation Helicopter VT-NAP Delivery
The helicopter offers a roomy cabin with seating capacity for up to eight individuals in various configurations such as ACH Line, ACH Mercedes Benz Style, or ACH bespoke versions.
Equipped with Airbus Helicopters' Helionix avionics, including a standard 4-axis digital Automatic Flight Control System, the ACH145 reduces pilot workload.
Its Fenestron enclosed tail rotor significantly reduces noise levels. Powered by Turbomeca Arriel2E engines with dual channel FADEC, the helicopter generates 951 shaft horsepower for take-off, enabling improved hover and one-engine inoperative performance, as well as increased maximum gross weight capability.
"We are extremely pleased with our decision to select the Airbus ACH145, which sets a remarkable standard in its class. The choice was made with a focus on achieving the highest levels of customization, comfort, and safety. Additionally, Airbus Helicopters' comprehensive local support system ensures optimal aircraft availability," expressed Mr. Poonawalla.
"Airbus holds a dominant position in the Indian civil helicopter market. Our VIP customers turn to Airbus Helicopters for unrivaled quality and a tailored experience," stated Anand E Stanley, President and Managing Director, Airbus India & South Asia. "They rely on our products' ability to combine cutting-edge technology with new possibilities in transportation."
About Poonawalla Aviation
Established in 2005, Poonawalla Aviation aims to provide its clients with a tailored charter experience. Subsequently, operating a thoughtfully curated fleet that underscores our dedication to luxury and outstanding service, all while adhering to the highest safety standards.
We go the extra mile to ensure that every aspect of your travel is taken care of, including luxury car pickups, convenient helicopter connections, catering to dietary preferences and restrictions. Further, seamless airport transfers, and much more, in order to complement your dynamic travel plans.
As part of our commitment to adhering to globally recognized safety standards, Poonawalla Aviation is actively working towards obtaining ARGUS and WYVERN ratings. Further demonstrating our unwavering dedication to following internationally accepted best practices for safety.
Stay tuned with us. Further, follow us on social media for the latest updates.
Also Read: US Airlines, Including American, United, Delta, and Southwest, want you to Dress Properly – Aviation A2Z
Join us on Telegram Group for the Latest Aviation Updates. Subsequently, follow us on Google News.