MUMBAI- June 1, 2023, The TATA SIA JV carrier, Vistara (UK) Airlines, will commence its first non-stop service from Mumbai (BOM) to London (LHR) today.
The Indian FSC will operate the five times weekly flights on this route using its state-of-the-art Boeing 787 Dreamliner. Furthermore, the airline will deploy VT-TSP, the latest 787 addition, to its fleet.
Vistara Mumbai to London Flights
The Tata-backed carrier announced the launch of this route on March 31 2023. The airline will fly five scheduled weekly flights and operate them as UK15 from BOM to LHR and UK16 from LHR to BOM.
Furthermore, The starting fares for round-trip journeys are INR 57,799/- for Economy Class, INR 102,199/- for Premium Economy Class, and INR 241,399/- for Business Class, offering comprehensive and inclusive pricing.
Mr Vinod Kannan, the CEO of Vistara, expressed his delight in announcing the Mumbai-London route as the airline's fourth connection to Europe, following the successful establishment of routes to Frankfurt, Paris, and London from Delhi.
This new route launch highlights the increasing preference of customers for Vistara when travelling between India and the UK.
It also provides customers additional choices and flexibility for their travel plans while enjoying the exceptional service of the country's most beloved airline.
Vistara aims to expand its presence in Europe further. Particularly by adding more wide-body aircraft to its fleet in the coming months.
Vistara welcomes all eligible customers who meet the visa and entry requirements set by the respective government bodies in both countries.
It is important for customers to thoroughly comprehend and comply with these guidelines before making their bookings, and Vistara encourages them to do so.
Route Details
FlightRadar24 showed that the VT-TSP arrived at BOM from Delhi (DEL) on May 30. Subsequently, the aircraft has served the DEL-LHR-DEL route frequently since its induction into the fleet.
The Mumbai-London route is not very competitive as there are three carriers prior to Vistara that are serving this route. This includes Air India (AI), British Airways (BA) and Virgin Atlantic (VS).
Air India (AI) deploys its Boeing 787 Dreamliner fleet to serve the sector. Further, it operates two flights daily and strongly holds this sector.
On the other hand, British Airways (BA) strongly competes with three flights a day on this route with its Boeing 777s and 787s. While Virgin Atlantic (VS) operates one daily flight using 787.
With the commencement of the Vistara 5X weekly flights, Tata will have a strong presence in this sector. Further, post-Air India Vistara merger, the Indian Conglomerate will dominate the route.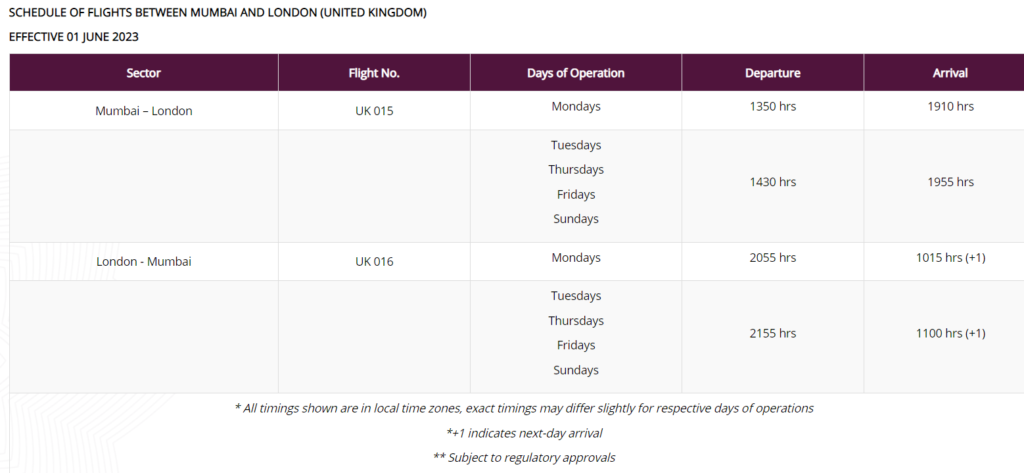 Today's Flight Updates
The Tata group chairman, N Chandrashekhar and other senior executives were given the tour of Boeing 787 VT-TSP today ahead of its first Mumbai to London flight. Further, the Vistara CEO Vinod Kannan is also present on the spot.
CSMIA's official Twitter handle tweeted, "We are delighted to announce that our travel partner, @airvistara, has now introduced daily flights to one of the most popular cosmopolitan cities in the world – London (Heathrow)! So, pack your bags and explore the royalty and vibrant nightlife."
Track the Vistara Airlines Live flight from 2:35 PM IST on Flight Radar 24, VT-TSP – Boeing 787-9 Dreamliner – Vistara – Flightradar24
Stay tuned with us. Further, follow us on social media for the latest updates.
Also Read: Indian Students Deported Back to Delhi from USA on Delta Flight – Aviation A2Z
Join us on Telegram Group for the Latest Aviation Updates. Subsequently, follow us on Google News.