AIESL formerly known as Air India Engineering Service Limited is a State-owned MRO.
The technicians went on Strike for Salary revisions, employment contract renewals, and the inclusion of dearness allowance.
The Engineering staff after many tools down agitation decided to go on Mass strike to show the world about the Unfair and unethical treatments going on in Indian Aviation Industry, especially at the ground level,
But after almost 1 year and 3 months, the AIESL Technicians got justice in form of salary revisions and some other benefits.
Why do AIESL Technicians go on Nationwide strike?
After being disappointed in a meeting with the managers, Air India Engineering Service Limited technicians are planning a strike starting TODAY March 15!This strike can last for 5 to even 15 days!
Technicians from Delhi, Chennai, Nagpur, and other bases joined the Nationwide Strike.
An indefinite 'tools down agitation' strike by about 1,700 aircraft maintenance technicians working for a company that handles maintenance and repair jobs for private carrier Air India began at 9 a.m. on Tuesday, 15th March 2021.
Earlier in January and February, the technicians, who are on a fixed-term contract with AIESL, threatened a 'tools down agitation' across the country.
Both times, negotiations with management were taking place in the presence of a labor commissioner, and the agitation was put on hold.
Technicians are responsible for a variety of tasks, including aircraft fueling, departure preparation, marshaling, and maintenance.
" Because our work profile, qualifications, and other factors are similar, our compensation should be comparable to those of Air India service engineers," said a technician who asked to remain anonymous.
However, our remuneration is Rs 25,000.
" However, we have been earning a salary of Rs 21,444 since January.

Medical facility deductions were made, as well as Rs 1100 that Air India has been deducting as part of economic measures since May 2020," he added.

AIESL technician over Nationwide strike
The agitation was postponed as conciliation talks between the technicians and the AIESL management began under the supervision of an assistant labor commissioner.
AIESL technicians met honorable minister Scindia today, thereafter in the ALC meeting FTE technicians decided to call off the strike.
Read More Here: Air India technicians called off strike as ministry gives assurance – Aviation A2Z
AIESL Engineering staff Victory
After 7 days of Vigorous strike, technicians were Heard by the ministry of civil aviation and Air India Management.
Under the Supervision of the labor commission, a Special Committee was formed with 3 management personnel and 3 technicians were Included.
After various talks and discussions of technicians' problems, a conclusion was drawn and a Salary hike for them is granted.
For technicians having 2-3 years of Experience, a salary hike of 6,000 rs per month is decided, and for technicians having more than 3 years of experience they receive additional 8,000 rs per month.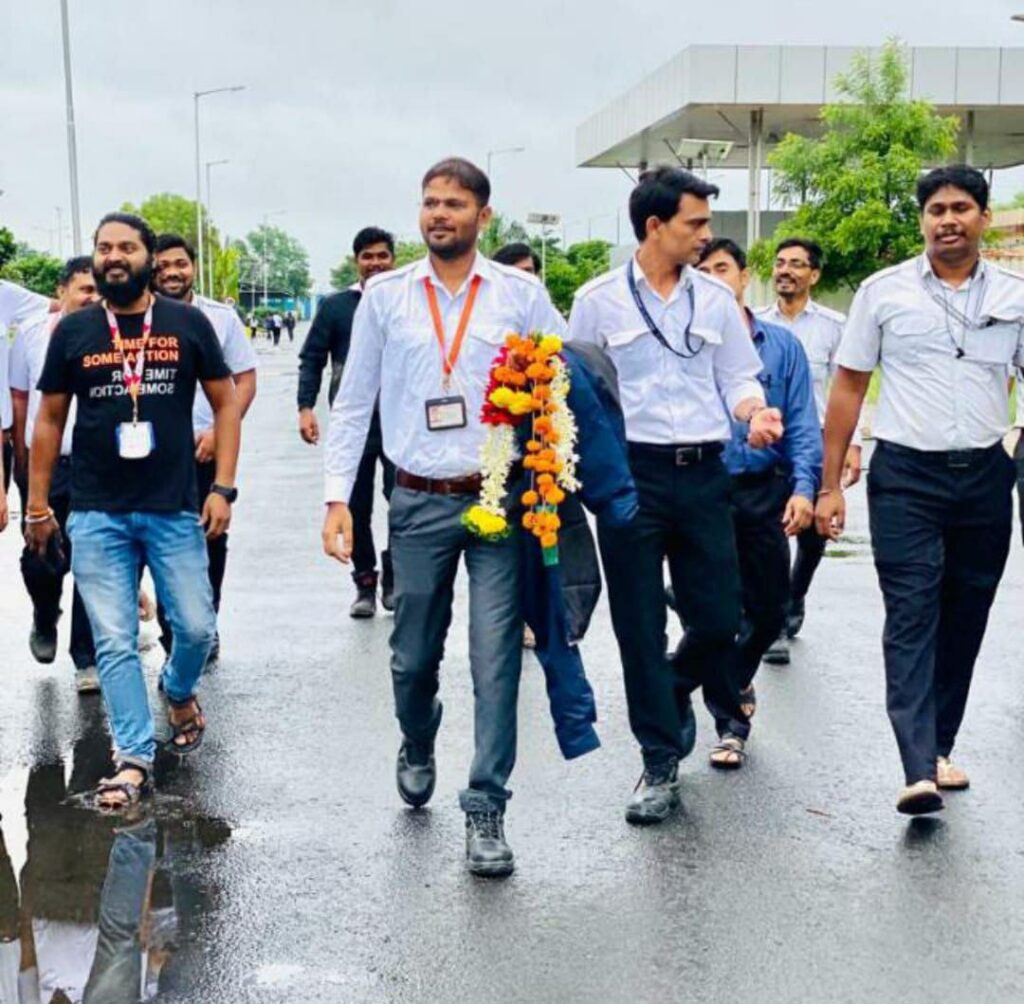 Not only that, but along with Aircraft Technicians, supervisors, helpers, drivers, and other staff salaries also received a raise.
Also, a standing committee Is requested to fulfill fair demands like FTE Rule Implementation, DA i.e Daily allowances, and Carrier progressions.
The AIESL Technicians were seen as extremely happy in the Viral Video here:-
Also Read:- Exclusive News: Air India Engineering Services Limited Nationwide Strike – Aviation A2Z
Indigo and Go first Technicians Mass sick leave
The Indigo and Go first as well Spicejet technicians and engineering staff carry out protests against unfair pay and other serious issues.
such strikes and protest shows the reality of the Indian aviation Industry, the staff working at the bottom and mid-level are not happy and it's a serious concern for safety.
Recently, many emergency landings and crashes in Flying clubs have been reported and DGCA is in action to find the culprit.
Actually, the culprit is poor working conditions, long hours of shift, fatigue, safety violations, low pay, and hampering with human factors.
We hope that such issues should be addressed by the ministry and DGCA and should be solved as soon as possible to avoid the exploitation of such persons in this wonderful industry.
Join Our Telegram Group for Latest Aviation Updates:-https://t.me/aviationa2z
Stay connected with Aviation a2z!