Around 7 p.m. on Friday, a 23-year-old man was discovered dead after he "exited" a plane before it made an emergency landing at Raleigh-Durham International Airport in Fuquay-Varina, according to officials.
The man's (Co-Pilot) body was discovered behind a home near Sunset Lake and Hilltop Needmore roads following a thorough search that encompassed numerous municipal, county, and federal authorities.

according to Darshan Patel, operations manager for Wake County emergency management
The person was identified as Charles Hew Crooks of Raleigh on Friday night, according to a post on the Facebook page of the Fuquay-Varina Police Department. Crooks' identity was not given by Patel earlier on Friday, although he did state his age as 27.
According to the Fuquay-Varina Police Department, Crooks was the co-pilot of the aircraft.
Crooks was discovered, according to Patel and Fuquay-Varina police, after a resident of the Sonoma Springs subdivision called down search teams that were already in the area of the neighbourhood.
That was the awful conclusion to Friday's perplexing emergency at RDU. According to the airport, a twin-engine turboprop plane reported landing gear problems as it approached the airport at around 3 p.m. According to the airport, the aircraft landed on Runway 5R-23L but deviated into the grass.
What actually happened to the plane and Pilot?
an airport spokeswoman said,
The pilot, who was the only passenger on board when the aircraft touched down, was transferred with minor injuries to a hospital affiliated with Duke University.

Around 2:30 or 2:45 in the afternoon, the missing individual was reported to the police, according to Patel. According to Carolyn Roman from the Town of Cary, EMS, police, and fire departments were scouring a sizable portion of Wake County at 5 o'clock for a second individual who might have "exited the plane while it was in the air."

Statement by people
He didn't know whether the individual who had died had leapt or fallen, Patel said, adding that search personnel had "wished for a better ending." Patel claimed that the man was missing a parachute. The man got out of the plane without knowing how high it was flying.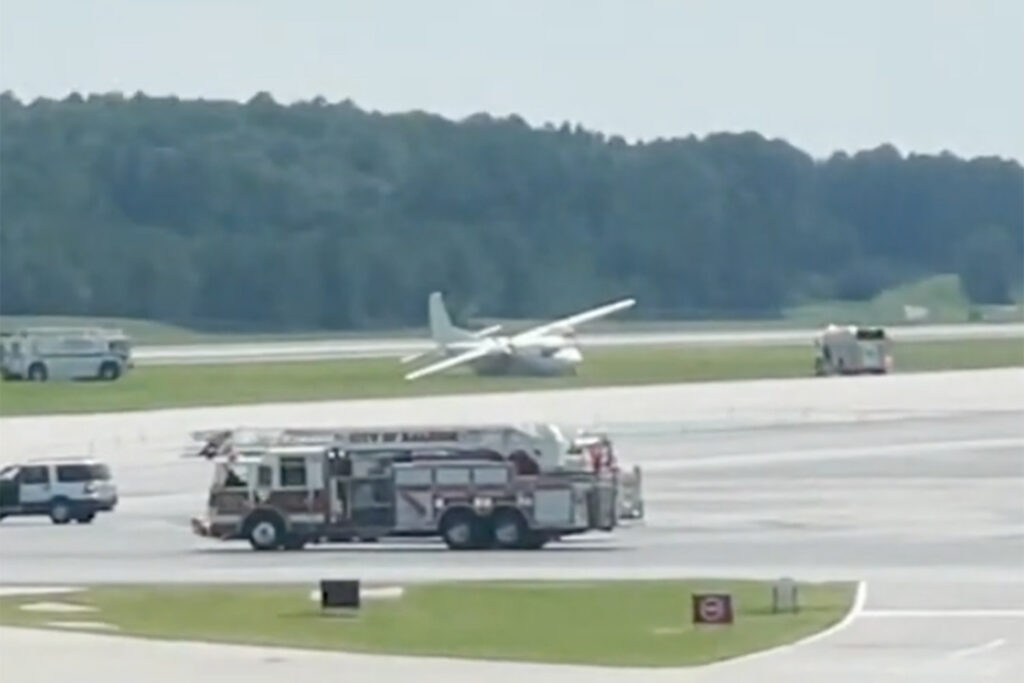 Questions about the inquiry were referred to RDU, the Federal Aviation Administration, and the National Transportation Safety Board by Patel and the Fuquay-Varina Police Department.
According to Patel, searchers collaborated with RDU Airport and the FAA to plot the flight plan of the aircraft and compare it to the radio communication of the pilot. According to Patel, searchers combed a sizable area from southern Wake County to the Harnett County line using a drone and an N.C. State Highway Patrol helicopter.
The man's body was discovered as the searchers were focusing their efforts.
Also read:
DGCA to hire 100-150 individuals over next 6-8 months to improve aviation safety surveillance
Second BOMB THREAT at Ranchi`s Birsa Muna Airport, probe underway
Join our telegram group for latest Aviation Updates:-
Stay tuned…