India is known for a number of flying clubs which conducts commercial pilot training for enthusiastic cadets.
DGCA , which is the controlling authority of civil and commercial aviation in India, permits various pilot licenses like PPL, CPL and ATPL for training pilots of various levels.
Of these, CPL is the commercial pilot license which is the basic qualification for flying commercial aircrafts.
Here is a list of top performing flying academies in India offering various pilot training programs. 

We have used a variety of criteria to choose the best among the rest.
The criteria for evaluating each flying club includes:
Number & type of aircrafts
Number of pilots trained every year
Aviation facilities like Multi-engine, Simulator etc.
Number & type of courses (IR, MER, AFI, FI, license renewals, conversions etc.)
Facilities like hostel, transit, Wi-Fi, AC rooms, Library
Incidents/accidents occurred
Flying fees per hour
CPL package fees and contents
1. Indira Gandhi Rashtriya Uran Academy, Rae Bareilli
24 aircrafts, 4 multi engine. Campus recruitments
IGRUA is the best flying club as of now, in India. It is a government undertaken flying club, situated in Rae Bareili, UP.
Public sector airlines- Air India used to pick pilots for their aircrafts from IGRUA on a priority basis.
However it is hard to get admission in IGRUA as you have to pass an entrance test conducted every year at various centres in India.
Check more at igrua.gov.in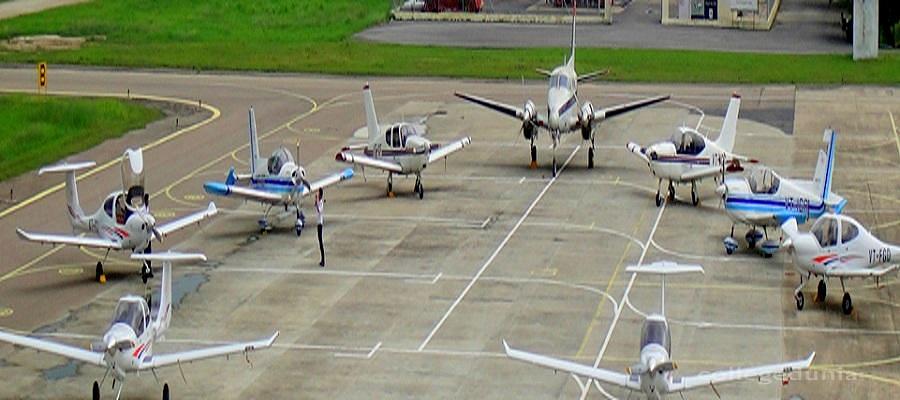 2. CAE Oxford, Gondia, Madhyapradesh
10+ aircrafts, International flying centres, A320 type rating with assured placement
CAE Oxford flying club or simply Gondia Flying club as it is known it the second best and the best in private sector aviation academies.
They offer a placement assured CPL program which costs around 50 lakhs INR, which trains fresh cadets to become CPL holders with Airbus A320 type rating to enable them to become first officers in Airbus 320 for Indigo Airlines.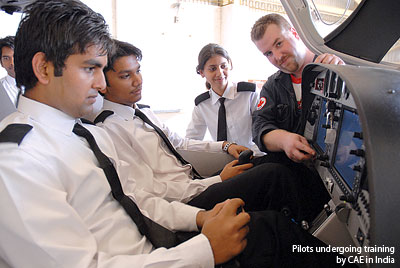 For: Best flying academy in Indian private sector, large fleet, best in industry flying, Operating in many countries, Assured placement courses
Against: Private uncontrolled airport, A bit high in fees, Split down flying charges are not available to compare
Verdict: Best flying academy if you can afford fees (32.5 L for CPL & 50 lakhs for Indigo program)
Know more at cae.com
3. Chimes Aviation academy, Dhana, Sagar, Madhyaprades
10+ aircrafts, 2 multi engine, Limca book of records entrant
Chimes is a well known aviation academy which got entered into Limca Book of Records for successfully finishing CPL training for more number of cadets than any other flying club did.
Peculiarities include flying at your own will and wish to make you fearless in flying.
For: Best training in private sector, Limca book of records entrant for highest number of pilots passing out. Less downtime with newer aircrafts
Against: Multi engine fleet could be better, No hostel facility, connectivity to the location
Verdict: Best in class private flying school with competitive fees
Know more at caaindia.com
4. Carver Aviation Academy, Baramati, Maharashtra
11 aircrafts, fast flying hour building,
Carver offers fastest flying training to build your hours as fast as you can.
One of the best flying clubs in the private sector.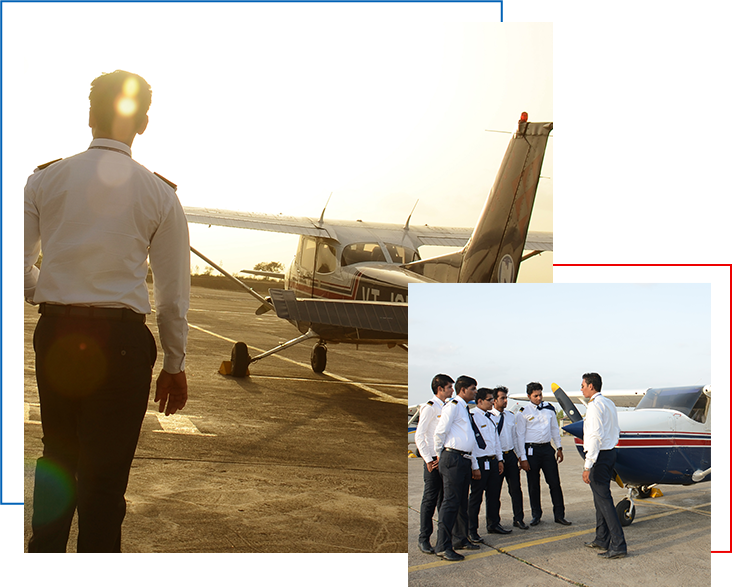 For: ISO 9001 2008 certified institution, 11 aircrafts, Round the year flying due to geographical peculiarity of flying area being in rain-shadow region
Against: Uncontrolled airfield
Verdict: One of the top 10 flying clubs in India.
Know more at carveraviation.com
5. GATI- Govt. Aviation training Institute, Bhuvaneswar, Orissa
5 aircrafts, Piper Seneca 5 Multi engine, Cheap fees, Flying in govt. commercial airport
Second best government undertaken flying clubs in India, GATI conducts flying in international airport in Bhuvaneswar, which adds to the quality of flying.
They offer competitive flying fees as well.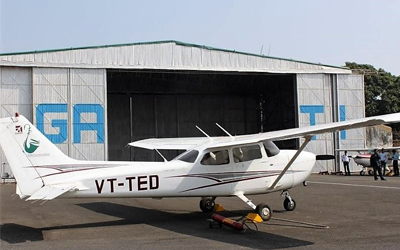 For: One of the oldest flying club, Operated from international airport, Good hostel facility, Competitively priced courses, Multi engine
Against: Number of aircrafts
Verdict: One of the best academies to join
Know more at flywithgati.com
6. Orient Flight School, Pondicherry (Puducherry)
OFS is known for its safe flying and is situated in south India.
It is one of the best flying clubs in south.
However, flying fees is a bit on the high side.
For: Large fleet of aircrafts, Connectivity, High safety concern
Against: A bit higher on fees, Not a busy airport.
Verdict: Reasonably good flying academy in south India at par with those good performers in central India.
Know more at orientflights.com
7. Ahmedabad Aviation & Aeronautics-AAA-Ahmedabad
5 aircrafts. No multi engine. Hostel available @6500 Rs per month
AAA is known for quality flying in international airport and for low fares.
However they don't have a multi-engine aircraft as of now.
For: Disciplined training, Hostel facilities, Cheap flying, Operating from international airport
Against: No multi engine aircrafts, Only 4 aircrafts available.
Verdict: Good to go with a small fleet and lesser number of students.
Know more at aaa.co.in
8. RG Aviation, Hyderabad
11 aircrafts, 1 multi engine. Low fees.
RG aviation in Hyderabad conducts pilot training as a package for just 21 lakhs Rupees.
However, students report frequent short halts of flying.
Know more at ragivgandhiaviation.com
9. AP Aviation academy, Hyderabad
AP aviation academy is also a government undertaken flying club.
It has got a small fleet of 3 aircrafts- Cessna 152 A, Cessna 152 and Cessna 172 each.
However no multi engine is there.
Simulator is there which is used for instrument flying.
Know more at tsaahyd.com
10. Flytech aviation academy, Hyderabad
Flytech is a well known flying club operating in Hyderabad.
CPL package is given for 23 lakhs with single engine aircrafts only.
Simulator flying id available for multi-engine @ 5000 Rs per hour.
Know more at flytechaviation.aero
Hope the list is informative and accurate.
Stay Tuned for more such informative Updates.