MUMBAI- Tata-owned Indian FSC Air India (AI) has canceled the first and maiden flight of the new Airbus A321neo, having the registration VT-RTE.
The VT-RTE is among the four A321neo taken on lease from AerCap. Further, the airline took delivery of VT-RTE in May 2023. Subsequently, due to supply chain issues, there is a delay in the installation of new seats. Following this, AI installed A319 seats in A321neos.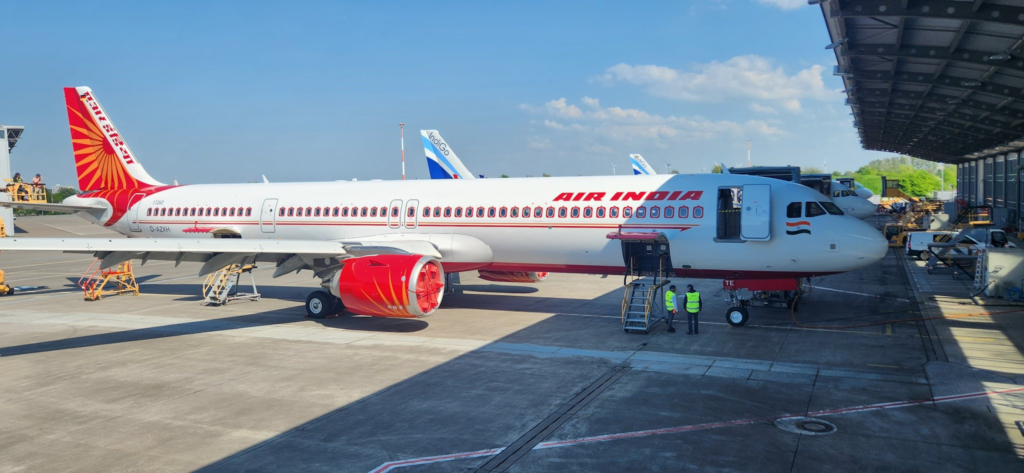 Air India Cancelled Maiden Flight of A321neo
According to Flight Radar 24, Air India scheduled VT-RTE's first flight from Mumbai (BOM) to Rajkot (RAJ). However, possibly due to Cyclone Biparjoy, the AI is forced to cancel its A321neo first flight.
The AI659 is the daily non-stop flight that takes off from BOM at 7:05 AM IST. After being airborne for almost 45-50 minutes, it touches down at 8:10 AM IST. Further, Air India deploys its smallest aircraft, A319, on this route.
But worry not; the Indian carrier has now rescheduled the flight from Mumbai (BOM) to Hyderabad (HYD). The AI615 flight will depart from BOM at 6:00 AM IST and arrive in HYD at 7:30 AM IST.
Further, the aircraft, like its predecessor VT-RTD is expected to serve high-density routes. Subsequently, it is scheduled to serve important Indian cities with Major Metro cities.
A321neo Timeline
The Oldest Indian Carrier took delivery of its first A321neo, having registration VT-RTD (named after Tata Chairman Emeritus Ratan Tata) on 26th March 2023. Subsequently, they took delivery of the second A321neo with Reg VT-RTC five days later, on 31st March.
Furthermore, they added a third A321neo at the end of the last month on 28th April. These planes have been parked and have not flown any flights since their induction until VT-RTD.
The fourth VT-RTD added by the carrier marked the completion of AerCap's four deliveries. Further, these A321neo are the first to be powered by CFM LEAP-1A engines in the Air India fleet.
Further, these planes are part of the 36 aircraft that Air India signed a lease agreement with lessors. Remember, this is not part of the order that includes 470 aircraft from both Airbus and Boeing.
The 36 planes on lease include both narrow-body and wide-body airliners. They are 21 A320s, 4 A321neos, 5 Boeing 777-200LR, and 6 Boeing 777-300ERs.
According to Nipun Aggarwal, Chief Commercial & Transformation Officer of Air India, the addition of these four newly leased Airbus A321neo aircraft is a significant milestone in the airline's ongoing transformation.
Other Aircraft Update
So far, Airbus has transferred four A350 registration from Aeroflot (SU) to Air India. While remaining will be added shortly to the Indian carrier. Furthermore, this A350s Manufacturer's Serial Number (MSN) is MSN 554, 558, 585, and most recently added, MSN 589.
The Indian civil regulatory authority, Director General of Civil Aviation (DGCA), has registered the six Boeing 777s taken on lease by TATA-backed Air India (AI).
According to the source, the DGCA has recently registered all with Indian registration. Further, these Boeing 777-300ERs are currently in the United States and are due to be delivered shortly.
Indian FSC Air India (AI) has secured a lease of six ex-Etihad (EY) Boeing 777-300ER. Further, it is in Victorville Airport, United States, and will be ready for delivery in the coming days.
Stay tuned with us. Further, follow us on social media for the latest updates.
Also Read: US Airlines, Including American, United, Delta, and Southwest, want you to Dress Properly – Aviation A2Z
Join us on Telegram Group for the Latest Aviation Updates. Subsequently, follow us on Google News.