On Friday morning, a tiny, Helios Horizon Electric Aircraft experimental, adapted glider took off from the airport in Minden-Tahoe and made a record-breaking landing.
Two electric batteries and one man behind the yoke propelled the three-mile-high Helios Horizon as it flew over Lake Tahoe.
Official observer for the National Aeronautic Association Kris Maynard claims that it significantly beats the previous world record for electric aircraft weighing under 500 kilograms.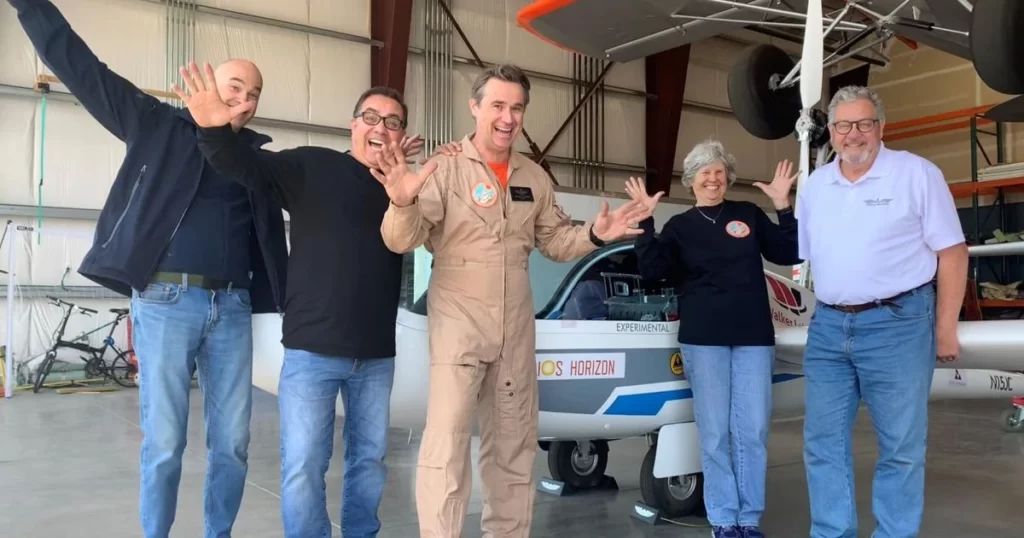 Helios Horizon crew and pilot
"The record went to almost 16,000 feet," Maynard told 2 News on Friday morning. "The standing record before today was about 10,000 feet altitude." The Helios Horizon crew and pilot Miguel Iturmendi claim to have been working on the aircraft up until liftoff.
"The project has been ongoing for a year and a half," he stated. In October and November of 2022, we conducted our initial round of flight tests, which had mixed results.
He claims that on a test flight last month, he was able to fly the aircraft as high as 20,000 feet, but without an authorised National Aeronautic Association observer present, that altitude won't go down in history. His current main limitation is battery life because climbing requires a lot of energy.
It's always risky since we're trying to completely discharge the batteries, he said. "Batteries tend to heat up quickly in the last five per cent, and I think we were only two or three per cent away from the battery running out."
Helios Horizon Electric Aircraft
Iturmendi owns several world records as well. He served as the Solar Impulse project's initial test pilot in 2016 when the aircraft made history by becoming the first solar-powered aircraft to circle the Earth. Taking an engineless glider above 90,000 feet is another goal he has in mind.
He claims that his objective is to present the potential for environmentally friendly flight. The use of electric aircraft is pretty cool. He added, "It's the future. We are working to convince people that electric aircraft is a real possibility.
He packed Helios Horizon into his car on Friday night and drove it back to his Florida home base, but he plans to return to the Minden-Tahoe Airport shortly to set additional records while flying electric aircraft.
Stay tuned with us. Further, follow us on social media for the latest updates.
Also, read FIRST LOOK: Air India Airlines New Possible Branding, Livery, Logo and More | Exclusive – Aviation A2Z
Join us on Telegram Group for Latest Aviation Updates. Subsequently, follow us on Google News.