MIRAMAR, FLORIDA- Spirit Airlines (NK) marked a significant milestone as it revealed its inaugural Airbus A321neo aircraft in a special ceremony held at the airline's maintenance hangar in Detroit.
The aircraft, bearing the registration N702NK, is scheduled to commence its first commercial flight on June 7. Spirit has outlined its intention to acquire seven additional A321neos throughout 2023, with a projected delivery of 24 more in 2024, alongside other deliveries of A320 Family aircraft.
This momentous occasion signifies Spirit Airlines' commitment to enhancing its fleet with state-of-the-art aircraft to meet the evolving needs of its passengers.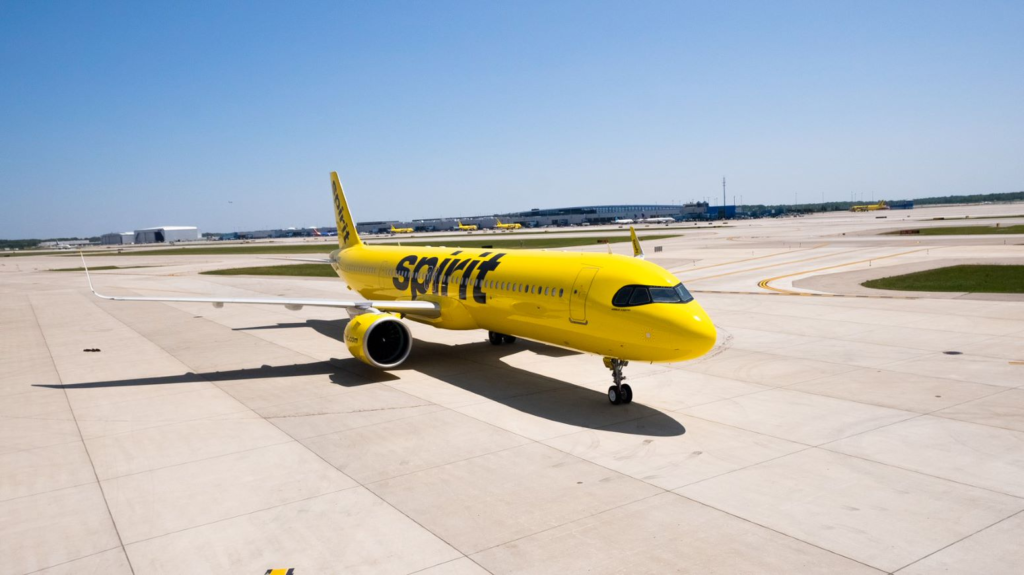 Spirit Airlines Airbus A321neo
The A321, which belongs to the Airbus A320 Family, is the largest variant. Further Spirit Airlines (NK) currently has a fleet of nearly 200 aircraft, including 30 A321ceo models.
With an already young and fuel-efficient fleet, Spirit aims to further enhance fuel efficiency by introducing the A321neo.
This next-generation aircraft features advanced engines, known as the new engine option (NEO), which in combination with fuel-saving Sharklet™ wingtip devices. It provides a 20 percent improvement in fuel efficiency compared to the A321ceo.
Moreover, the A321neo offers extended range capabilities and a quieter onboard experience for passengers. Further contributing to an enhanced flying experience with Spirit Airlines.
Ted Christie, President and CEO of Spirit Airlines, expressed his gratitude towards the team members who have made it possible for the airline to introduce the new variant of the A320 Family aircraft to their fleet.
This significant achievement will enable Spirit to enhance their capabilities and explore new opportunities. The introduction of the new aircraft aligns with their commitment. To providing an exceptional experience for their guests, featuring the latest cabin upgrades.
From a business perspective, this transition will lead to increased efficiency and cost savings. As the larger aircraft will improve the average gauge and reduce fuel consumption.
Spirit Airlines is currently undergoing a fleet renewal process, phasing out their A319ceo aircraft. Further it is replacing them with larger and more modern aircraft. Further, this strategy aims to boost capacity and fuel efficiency.
Recently, Spirit finalized an agreement to sell 29 of its A319ceo aircraft, which are the oldest and smallest models in their fleet within the Airbus A320 Family.
By the end of 2025, Spirit plans to completely transition out all their A319ceo aircraft from the fleet. Further paving the way for a more advanced and efficient aircraft lineup.
Aircraft Features
The A321neo aircraft brings several advantages to Spirit Airlines, including an expanded seating capacity that optimizes the use of cabin space and features increased exit limits. The aircraft also incorporates a new cabin door configuration.
Spirit has equipped all new aircraft with their latest cabin upgrade, which includes wider seats designed with a curved seatback to provide additional usable legroom.
With the larger aircraft, Spirit can increase capacity at airports with slot constraints. Further offering more travel options for guests in major metropolitan areas.
The airline will continue to maintain wide aisles to facilitate quicker boarding and disembarking, as well as provide extra working space for the crew.
The introduction of the new aircraft extends the range by an additional 500 nautical miles compared to the previous generation A321ceo, enabling Spirit to explore new destination opportunities.
Spirit has chosen Pratt & Whitney GTF engines for its new aircraft deliveries. These engines have demonstrated their ability to reduce fuel consumption. Further carbon emissions by 16 percent compared to previous models in this aircraft family.
They also achieve a 50 percent reduction in nitrogen oxide emissions compared to the regulatory standard. Subsequently it reduces the noise footprint by 75 percent. By adopting these engines, Spirit is prioritizing efficiency and sustainability in its operations.
Stay tuned with us. Further, follow us on social media for the latest updates.
Also Read: US Airlines, Including American, United, Delta, and Southwest, want you to Dress Properly – Aviation A2Z
Join us on Telegram Group for the Latest Aviation Updates. Subsequently, follow us on Google News.