AUSTRALIA- The Australian flag carrier, Qantas (QF), is set to commemorate the conclusion of a significant era as it bids farewell to one of its Boeing 717 aircraft. The 717 is the first of its kind to be registered and operated in Australia.
The Boeing 717 aircraft, registered as VH-NXI that is now departing holds a significant position in the modern history of the Qantas Group. It played a pivotal role in Jetstar's inaugural flight between Melbourne and Launceston when the airline commenced operations in May 2004.
Over the past 15 years, this aircraft has been a reliable presence on QantasLink's regional and domestic routes. With a remarkable track record of over 29,000 flights. Subsequently, it has safely transported more than 1.6 million passengers for both Qantas and Jetstar over the span of two decades.
The aircraft is named the Blue Mountains in honour of the renowned national park in New South Wales. Further, it is scheduled to depart from Australia in mid-June as part of its transition to a new owner, a prominent carrier.
This marks the third Boeing 717 from Qantas' fleet to be phased out. Due to the aircraft's range limitations, the journey to its new owner in North America will involve eight refuelling stops. These stops will include destinations such as Cebu, Sapporo, and Anchorage.
Qantas to Replace Boeing 717 with Airbus A220
QantasLink has initiated the "Project Winton" fleet renewal program, which involves the gradual replacement of all 20 Boeing 717 aircraft with 29 fuel-efficient Airbus A220 aircraft.
The arrival of the first A220 is expected later this year. Subsequently, the first of 20 A321XLRs is scheduled to arrive in late 2024. This strategic initiative aims to enhance the fleet's efficiency and sustainability. Further ensuring a more advanced and modern aircraft lineup for QantasLink.
Today, at Sydney Airport, the departing Boeing 717 was accompanied by two new additions to the fleet: a Boeing 787 Dreamliner and a Jetstar A321neo LR.
These state-of-the-art aircraft represent a substantial investment in fleet renewal. As the Qantas Group aims to acquire a new aircraft approximately every three weeks in the coming years.
This continuous inflow of new aircraft will enhance capacity and network expansion for Qantas and Jetstar. Further, it will contribute to lower emissions and improved efficiency. Subsequently, aligning with the companies' commitment to sustainability and innovation.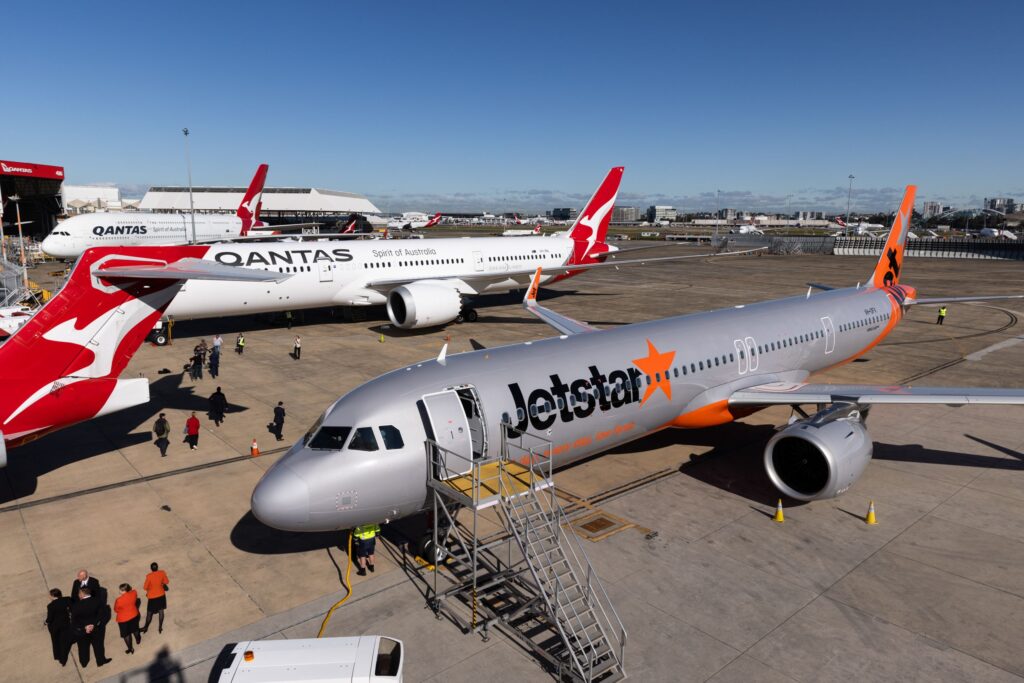 New Boeing 787 and A321LR
Qantas recently introduced its newest Boeing 787 Dreamliner, Billabong, into its international network. Two more Dreamliners are scheduled for delivery this month within the next three weeks.
These additional aircraft have facilitated the resumption of Sydney-San Francisco flights and will support the upcoming launch of the Sydney to New York via Auckland route. With these additions, Qantas' 787-9 fleet will reach a total of 14 aircraft.
Jetstar, on the other hand, has welcomed its seventh Airbus A321neo LR aircraft this month. These aircraft are significantly quieter, with a noise reduction of 50% compared to the older A321 models they replace, and they also consume up to 20% less fuel.
Currently, they are being utilized for domestic services and flights between Australia and Bali. By the end of 2024, Jetstar is expected to receive an additional 11 A321neo LR aircraft.
Combining introducing new aircraft and returning standby planes to service, the Qantas Group has successfully restored its domestic flying levels to approximately 100% of pre-COVID capacity. Furthermore, the group aims to reinstate its international operations by March 2024 fully.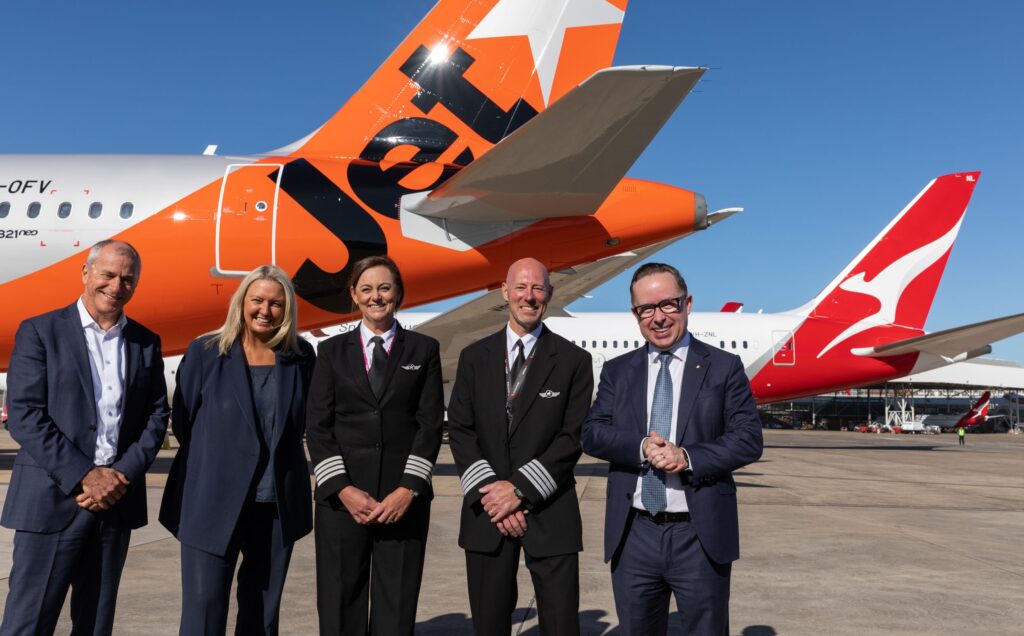 CEO Insights
Qantas Group CEO Alan Joyce joined the pilots and crew at Sydney Airport to bid farewell to the Boeing 717 aircraft. He warmly welcomes the new additions to the fleet.
"This marks the end of an era for the Boeing 717s, which have played a vital role in connecting Australians across our domestic and regional network for over two decades," stated Mr Joyce.
"It's fitting that the very first 717 registered in this country is now making room for a new fleet type. The A220 has twice the range of the 717s. Further enabling the opening of new domestic and short-haul international routes."
Qantas is currently embarking on its largest fleet renewal program, spanning over 10 years. With approximately 299 narrowbody aircraft and the A350s designated for Project Sunrise flights. This initiative brings about an exciting period for both employees and customers. As these new aircraft create more opportunities and unlock new destinations.
"With the delivery of four new aircraft already completed this year and eight more expected before year-end. Our fleet is becoming significantly more capable than the aircraft they are replacing. These new additions can fly longer distances and provide a quieter and more efficient journey. Further, offer an exceptional experience for our passengers."
Stay tuned with us. Further, follow us on social media for the latest updates.
Also Read: US Airlines, Including American, United, Delta, and Southwest, want you to Dress Properly – Aviation A2Z
Join us on Telegram Group for the Latest Aviation Updates. Subsequently, follow us on Google News.