BEIJING, CHINA- On Sunday, China Eastern Airlines (MU) made history by launching the first commercial flight of China's domestically produced narrow-body jet, the Comac C919.
This marks a significant milestone for China's pursuit of self-reliance and its aim to compete with established aircraft manufacturers.
The C919, developed by Commercial Aviation Corp of China (COMAC), has been in the making for 15 years as a direct competitor to Airbus' A320neo and Boeing's 737 MAX single-aisle aircraft families.
President Xi Jinping has applauded the C919 project as one of China's most remarkable innovative accomplishments.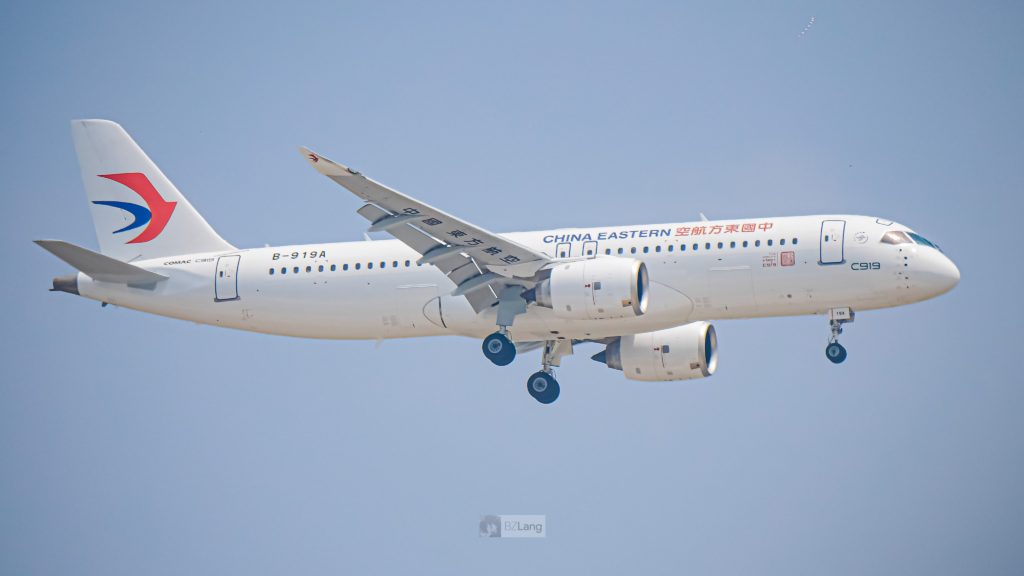 China Eastern Comac C919 First Flight
According to the flight tracker app Variflight, the C919 aircraft departed from Shanghai's Hongqiao Airport, which serves as the headquarters for both COMAC and China Eastern. The takeoff occurred shortly before 10:32 a.m. local time (0232 GMT), with its destination set for Beijing Capital Airport.
Upon completing the approximately 2.5-hour flight to Beijing, the aircraft is scheduled to undergo a turnaround period of 1 hour and 40 minutes before heading back to Shanghai. On the following day, the C919 is planned to embark on a long journey to the southwestern city of Chengdu and return.
Lv Boyuan, a 21-year-old student and aviation enthusiast, was present at the Shanghai airport on Sunday. He intended to board a flight to Chengdu, where he anticipated taking a C919 flight back to Shanghai the next day.
Chinese C919
In March 2021, China Eastern Airlines, which is backed by the state, placed an order for five C919 jets. It received its first aircraft in December. The airline anticipates the delivery of the remaining planes later this year.
According to data from COMAC, the C919 had received 1,035 orders from 32 customers by the end of 2022. Furthermore, the company stated that it has received over 1,200 orders for the jet this year.
After experiencing several delays, the C919 made its inaugural flight in 2017. Subsequently, it has undergone numerous test flights.
Despite being assembled in China, the C919 heavily relies on components from Western suppliers. Including engines and avionics provided by companies such as GE, Safran, and Honeywell International.
Li Hanming, an independent expert in China's aviation industry, noted that a majority of the C919's orders consist of letters of intent from domestic customers. GE Capital Aviation Services Ltd, a lessor, is among the limited number of foreign buyers.
Challenges for the C919
Greg Waldron, the Asia managing editor of FlightGlobal, a prominent industry publication, expressed doubts about the international market potential of the C919 due to the aircraft not being certified by EASA or FAA.
Waldron mentioned that until the C919 receives certification from these key international regulatory bodies, its access to major international markets will be restricted.
He further noted that the predecessor of the C919, the ARJ21, is currently operational in Indonesia. Further indicating that the C919's international prospects primarily lie in developing regions.
According to domestic media reports published in January, COMAC expects to have the capability to manufacture 150 C919 planes per year within the next five years.
In addition to the C919, COMAC is producing the ARJ21 aircraft, with a seating capacity of 90 passengers. The ARJ21 commenced commercial operations in 2016. It is currently being operated by prominent Chinese airlines as well as TransNusa in Indonesia.
COMAC is also engaged in the development of a CR929 widebody jet in partnership with Russia. However, no recent updates from the company have been regarding this project.
Stay tuned with us. Further, follow us on social media for the latest updates.
Also Read: US Airlines, Including American, United, Delta, and Southwest, want you to Dress Properly – Aviation A2Z
Join us on Telegram Group for the Latest Aviation Updates. Subsequently, follow us on Google News.