According to Star Air CEO Simran Singh Tiwana, the regional aviation sector in India has great potential, and with the right approach, business sustainability should not be a problem.
Tiwana further stated that the airline plans to double its passenger volume this year by expanding its fleet. Subsequently, adding three new destinations (not including Jaipur, which is scheduled to launch on Monday).
The Sanjay Ghodawat Group, a well-known Indian business conglomerate, owns and operates Star Air as its aviation division. As of May 2023, the airline serves 17 destinations nationwide. Further, the carrier has a fleet of 7 aircraft, including five Embraer ERJ-145s and two recently added Embraer E175s.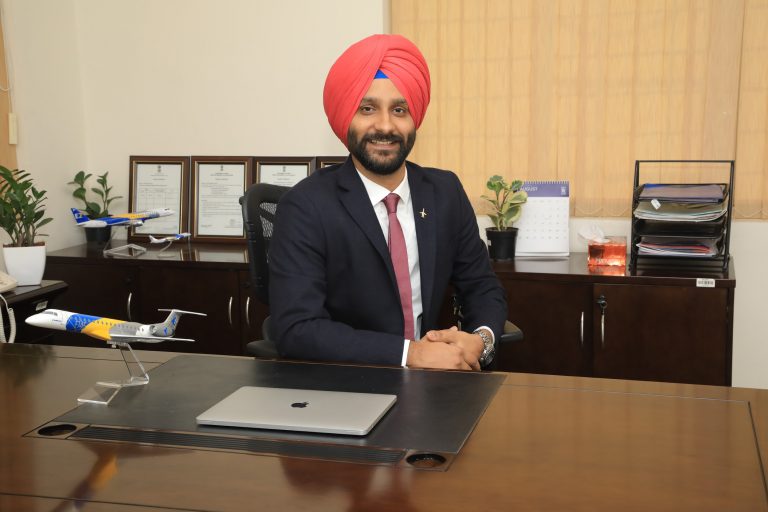 Star Air CEO Insights
Simran Singh Tiwana, the CEO of Star Air, believes India has enormous potential for regional aviation and remains largely untapped. He said regional travel could grow by five times in the next five years.
Tiwana also expressed that operating a regional airline in India can be successful if the operator strategizes well. Further builds the right network in line with the aircraft it uses and focuses on sustaining operations in the long run.
He also said, "The airline is operationally profitable and believes that regional connectivity extends beyond short-haul routes."
He emphasized that regional air operators must approach it differently, rather than just connecting smaller stations to major cities like Mumbai and Delhi.
However, Tiwana also acknowledged that some challenges must be addressed, such as wildlife issues, gaps in runway operations, and limited watch-out hours at certain UDAN airports.
Strong Business Model
In his statement, Tiwana emphasized that Star Air's business model is distinct and does not compete with any other aviation company in India.
He stated that the markets targeted by Star Air are different. Further, they are not attempting to gain market share by operating monopoly routes.
In his opinion, owning the aircraft during the initial years of the airline's establishment proved beneficial during the pandemic, as there are significant differences between operating a leased aircraft and an owned one.
Tiwana noted that several regional airlines, such as Air Pegasus, Air Costa, and Air Carnival, which started focusing on regional routes, failed over the past 8-9 years. He believes that they had it wrong by not owning their aircraft.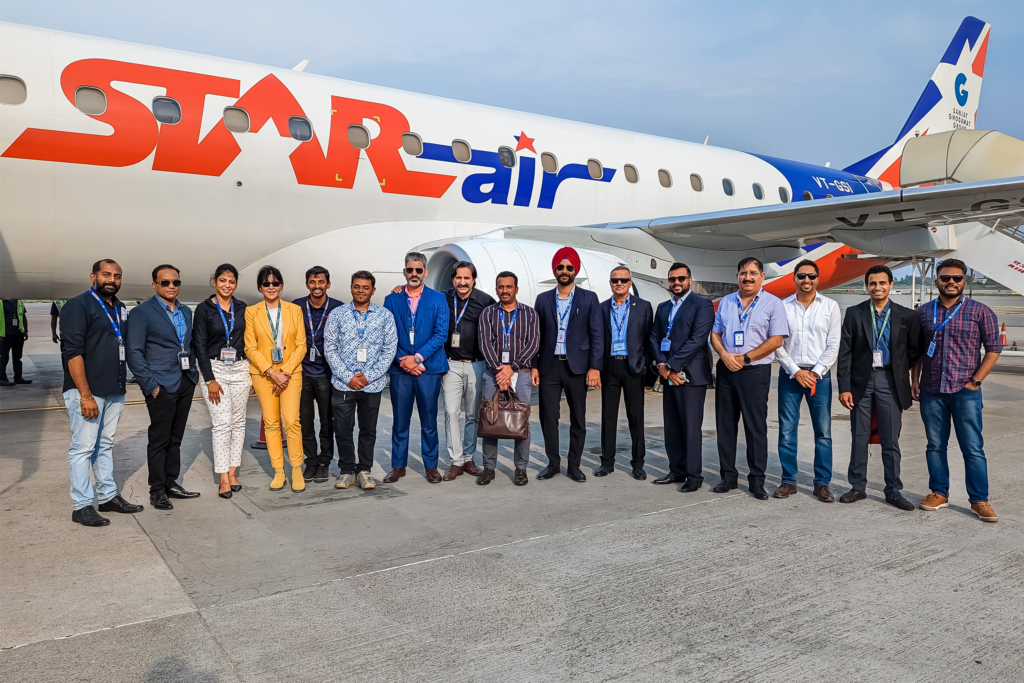 UDAN Benefited Star Air
According to Tiwana, Star Air plans to allocate 20% of its flights to non-UDAN routes. He further mentioned that about 12 of their UDAN routes are expected to mature soon, which can be converted into commercial routes.
Additionally, he confirmed that the airline would participate in the fifth round of the regional connectivity scheme. He said, "The bidding process started a few days ago, and we have until June 1 to submit our bids, but we will participate."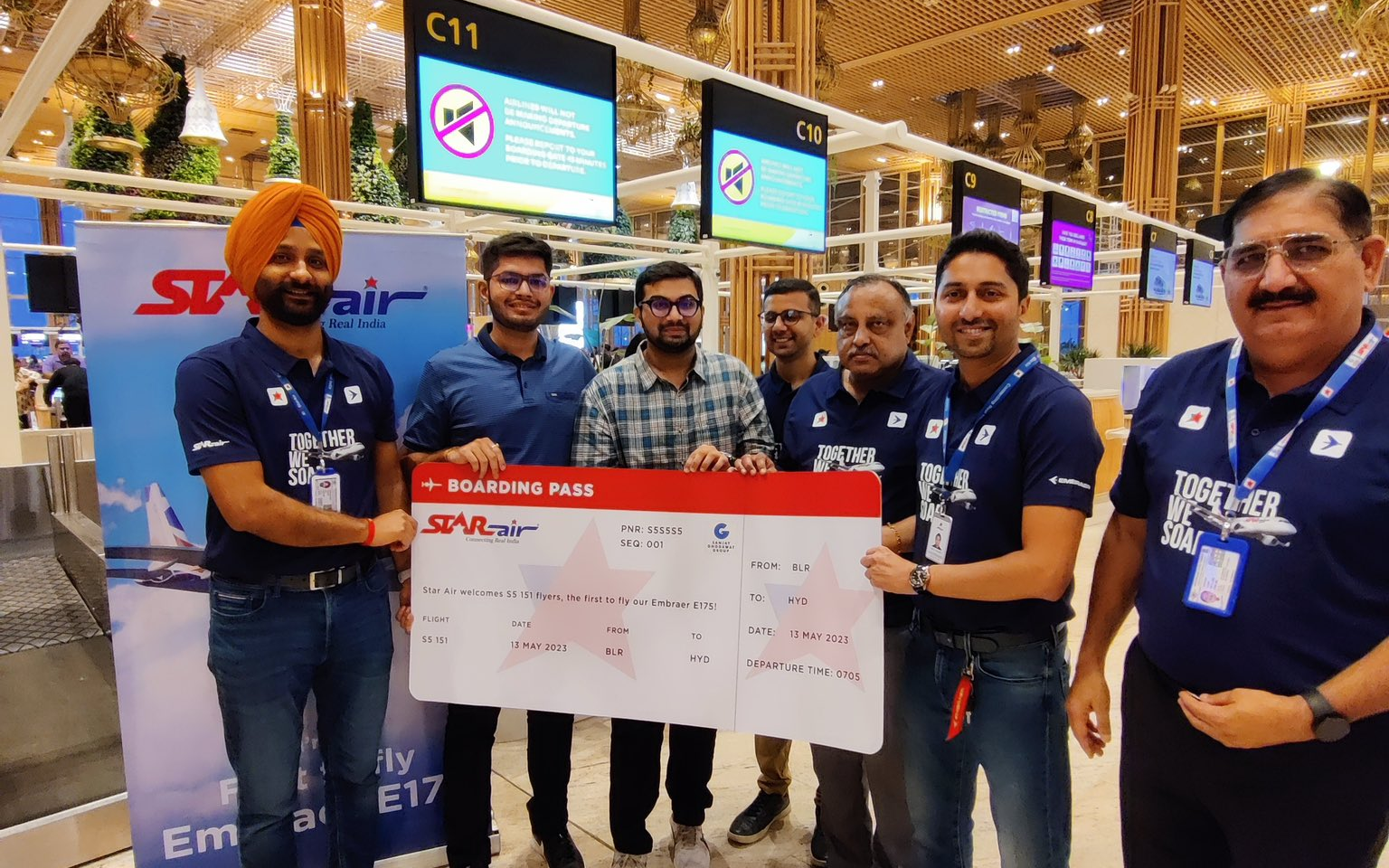 Star Air First Embraer E175 Commercial Flight
The airline operated the inaugural flight S5151 between Bengaluru and Hyderabad. Further, the Embraer E175 has the registration VT-GSI and GE CF34-8E engines that power the aircraft.
Furthermore, the E175 aircraft features a dual-class cabin layout that does not have middle seats, offering exceptional legroom to travelers and making it the top choice. It has around 76 seats and has the capacity to carry 88 in single class configuration.
The airline celebrated the inaugural flight with a lamp-lighting ceremony by its CEO, Simran Singh Tiwana. Further, other senior officials were seen at the airport.
The airline recently conducted the proving flight of E175s with DGCA Officials. They conducted a flight from Kempegowda International Airport (BLR) in Bengaluru to Rajiv Gandhi International Airport (HYD) in Hyderabad.
Stay tuned with us. Further, follow us on social media for the latest updates.
Also, read Air India Takes the Delivery of Another Boeing 777 | Exclusive – Aviation A2Z
Join us on Telegram Group for Latest Aviation Updates. Subsequently, follow us on Google News.