India's regional carrier, Star Air (S5) airline has recently completed its first proving flight with DGCA Officials onboard there New Embraer E173LR aircraft.
The Indian carrier shared the achievement on there social media page. They conducted flight from Kempegowda International Airport (BLR) in Bengaluru to Rajiv Gandhi International Airport (HYD) in Hyderabad.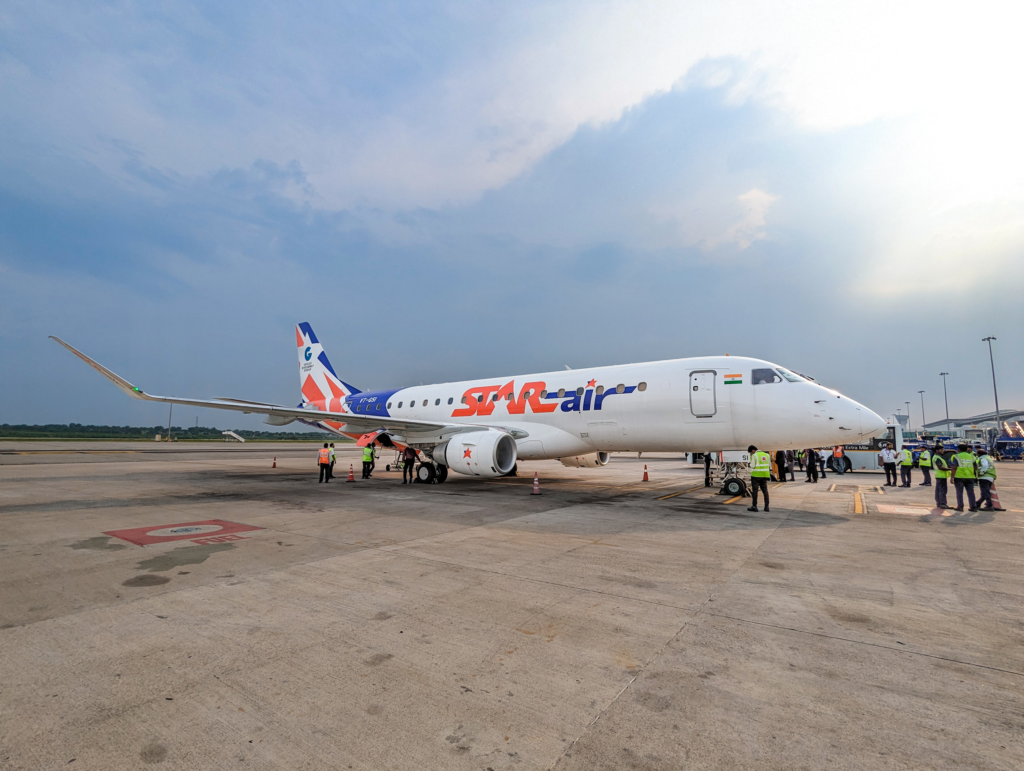 Star Air Embraer Proving Flight
The airline wrote that, Star Air has completed the proving flight of its Embraer E175LR aircraft, with officials from DGCA and Star Air posing for a group photo at the end of the flight's leg from BLR Airport to RGIA Hyderabad."
While the RGIA hyderabad expressed excitement and wrote, "A new addition to the fleet of @OfficialStarAir has arrived at #HYDAirport. The #E175 model aircraft is set to elevate the airline to new heights. Further, the airport is fully equipped to handle it with its efficient airside and on-ground operations. Vishal Jolapara captured a beautiful shot of the aircraft, and the airport is thrilled to welcome the new star to their constellation."
The airline operated the proving flight for its Embraer E175 that has the registration VT-GSI. Furthermore, the airline currently operates the fleet of four Embraer ERJ-145 and two Embraer E175 which it took delivery of will soon fly for them. Likewise, two E175LRs are in order.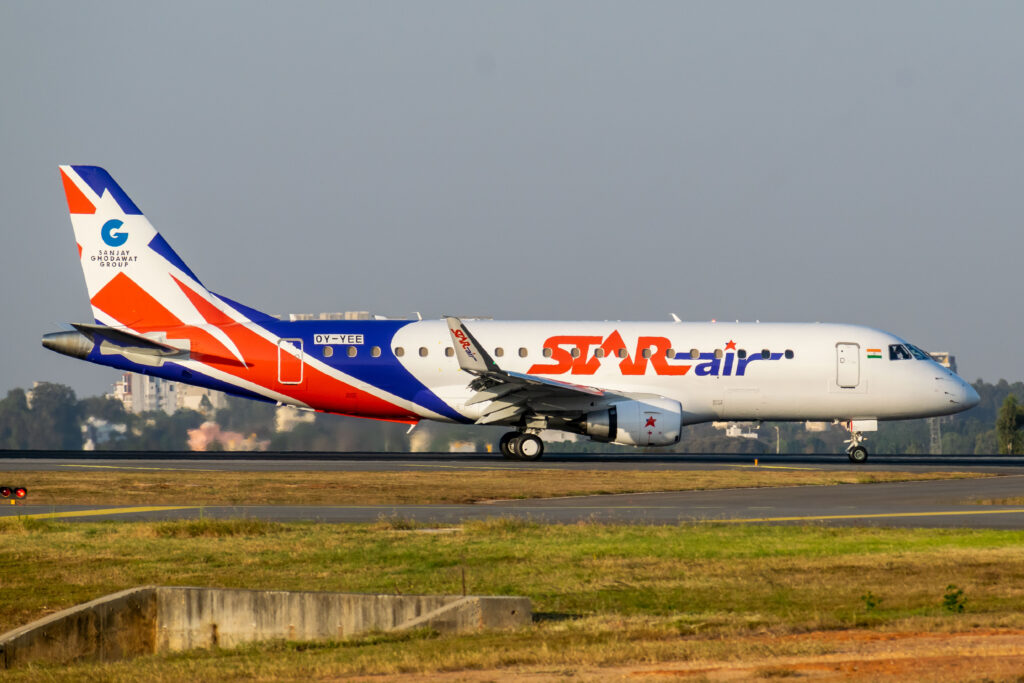 Embraer E175LR Induction
Star Air, a regional airline that focuses on connecting remote areas in India. It welcomed its first Embraer E175LR jet to the Kempegowda International Airport in Bangalore. Further, this new aircraft is a significant step in the airline's commitment to enhancing regional connectivity. Subsequently, providing more accessible travel options to underserved areas of the country.
The Embraer E175, equipped with GE CF34-8E engines, is highly reliable and delivers excellent performance in the regional jet category. With a range of 2,200 nautical miles, Star Air can now offer its passengers quicker, smoother, and more comfortable flights. The E175 features a dual-class cabin layout with no middle seats, providing superior legroom for passengers.
This new addition to Star Air's fleet marks a significant milestone as the airline expands its regional reach and connects more destinations across India, addressing the need for increased capacity and improving the overall customer experience.
In regards to the new E175 aircraft joining the Star Air fleet, Shrenik Ghodawat, the Director of Star Air, expressed his excitement. He stated that the new aircraft will help them achieve better productivity, utilization, and connectivity to "real India".
Further, He added that the ongoing efforts to establish a fleet of Embraer aircraft have allowed them to provide an enhanced travel experience to their customers.
Star Air Embraer Maintenance Agreement
On February 17th, 2023, Star Air announced an agreement with OGMA, an Embraer Owned Company (EOC). For Base Maintenance and Technical Support of its new fleet of EMB 175s.
OGMA has been providing EASA-approved maintenance services since 2004 and has extensive knowledge of Embraer family's products. The company has been supporting Embraer E-JET aircraft since 2007 and has performed over 50 C-Checks on this type of aircraft.
OGMA is a maintenance organization approved by EASA that has been supporting Embraer E-Jets since 2007. They have performed over 50 C-Checks on this type of aircraft and have professionals with extensive knowledge of Embraer family products. Furthermore, OGMA has advanced facilities that enable them to offer a wide range of MRO services.
Sadashivan K T, the Vice President of Engineering at Star Air, expressed his satisfaction with the partnership with OGMA.
He stated, "We are delighted to collaborate with OGMA to meet our engineering and maintenance requirements. This agreement will enable Star Air to improve its engineering capabilities and knowledge.Subsequently, leading to the achievement of the highest international maintenance standards and safety."
Where will the Star Air Fly its E175LRs?
The airline will deploy them on long range regional routes that will connect tier 2 and 3 cities with main stream airports.
Indian regional carrier has announced the route that will connect the Belagavi (IXG) to Jaipur (JAI). The aerial distance between two cities is around 1238 Kms. Further it takes around 2 hours and 30 mins on standard aircraft to cover the distance.
The airline will begin flying between IXG and JAI from May 15 onwards. The airline will operate three times weekly flights i.e on Monday, Wednesday and Friday.
At present, Star Air offers scheduled flights to 18 destinations in India, connecting several communities including Ahmedabad, Bengaluru, Mumbai, Hyderabad, among others.
The addition of the new E175s to its fleet will facilitate the airline to expand its operations and enhance regional connectivity.
Stay tuned with us. Further, follow us on social media for the latest updates.
Also, read FIRST LOOK: Air India Airlines New Possible Branding, Livery, Logo and More | Exclusive – Aviation A2Z
Join us on Telegram Group for Latest Aviation Updates. Subsequently, follow us on Google News.