The number of passengers, planes, and airports in India's civil aviation sector will see phenomenal growth, according to Union Minister Jyotiraditya Scindia. By 2027, it is predicted that there would be over 40 crores of passengers flying.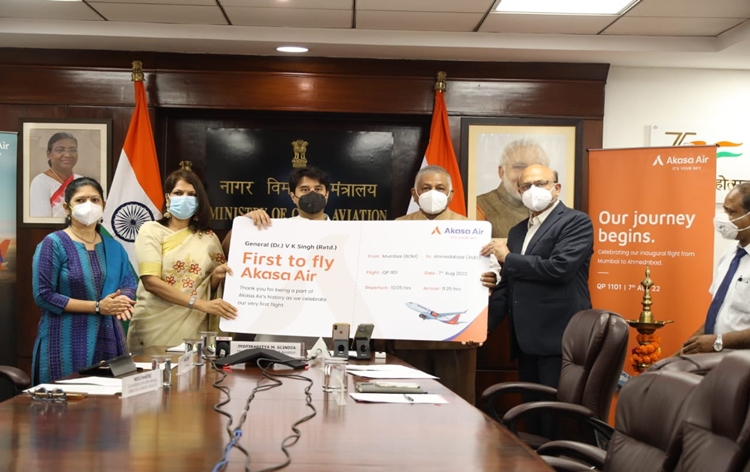 Scindia flags off Akasa Air's first flight
Scindia noted that Sunday marks a significant day in Indian civil aviation history as Akasa Air prepares to launch operations. Akasa Air launched its first flight from Mumbai to Ahmedabad, and the flight was flagged off by the union minister. Akasa Air is supported by renowned investor Rakesh Jhunjhuwala and aviation industry veterans Aditya Ghosh and Vinay Dube.
In an interview, Scindia confessed that seven airlines have gone down in the past 20 years due to internal problems that have plagued airlines for the past 20 years.
The civil aviation industry was also seriously hit by the Covid epidemic and is currently making strides toward recovery, with Akasa Air leading the way. After Akasa Air, a resurrected Jet Airways, and a reimagined Air India, all indications, in Scindia's opinion, lead to the civil aviation sector becoming a rising business.
Growth of Indian Aviation
By 2027, both domestic and foreign air travellers in India are expected to total close to 40 crores.
From roughly 6 crores in 2013–2014 to about 20 crores in 2019–2020, more people travelled by air. Over the last five years, travel has increased by roughly 250 percent in this industry.
"According to our projection, there would be 40 crore travellers in India by 2027. (both domestic and international). In terms of passengers, that is the kind of growth potential we are considering"
There are now more aircraft in the air. In 2013, there were roughly 400 aircraft, and by 2021–2022, there will be 700.
According to Scindia, who focused on market, fleet, and airport growth, India would increase capacity by 15%, or about 100–110 aircraft annually, and it plans to have close to 1,200 aircraft by 2027.
Additionally, there is an increase in airports. From 74 airports in 2013–2014, the number of airports has increased to 141 over the past eight years. By 2030, 220 airports should be operational, with infrastructure growth in the form of service capacity, airlines, and travellers.
The minister added that India's transportation business would soon have a very solid foundation and bulwark in the form of the civil aviation sector.
Also read:
Qatar Airways Boeing 777F Cargo hits the pole at Chicago | Exclusive
Air India to bring back 10 grounded aircraft by 2023
Join our telegram group for latest Aviation Updates:-
Stay tuned…