ROME- Today (October 11, 2023), ITA Airways (AZ) officially launched its winter season for 2023-2024 at the TTG Travel Experience International Tourism Fair in Rimini.
The announcement was made during a press conference featuring Andrea Benassi, the General Manager of ITA Airways, and Emiliana Limosani, the Chief Commercial Officer of ITA Airways and CEO of Volare.
TTG Travel Fair
During the event, Andrea Benassi expressed his gratitude for the opportunity to participate in TTG Travel Experience, an annual gathering of tourism professionals where plans for upcoming seasons are shaped.
He emphasized ITA Airways' aspiration to become the leading national carrier for Italian travelers, offering high-quality domestic and international connectivity, with a special focus on intercontinental routes.
Benassi highlighted the airline's commitment to efficiency and innovation and represented Italy on the global stage. He underlined the importance of creating an experience that makes passengers feel at home and provides a taste of Italy even before they reach their destination.
Emiliana Limosani revealed the key highlights for the 2023-2024 winter season, which encompasses a total of 52 destinations. This includes 17 domestic, 23 international, and 12 intercontinental routes.
Notably, the airline is introducing two new intercontinental routes to its offerings: flights to Rio de Janeiro and Malè (Maldives). These new routes will complement the existing intercontinental services to cities such as New York, Boston, Miami, Los Angeles, Sao Paulo, Buenos Aires, Tokyo, and New Delhi.
ITA Airways US and Other Flights
Here is the updated flight schedule for ITA Airways for the upcoming 2023-2024 winter and the 2024 summer seasons:
Starting on October 29, 2023, ITA Airways will launch a new daily flight from Rome Fiumicino to Rio de Janeiro, utilizing an Airbus A330. The departure from Rome Fiumicino is at 9:50 p.m., with an arrival at Rio de Janeiro International Airport at 6:05 a.m. (local time). The return flight from Rio de Janeiro will commence on October 30, 2023, with a daily frequency, departing at 3:45 p.m. and arriving at Rome Fiumicino at 6:45 a.m. (local time).
As of December 16, 2023, ITA Airways will introduce a new direct flight from Rome Fiumicino to Malè (Maldives), utilizing an Airbus A330. The flight will operate 3 to 5 times a week, depending on the period.
Commencing on April 7, 2024, ITA Airways will launch a new direct flight from Rome Fiumicino to Chicago, with an initial frequency of 6 flights per week, increasing to 7 in June. This nonstop flight to Chicago will be available for booking starting today.
Starting from May 1, 2024, a new nonstop flight will operate from Rome Fiumicino to Toronto, with an initial frequency of 6 flights per week, increasing to 7 from June.
In addition, the upcoming summer season will bring an expansion of ITA Airways' international network, including new direct flights from Rome Fiumicino:
From May 2024, a new route to Riyadh
From June 2024, flights to Accra and Kuwait
From July 2024, service to Dakar
From October 2024, a new route to Jeddah
Furthermore, in 2023, ITA Airways expanded its fleet to a total of 79 Airbus aircraft. Among these, 29 are of the latest generation, including 11 A320neo, 7 A220-300, 5 A330-900, and 6 A350-900.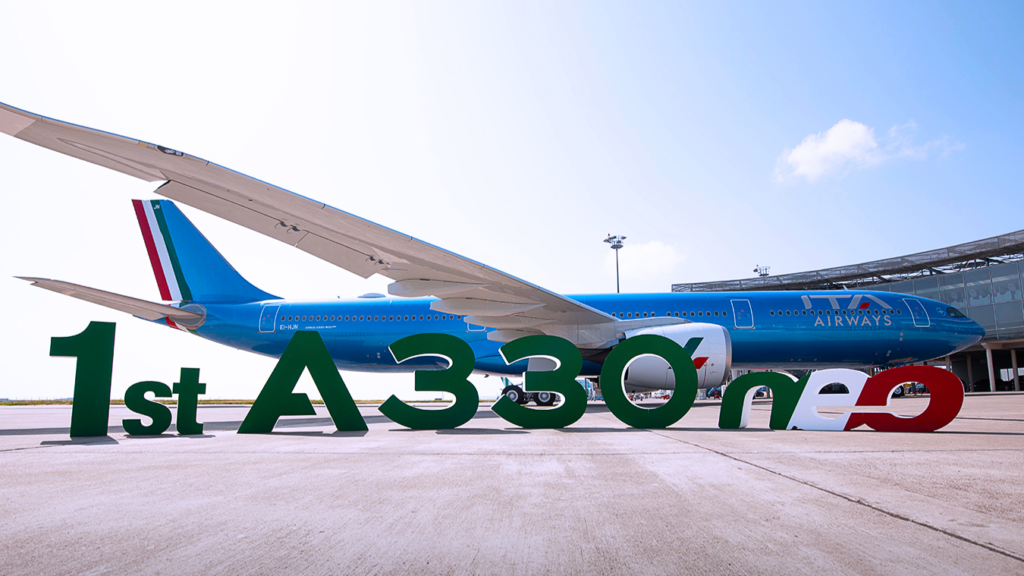 Summarizing 2023 Development
In summary, here are the key developments for ITA Airways in 2023:
The company is introducing its first Airbus A321neo to the fleet, featuring a three-class configuration with Business Class (12 seats), Premium Economy (12 seats), and Economy (141 seats, including 12 Comfort Economy seats). The A321neo boasts an Italian-inspired cabin design by Walter de Silva, new colors, materials, latest generation seats, an Airspace Cabin with ITA Airways lighting system, and XL overhead compartments. Each seat offers "on-demand" video and audio entertainment with modern screens.
The first Airbus A220-100 will also join the fleet by the end of 2023 to enhance the regional segment. This compact jetliner is known for its efficiency and passenger comfort.
ITA Airways' loyalty program, Volare, reached a significant milestone with over 1.5 million members in 2023. The program is built on values of Freedom, Personalization, Choice, and Connection and has 20 partner companies for points accrual and redemption. It offers a personalized experience to all members.
The company introduced ITA Airways American Express co-branded cards, including the ITA Airways American Express Credit Card, ITA Airways Gold American Express, and ITA Airways Platinum American Express Credit Card.
A new offering, the Executive Reserved program, caters to high-value customers. It provides exclusive offers and tailor-made services through partnerships with select entities such as Forte Village Hotels, Palazzo Doglio, Palazzo Fiuggi Wellness Medical Retreat, E. Marinella luxury brand, and Rocco Forte Verdura Resort.
Executive Club members can also grant Premium status to another Volare member. This upgrade includes benefits like fast-track access, lounge privileges, and additional baggage allowance.
Stay tuned with us. Further, follow us on social media for the latest updates.
Also Read: US Airlines, Including American, United, Delta, and Southwest, want you to Dress Properly – Aviation A2Z
Join us on Telegram Group for the Latest Aviation Updates. Subsequently, follow us on Google News.