USA- Traveling with your family presents a unique set of considerations compared to solo or couple trips. When you have kids in tow, your priorities shift, and factors like advance seat selection, early boarding, and in-flight entertainment often take precedence over cost when choosing an airline.
This choice becomes even more crucial during peak travel seasons like Thanksgiving or the winter holidays.
Best US Airlines for Thanksgiving
While most airlines allow travelers to gate-check travel strollers and car seats at no additional cost, not all airlines are equal in terms of their family-friendly services, like ensuring families sit together or keeping children entertained while cruising at 30,000 feet.
Let's explore the top U.S. airlines that excel in catering to kids and families, offering exceptional services both at the airport and in-flight.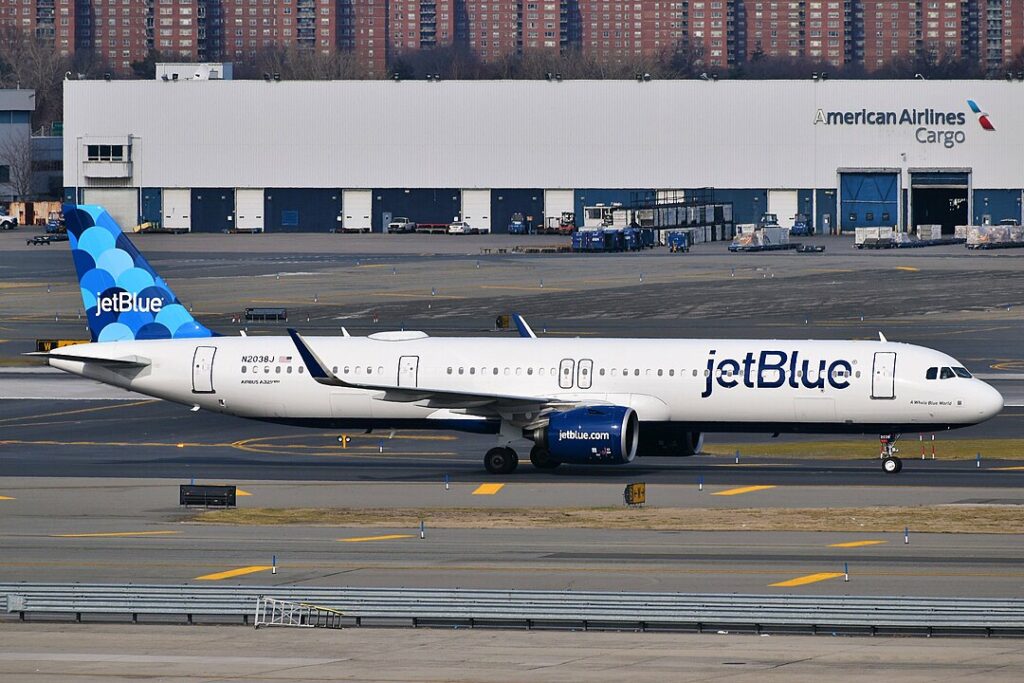 1) JetBlue
JetBlue (B6) Airways stands out as the top choice for families and kids, whether you're flying within the United States or internationally. What sets JetBlue apart is its commitment to passenger comfort and entertainment.
JetBlue is renowned for its spacious seating, boasting the most legroom in coach among all U.S. airlines. This extra room can be a game-changer when you're flying with a lap child. With an average seat pitch ranging from 32 to 34 inches, JetBlue provides your family with the freedom to relax and make the most of your flight.
Moreover, JetBlue is a favorite among families because of its offering of free in-flight Wi-Fi and personal TVs at every seat. These features ensure that everyone, from kids to adults, can stay entertained throughout the journey.
Passengers can choose from a variety of options, including live DirecTV, movies, and SiriusXM radio. For younger travelers, there's a selection of kid-friendly programming featuring popular channels like Nickelodeon, Cartoon Network, and Animal Planet. Just don't forget to pack headphones that fit the little ones.
JetBlue goes the extra mile in keeping travelers satisfied by providing an unlimited snack basket in the galleys once the main service is complete. This dedication to passenger comfort and entertainment makes JetBlue an outstanding choice for families on the go.
For families with kids, Terminal 5 at JFK Airport offers a pirate-themed playground located near Gate 12. Additionally, there's an aviation-themed interactive play area situated near Gate 26. These engaging spaces are perfect for keeping children entertained while waiting for their flights.
TrueBlue Program
JetBlue's frequent flyer program, TrueBlue, offers a valuable benefit for families. It allows you to pool your points with up to six other people, creating a group of seven individuals.
This means that your family can combine your accumulated points, making it easier to redeem them for a free flight. This feature is particularly advantageous for families planning multi-generational or skip-generation vacations.
If, for instance, both parents and grandparents contribute points, it becomes a straightforward way to earn free flights for children to visit their grandparents, or vice versa.
However, it's important to note that JetBlue's most economical fare class, Blue Basic, comes with certain restrictions. These restrictions include no full-size carry-on bags and no advanced seat assignments. But there is an option to pay an additional fee to guarantee seats together.
Alternatively, families can choose the Blue fare, which includes full-size carry-on bags, advanced seat assignments, and other family-friendly benefits, such as no change fees. This ensures that your family's journey with JetBlue is as comfortable and enjoyable as possible.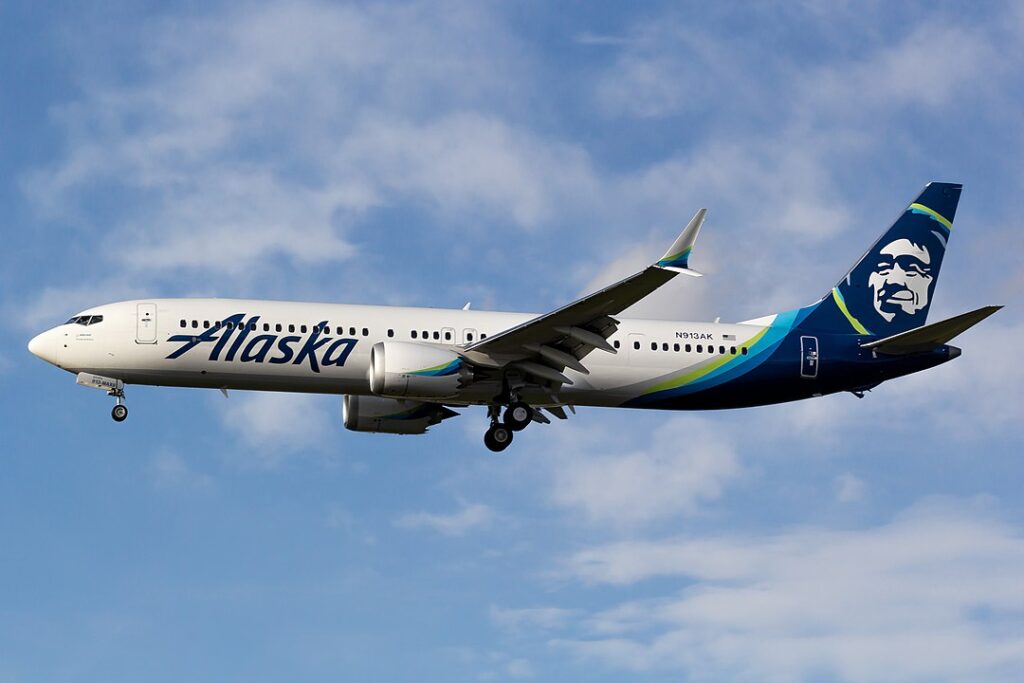 2) Alaska Airlines
When it comes to family-friendly travel, Alaska Airlines (AS) takes the spotlight as one of the best options, sharing the title with JetBlue. While its international offerings may not be as extensive as JetBlue's, within the United States, Alaska Airlines shines.
With over 1,000 daily flights, it leads the way with more nonstop flights from the West Coast than any other carrier. The airline's main hub is in Seattle, and it maintains a presence in other major cities, including Anchorage, Los Angeles, San Francisco, and Portland, Oregon.
Through its sister airline, Horizon, Alaska Airlines extends its route network to reach a multitude of smaller cities.
Alaska Airlines sets itself apart with its family-friendly services. It's one of only three airlines to provide a family seating policy, ensuring that children under 13 are seated with at least one adult on the same reservation at no extra cost.
Additionally, families traveling with kids two years and younger enjoy priority boarding, making the boarding process smoother and more convenient.
Best For Kids Facilities
Once onboard, passengers can access entertainment options via inflight Wi-Fi on their personal devices. What sets Alaska Airlines apart is its dedicated Kids Zone entertainment stream. This feature offers a variety of kid-friendly content, including audio stories, age-appropriate movies and TV shows, and educational shorts such as those from ABCmouse.
In terms of food, Alaska Airlines provides the basics, including complimentary beverages and light snacks during the flight. For those looking for more, the airline offers convenient pre-order options for a more tailored experience.
Families can choose from kid-friendly options like the Kid's Choice Picnic Pack, which includes items such as Pirate's Booty, granola bars, applesauce, and a small toy to keep young travelers engaged.
These thoughtful amenities make flying with Alaska Airlines an enjoyable experience for parents and children.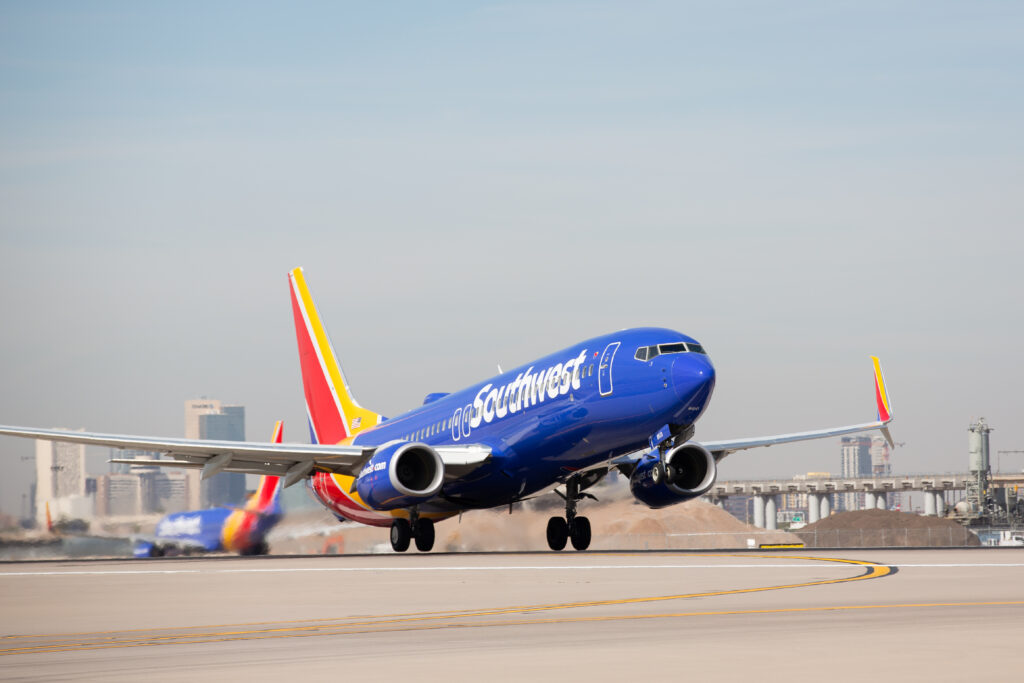 3) Southwest Airlines
For families that frequently embark on journeys with multiple checked bags or prioritize flexibility, Southwest Airlines (WN) should rank at the very top of their list of family-friendly carriers.
Southwest's approach to airfares is distinct in that it includes a remarkable feature: two free checked bags for every passenger.
What's more, the airline stands out by completely waiving change fees, ensuring that you have the freedom to adapt your travel plans should unexpected circumstances arise.
Worries about family seating arrangements are also effortlessly addressed with Southwest. The airline has a family-friendly policy where families traveling with children under six can board together immediately following group A, irrespective of their initial boarding position.
When flying with Southwest, you'll have the chance to select your seats during the boarding process, which operates on a first-come, first-served basis.
Companion Pass
If you haven't opted for Southwest's Upgraded Boarding service, and your children are older than six years, it's advisable to check in exactly 24 hours prior to departure. This guarantees that you secure seats together, as the order of boarding is determined by your check-in time.
Yet another compelling reason for Southwest's reputation as one of the best airlines for families and children is the exclusive offering of the Companion Pass.
By enrolling in Southwest's loyalty program, Rapid Rewards, and accumulating 125,000 qualifying points within a single calendar year, you unlock the ability to designate one person to fly with you at no cost (with minimal taxes starting from $5.60).
This benefit remains valid throughout the subsequent calendar year, adding an extra layer of value to your family travels with Southwest.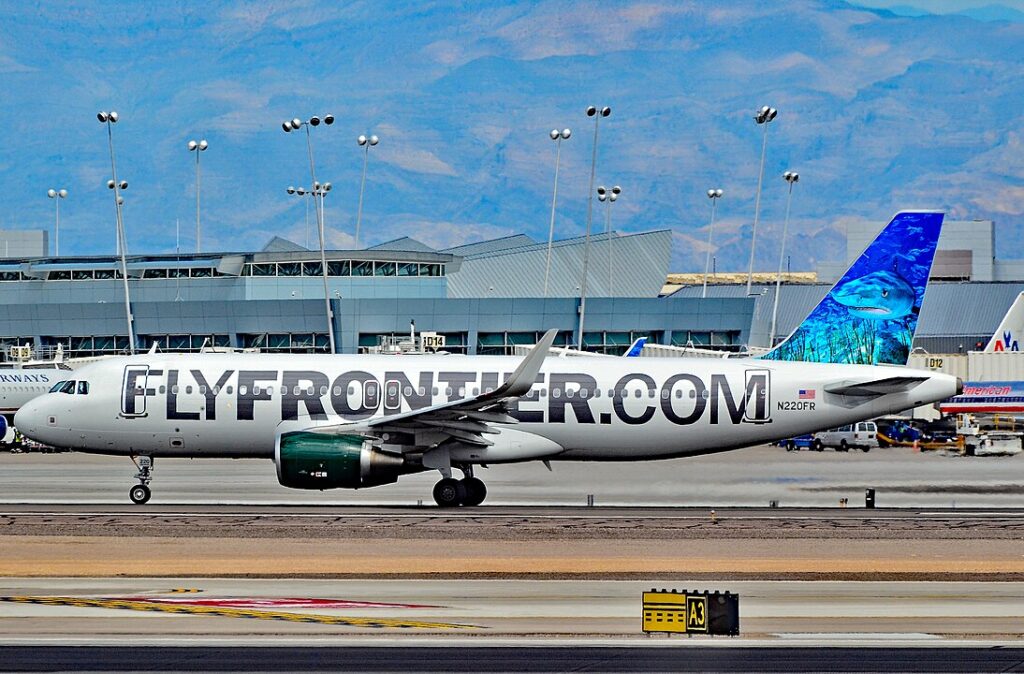 4) Frontier Airlines
Frontier Airlines (F9) stands out as an excellent choice for families in the ultra-low-cost airline category. This carrier offers remarkably affordable flights, making it especially appealing for budget-conscious travelers.
What sets Frontier apart are its distinct advantages, including Family Pooling of points and enticing promotions such as Kids Fly Free.
Certainly, like any ultra-low-cost airline, Frontier is known for its numerous additional fees. Nevertheless, there are effective strategies to mitigate these fees, especially when you're traveling as a group.
By becoming a member of Frontier's Discount Den program (available at an annual fee of $59.99, along with a one-time $40 enrollment fee), you can access discounted fares for up to nine individuals on the same reservation.
This membership also provides exclusive benefits, such as Frontier's frequent kids-fly-free offers, allowing one child under the age of 15 to fly for free with every paid adult fare.
Elite Status
Families can further reduce fees by sharing bags, a practical approach to economizing during your travels.
Additionally, it might be worth considering purchasing tickets directly at the airport, which eliminates Frontier's online booking fee, potentially saving you as much as $46 per person for each leg of your journey. This method becomes even more cost-effective for larger families.
Frontier Airlines enables you to collect frequent flyer miles and offers an option to initiate a family or friend pool involving up to eight different individuals who can combine their miles.
To access this benefit on Frontier, you'll need to attain Elite 20K status or apply for the Frontier Airlines World Mastercard.
It's important to recognize that budget airlines like Frontier may not suit everyone's preferences. Still, if you're prioritizing affordability and can navigate their fare structure effectively, Frontier proves to be an excellent choice for families.
5) Delta Air Lines
Delta Air Lines (DL) stands out as the preferred choice among large U.S. carriers when it comes to providing a top-notch experience for families on the go.
With an extensive network of hubs in key cities like Atlanta, Boston, Detroit, Los Angeles, Minneapolis, New York (JFK and LaGuardia), Salt Lake City, and Seattle, Delta is strategically positioned to serve destinations nationwide and worldwide.
Delta offers an array of family-friendly features designed to facilitate your journey. Notably, the airline provides discounted tickets for children, with pricing based on the child's age and the flight's destination.
While Delta doesn't guarantee family seating, they make every effort to seat family members together upon request. In case you cannot secure adjacent seats during your booking, Delta recommends contacting their Reservations line (at 800-221-1212) to explore available seating options.
For added convenience, Delta offers complimentary checks for strollers and car seats, whether curbside, at the ticket counter, or at the gate. If you've booked a separate seat for your child, or if there's an available seat in your row, you can bring an FAA-approved car seat on board.
On top of your carry-on allowance, you're also permitted to bring essential baby items such as booster seats, infant seats, and breast pump/cooler bags at no extra cost.
Kids Programming and SkyCots
Delta ensures a delightful in-flight experience with an extensive range of kids programming featuring movies and shows from beloved networks like Disney, Cartoon Network, and Nickelodeon.
Parents of infants will appreciate Delta's complimentary onboard bassinets, known as SkyCots, designed for babies up to 20 pounds and 26 inches.
Due to limited availability, it's advisable to request a SkyCot in advance by contacting the Reservations line and consulting with a gate agent at the boarding gate.
Delta's unaccompanied minor program streamlines the journey for up to four children traveling together under a single fee. This program includes an employee escort, barcoded wristbands for tracking, the option for guardians to accompany the minor to the gate, and, in select airports, access to a dedicated kids-only lounge.
Notably, Delta places no restrictions on flying for pregnant passengers and does not require medical certificates for expectant mothers.
However, they recommend that if you're in your eighth month of pregnancy or beyond, you consult with your healthcare provider before air travel.
Stay tuned with us. Further, follow us on social media for the latest updates.
Also Read: US Airlines, Including American, United, Delta, and Southwest, want you to Dress Properly – Aviation A2Z
Join us on Telegram Group for the Latest Aviation Updates. Subsequently, follow us on Google News.