AMSTELVEEN- KLM (KL) winter schedule for this year is scheduled to operate from Sunday, October 29, 2023, to Sunday, March 31, 2024. Notably, KLM has added the French city of Marseille to its network.
In addition, KLM is significantly increasing seat capacity in Canada, offering over 20% more seats compared to the previous winter season.
KLM Winter 2023 Schedule
During the winter season, there will be daily direct flights to Beijing and Shanghai. KLM has upgraded all Boeing 787-9 and 787-10 aircraft to feature Premium Comfort, its latest intermediate class.
The reconfiguration of the 777-300 fleet, which includes introducing new World Business Class seats and Premium Comfort Class, is set to be completed this winter. Subsequently, the same reconfiguration process will commence for the Boeing 777-200 fleet.
KLM's winter network will comprise 157 destinations, with 92 in Europe and 65 intercontinental destinations. Notably, the number of destinations served during the winter season is slightly lower than in the summer, reflecting seasonal demand fluctuations.
Europe
KLM is expanding its European network by introducing thrice-daily flights to Marseille starting from October 29. Additionally, KLM will continue its service to Rovaniemi in Finland during the winter season, maintaining the twice-weekly schedule.
The airline will also operate daily flights to Rennes, a new French destination for the winter season, building on its summer schedule with a 7% increase in seat capacity compared to the previous winter.
North America
KLM will provide services to 19 destinations in North America, which includes Canada, the United States, and Mexico. The airline will increase its flights to Washington to a daily service, representing an addition of three weekly flights compared to the previous winter.
Most US destinations will offer KLM's Premium Comfort Class, featuring comfortable seats, extra legroom, and a private catering concept.
In Canada, KLM is boosting seat capacity by over 20% compared to the previous year. There will be an average of eleven weekly flights to Toronto, four to Montreal, three to Edmonton, seven to Calgary, and four to Vancouver.
Caribbean and Suriname
KLM will operate daily flights to Curaçao, with an increased frequency of 11 flights per week during peak periods, such as Christmas and spring holidays.
For Aruba, KLM will maintain daily service in conjunction with Bonaire, using Airbus A330-200 or A330-300 aircraft, consistent with its summer 2023 operations.
St. Maarten will be combined with Port of Spain in Trinidad and Tobago, with three to four weekly flights to this destination. Paramaribo in Suriname will be served six times a week using B777-300 aircraft.
South America
KLM is set to provide daily services to various South American destinations, including Argentina, Brazil, Chile, Colombia, and Panama. Buenos Aires in Argentina will be combined with Santiago de Chile, maintaining the previous year's schedule. San José in Costa Rica will see four weekly flights, either direct or with a stopover. There will also be six flights each week to Lima in Peru, as well as to Quito and Guayaquil in Ecuador.
Africa
KLM will continue daily operations in two South African cities: Johannesburg and Cape Town. Additionally, daily 777-300 flights will connect to Nairobi and Accra.
Passengers will have multiple options for traveling to Tanzania, with five weekly flights to Kilimanjaro in conjunction with Dar es Salaam and two flights to Zanzibar and Dar es Salaam. KLM will serve Lagos in Nigeria with six flights a week, and Kigali in Rwanda and Entebbe in Uganda will both receive five weekly flights this winter.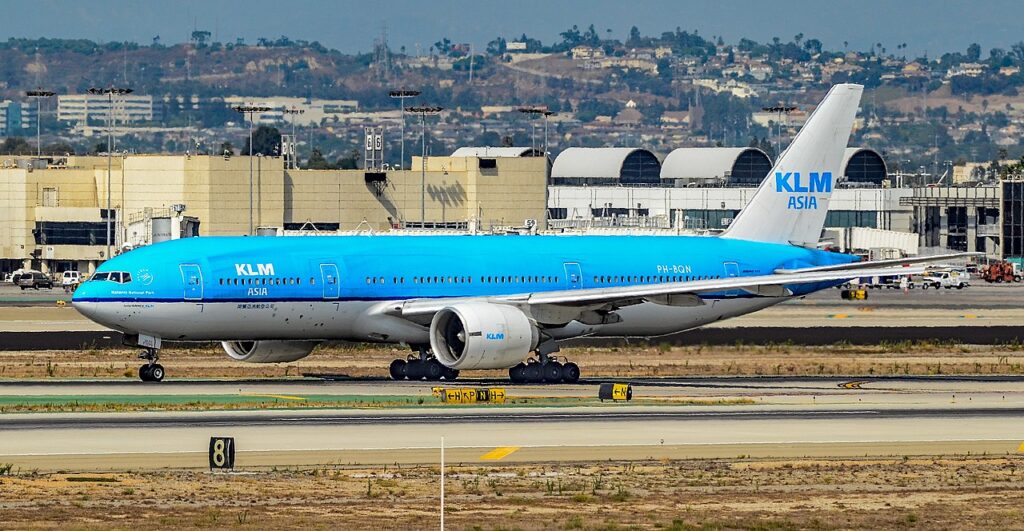 Asia and the Middle East
In Asia, KLM will reintroduce the route to Taipei, combined with Manila, operating four times a week. Stopovers in Seoul and Bangkok have been suspended. It's important to note that capacity in Asia is still recovering from the impact of the Covid-19 pandemic.
Key destinations include:
Daily services to Beijing and Shanghai in China.
Four direct flights per week to Hong Kong, an increase of one flight from the previous winter.
Non-stop daily flights to and from Tokyo Narita in Japan, offering three additional flights per week compared to the previous year. The Osaka route will operate three times a week.
Six flights per week to Seoul in South Korea.
A daily flight to Bali with a stopover in Singapore, following the 2022 schedule.
Five weekly flights to Jakarta in Indonesia with a stopover in Kuala Lumpur, Malaysia.
Daily flights to Bangkok in Thailand.
Daily service to Mumbai and Delhi in India, with an additional flight to Bengaluru compared to the previous winter.
Daily flights to Dubai and increased capacity on the routes to Riyadh and Dammam now offer six weekly flights. This is one extra flight compared to the previous winter.
KLM has decided not to serve several intercontinental destinations this winter, including Barbados, Kuwait, Bahrain, and Muscat. The capacity freed up from these routes will be allocated to other destinations.
Stay tuned with us. Further, follow us on social media for the latest updates.
Also Read: US Airlines, Including American, United, Delta, and Southwest, want you to Dress Properly – Aviation A2Z
Join us on Telegram Group for the Latest Aviation Updates. Subsequently, follow us on Google News.