HAMBURG- LATAM Airlines (LA) has taken delivery of its inaugural Airbus A321neo, which is leased from AerCap, and has additionally placed an order for 13 more A321neo aircraft as part of its strategy to expand its route network and promote regional growth.
This marks the first delivery from a previously committed backlog of 76 A321neo aircraft. In total, LATAM has a total of 111 A320 Family aircraft that are scheduled for delivery.
LATAM First A321neo Delivery
The newly delivered A321neo for LATAM can accommodate up to 224 passengers and is equipped with Airbus' Airspace XL bins within the cabin.
These larger bins offer a 40% increase in storage capacity and allow for 60% more carry-on bags, contributing to a more convenient boarding experience for both passengers and cabin crews. Notably, the newly delivered A321neo completed its journey with 49% Sustainable Aviation Fuel (SAF).
Ramiro Alfonsín, Chief Financial Officer of LATAM Airlines Group, emphasized, "Our fleet renewal and modernization strategy is fully aligned with our sustainability commitment and brings us closer to the goal of becoming a carbon-neutral group by 2050. We will continue to work on enhancing the current fleet with next-generation aircraft to improve our connectivity further while caring for the environment."
Christian Scherer, Chief Commercial Officer and Head of Airbus International expressed gratitude for LATAM's continued trust in Airbus aircraft, highlighting that the selection of the A321neo also accelerates LATAM's decarbonization efforts, as these aircraft are at least 20% more fuel-efficient, emit 20% less CO2, and produce 50% less noise compared to previous-generation models.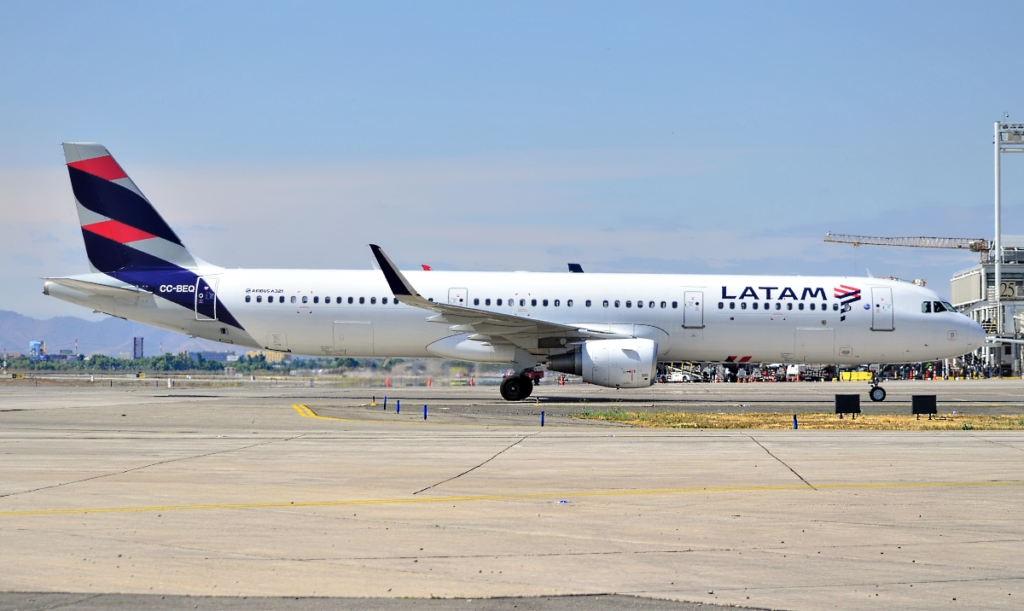 Largest Operator in Latin America
The A321neo, the largest variant within Airbus' highly popular single-aisle A320 Family, allows operators to serve the entire market while offering the lowest seat-mile cost among single-aisle aircraft. Customers worldwide have placed orders for more than 5,200 A321neo aircraft.
LATAM Airlines Group and its affiliated carriers constitute the leading group of airlines in Latin America, with a presence in five domestic markets in the region: Brazil, Chile, Colombia, Ecuador, and Peru.
They also operate international routes covering Europe, Oceania, the United States, and the Caribbean. LATAM currently operates 240 Airbus aircraft, making it the largest Airbus operator in Latin America.
In July of this year, LATAM received a new Airbus A320neo, marking the first delivery using 30% Sustainable Aviation Fuel (SAF).
Strong Presence
Airbus has sold over 1,150 aircraft in Latin America and the Caribbean, with more than 750 of them currently in operation across the region and more than 520 in the order backlog, giving Airbus a market share of 58% for in-service passenger aircraft.
Since 1994, Airbus has secured 75% of net orders in the region.
In 2016, Airbus became the first aircraft manufacturer to offer SAF to customers during delivery flights. Presently, both aircraft and helicopters leave Airbus delivery centers with SAF onboard. SAF is recognized as a vital element in achieving emissions reduction targets.
Stay tuned with us. Further, follow us on social media for the latest updates.
Also Read: US Airlines, Including American, United, Delta, and Southwest, want you to Dress Properly – Aviation A2Z
Join us on Telegram Group for the Latest Aviation Updates. Subsequently, follow us on Google News.