ATLANTA- Skytrax, during Paris Air Show 2023, revealed its Best Airline Awards for 2023, and North American Delta Air Lines (DL) named the best in the continent.
Airlines often struggle to improve the travel experience, yet they seem adept at causing disruptions. As the summer travel season peaks, travelers seek ways to transform flying from an ordeal into a vacation.
While you can't control airport chaos or the surging crowds, you can select the airline that offers the best chance for a seamless journey and an enjoyable in-flight experience. This is precisely why an increasing number of travelers are opting for Delta Air Lines (DL).
Five Reasons: Why Delta is Best Airline in North America?
Delta secured the top position for both Best Airline and Best Airline Staff Service in the U.S. and Canada for the second consecutive year.
This Atlanta-headquartered airline also garnered several other prestigious awards:
Best Cabin Crew in the USA
Best Business Class in North America
Best Business Class Seat in North America
Best Premium Economy in North America
Best Premium Economy Seat in North America
Best Economy Class in North America
Ranked 20th Best Airline Globally
So, what makes travelers so fond of Delta? Here are five factors reported by TraveloffPath explaining why Delta has recently been awarded the title of the best airline in North America: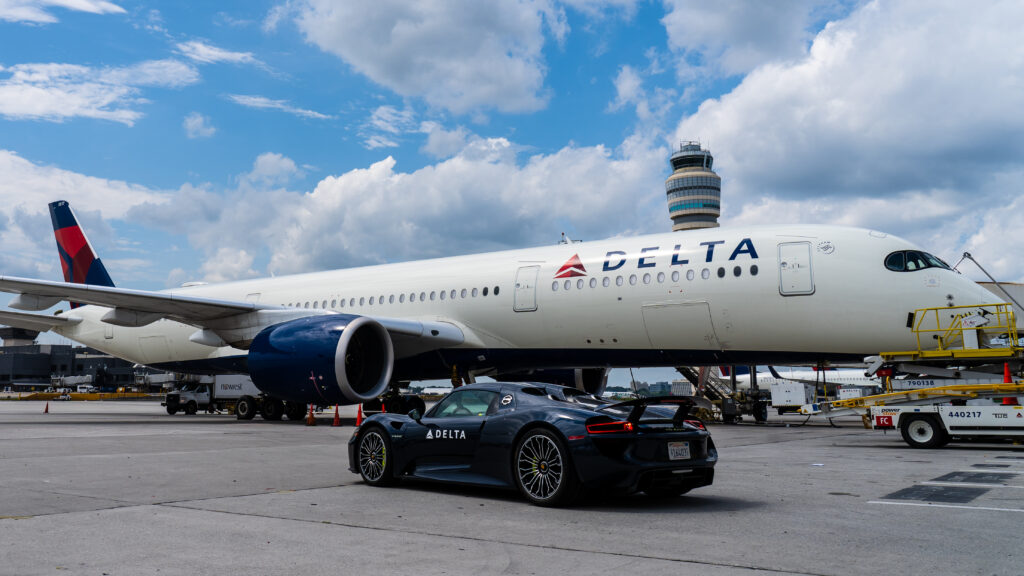 1) Reliable and Trustworthy
Skytrax isn't the sole ranking that acknowledges Delta's exceptional performance within the industry.
The Points Guy, for five consecutive years, has bestowed the title of the best airline in the U.S. upon Delta. It is a recognition largely attributed to its impressive scores in the reliability category.
Brian Kelly, the CEO of The Points Guy, recently shared his perspective on Delta's exceptional performance with CBS News.
He stated, "When you purchase an airline ticket, especially at today's high prices, your primary expectation is to reach your destination, and this is where Delta truly shines," according to Kelly.
Delta stands out by overbooking fewer flights and encountering fewer passenger displacements than any other North American airline. Remarkably, out of nearly 161 million Delta passengers in the previous year, only two were involuntarily denied boarding.
Furthermore, Delta boasts the lowest figures for flight delays and cancellations among the major North American carriers, a crucial aspect for travelers.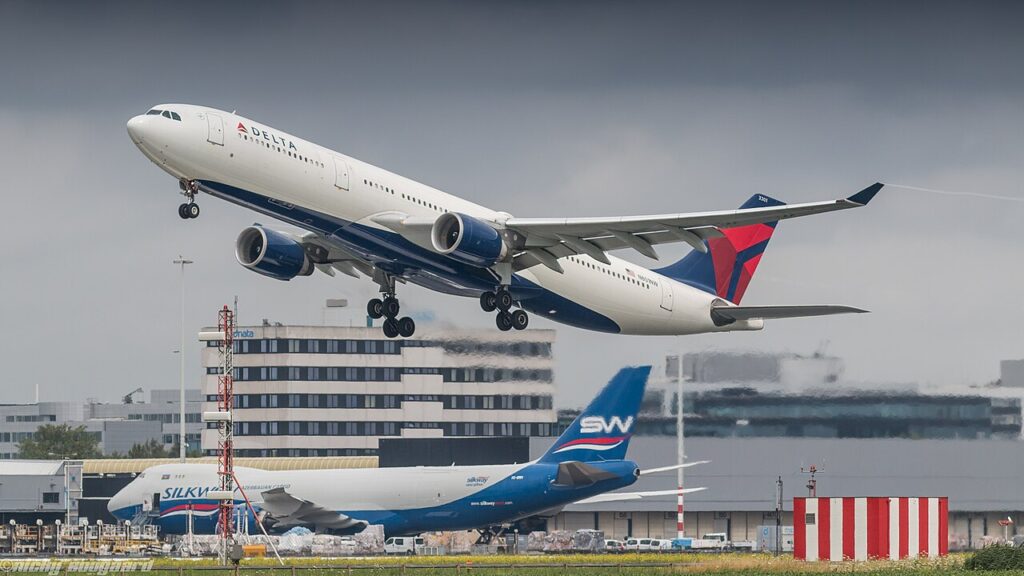 2) Most Punctual Carrier
Delta stands out as the most punctual airline in the United States – a fact that is remarkably straightforward.
Based on data from the U.S. Department of Transportation, 83% of Delta's flights adhered to their schedule and arrived on time throughout 2022. Further, this figure surpasses those of its U.S. competitors by over 3 percentage points.
Delta's commitment to timeliness extended into the initial quarter of 2023, maintaining an 81% on-time arrival rate for its flights. Further, in the month of May, a remarkable 89% of Delta's flights achieved on-time arrivals, as reported by Cirium.
Notably, Delta's major hubs located in Detroit, Minneapolis, and Salt Lake City earned recognition by ranking among the top 20 airports globally for both on-time departures and arrivals during the first half of 2023.
Ultimately, Delta emerges as the prime choice for North American travelers, providing the highest likelihood of reaching their destinations promptly and without the disruptions of delays or cancellations.
3) Delta has the Best Baggage Management
It takes the lead in ensuring passengers and their belongings reach their intended destinations punctually, outperforming its competitors in this aspect.
Delta stands as the full-service North American carrier with the most favorable record in preventing the loss of luggage.
In the previous year, they encountered mishandled luggage at a rate of less than 0.6%, which is significantly lower than American Airlines' rate. This achievement earned Delta a spot among the ten best U.S. airlines for efficient baggage handling.
Additionally, Delta extends a generous compensation policy for late baggage. In instances where your checked bag takes more than 20 minutes to arrive on the carousel after your domestic flight lands, Delta rewards you with 2,500 bonus miles as a token of its commitment to customer satisfaction.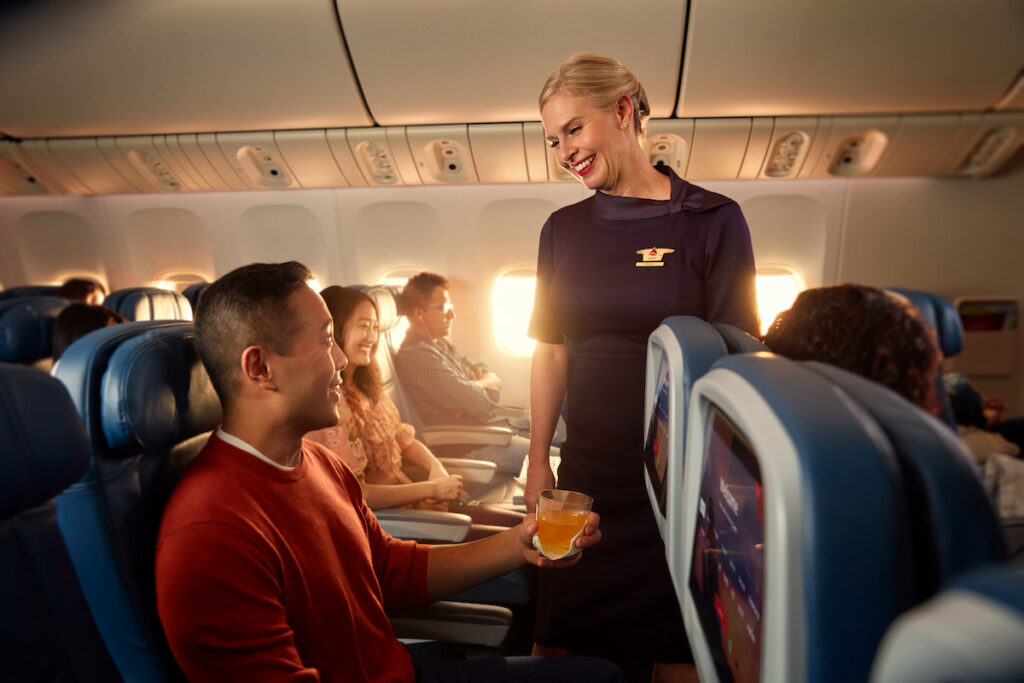 4) Top Quality Onboard Services
Passengers greatly appreciate the convenience and cost-effectiveness of staying connected during their flight.
Delta provides members of its complimentary SkyMiles rewards program with complimentary access to in-flight Wi-Fi with speeds of up to 15 Mbps and free access to iMessage and WhatsApp services.
Ensuring your devices stay charged on Delta flights is also a hassle-free affair. USB ports are available at every seat, and the majority of seats, including those in economy class, are equipped with A/C power outlets.
Delta is the undisputed leader in providing exceptional in-flight connectivity, catering to leisure and work needs. The airline recognizes that you shouldn't have to upgrade to first class to experience comfortable travel without discomfort.
Delta's economy class offers more room compared to the industry average, featuring broader seats and increased legroom. Passengers have consistently praised this enhanced comfort, leading to Delta's economy seat being repeatedly voted as the most comfortable option.
Delta's Comfort Plus offers an attractive solution for travelers seeking extra personal space beyond economy class. Comfort Plus provides an enhanced experience at a fraction of the cost of first-class accommodations with up to four additional inches of legroom and increased recline.
5) Seamless Customer Service
While nobody relishes having to contact customer service, Delta passengers tend to have more positive interactions than many others.
Delta consistently secures a place in the top two positions among U.S. airlines when it comes to customer service and overall customer satisfaction, as affirmed by assessments from entities such as J.D. Power, Expedia, and Forbes, among others.
To be fair, Delta's phone wait times can occasionally be similar to those of other airlines, especially during peak travel periods.
That's precisely why numerous passengers appreciate the enhanced capabilities of the Fly Delta mobile app. This app empowers them to modify or cancel flights, utilize credits, and even make last-minute flight changes without needing to engage with customer service.
For matters requiring more intricate handling, the app's text chat and callback features can significantly expedite customer service. In some cases, these tools have succeeded in reducing Delta passengers' customer service wait times to under 5 minutes.
Delta has even established a dedicated "emergency" phone line (1-855-548-2505) specifically tailored to passengers facing urgent issues regarding their upcoming travel within the next 48 hours. This special line is designed to provide the shortest possible wait times for immediate assistance.
While it's true that no customer service system can be flawless, Delta is succeeding in maintaining higher levels of passenger satisfaction than its competitors.
Stay tuned with us. Further, follow us on social media for the latest updates.
Also Read: US Airlines, Including American, United, Delta, and Southwest, want you to Dress Properly – Aviation A2Z
Join us on Telegram Group for the Latest Aviation Updates. Subsequently, follow us on Google News.