LONDON- On July 21, 2023, American Airlines (AA) Passengers onboard the flight from London (LHR) to Los Angeles (LAX) faced an unexpected ordeal as their aircraft was forced to divert back to Heathrow Airport shortly after takeoff.
The diversion occurred due to a technical problem that left all the airplane's lavatories out of action.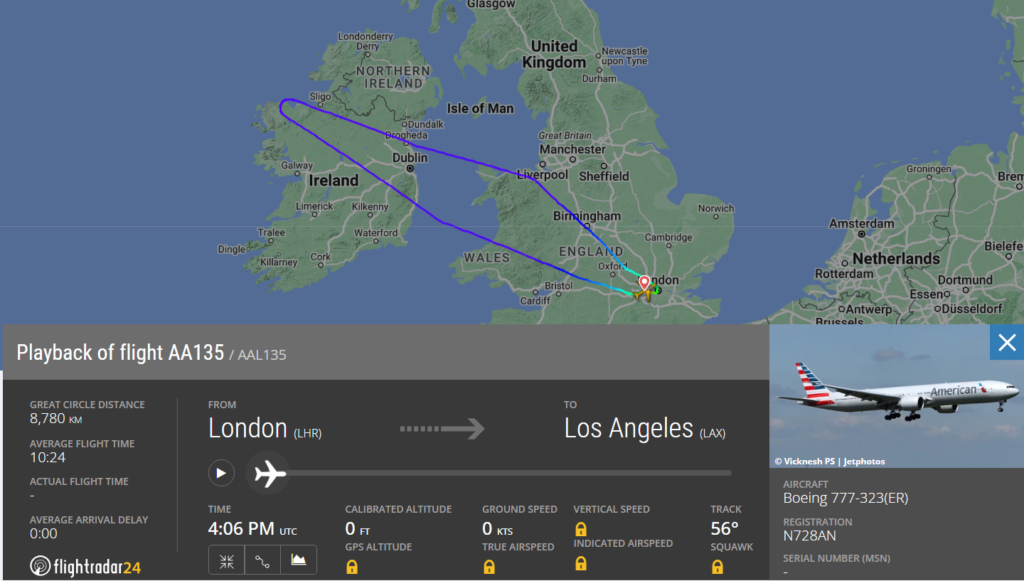 American Airlines Flight Diverted
The flight, operated by American Airlines as AA135, had already experienced a delay of over two hours as aircraft maintenance engineers worked to fix trouble with the waste disposal system. Unfortunately, the issue resurfaced once the Boeing 777-300 took off en route to California.
While flying over the west coast of Ireland, the pilots were compelled to execute a 180-degree turn and head back to London Heathrow due to the lavatories' malfunction.
The nine-year-old aircraft, with a maximum capacity of 304 passengers in the configuration used by American Airlines, landed back in London less than two hours after departure.
Regrettably, the problem persisted, necessitating passengers to spend the night in London before the aircraft could be repaired and put back into service the following afternoon.
Rare Incidents but Not Unprecedented
Incidents of lavatories malfunctioning onboard flights are uncommon but not unheard of.
In November of the previous year, a Jet2 flight from Gran Canaria to Manchester faced a similar situation, diverting to Bilbao so passengers could use airport facilities due to onboard lavatories malfunctioning.
In that instance, the issue arose from waste tanks that had not been emptied, causing a prolonged hold before landing clearance was granted.
American Airlines' Response
Under European flight delay rules adopted and adapted by the British government post-Brexit, passengers affected by the American Airlines incident may be eligible to claim compensation for their delayed arrival.
American Airlines has not issued a statement regarding the incident or provided an explanation for the lavatory malfunction.
While such occurrences remain rare, airlines prioritize passenger safety and comfort, addressing technical issues promptly to minimize flight disruptions.
Stay tuned with us. Further, follow us on social media for the latest updates.
Also Read: US Airlines, Including American, United, Delta, and Southwest, want you to Dress Properly – Aviation A2Z
Join us on Telegram Group for the Latest Aviation Updates. Subsequently, follow us on Google News.