TEXAS, U.S.- Like many other airlines, American Airlines (AA) has seen a remarkable demand rebound following the pandemic, leading to record revenues.
However, this resurgence has brought its own set of challenges, as labor groups are now seeking substantial pay raises.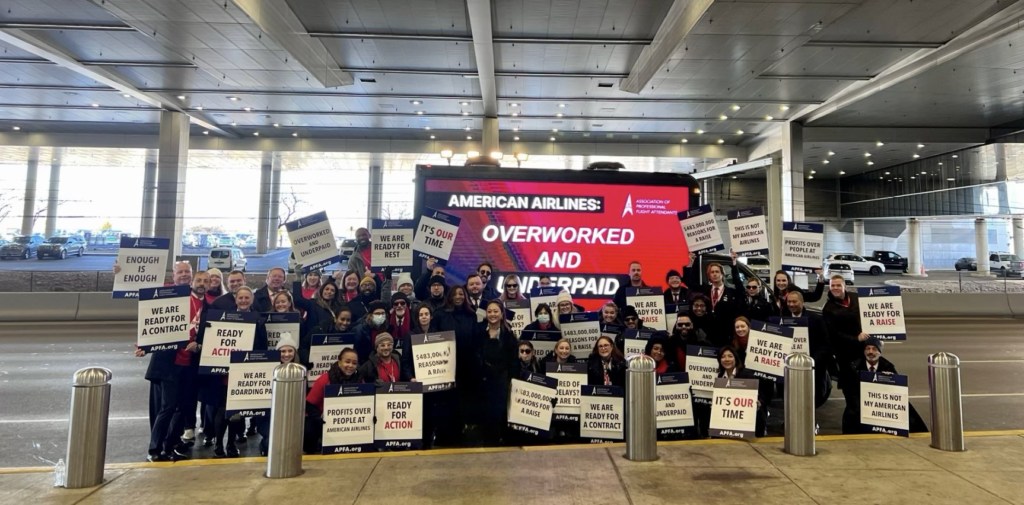 American Airlines Attendant Can Go on Strike
American Airlines recently agreed with its pilots union for a new contract, which is currently up for a membership vote.
This agreement comes after pilots authorized a strike. Meanwhile, the focus has shifted to the American flight attendant union, the Association of Professional Flight Attendants (APFA), as negotiations for a new contract have become contentious, raising concerns about an impending strike vote.
The APFA has been engaged in negotiations with American Airlines for an extended period. Dissatisfied with the lack of progress, the union now demands significant pay increases.
Among their demands are an immediate 35% pay raise and 6% annual pay increases in subsequent years. Additionally, flight attendants are seeking boarding pay, increased compensation for working international flights and premium cabins, and other improvements.
Although negotiations started before the pandemic, they were put on hold during its onset and resumed in August 2021. Yet, even after nearly two years, both parties have failed to reach a mutual agreement.
Federal mediators have joined the bargaining table to facilitate progress, attempting to bridge the gap between the airline and its flight attendants.
Strike Authorization Vote on the Horizon
In a recent development, the APFA Negotiating Committee recommends approval for a strike authorization vote among its members.
The union aims to convey a clear and definitive message to American Airlines, the media, and the flying public about their determination to secure the contract they believe they deserve.
However, it's essential to note that the process for a strike is subject to the Railway Labor Act's procedures. Even if the flight attendants vote in favor of a strike, it would only be allowed (eventually) if the mediation process fails.
Moreover, a 30-day cooling-off period must ensue before any strike could take place.
Despite the escalating tensions and the potential strike authorization vote, an immediate strike during the summer travel rush seems highly improbable. The negotiations may continue for a while longer before any significant disruptions occur.
American Airlines finds itself in a tough position, with flight attendants seeking substantial pay raises comparable to those recently granted to pilots.
While flight attendants have collective bargaining power, management may be less inclined to meet their demands, especially given the prevailing pilot shortage and the challenges of training new pilots.
Bottom Line
As negotiations between American Airlines and its flight attendants continue to stall, the possibility of a strike looms on the horizon.
While flight attendants express their frustration with the lack of progress, the airline's management faces the challenge of balancing labor demands with operational and financial considerations.
Although a strike seems unlikely in the short term, the ongoing dispute highlights the complexities of labor relations within the aviation industry.
Stay tuned with us. Further, follow us on social media for the latest updates.
Also Read: US Airlines, Including American, United, Delta, and Southwest, want you to Dress Properly – Aviation A2Z
Join us on Telegram Group for the Latest Aviation Updates. Subsequently, follow us on Google News.