DALLAS- American Airlines (AA) pilots union is set to vote this month on a new contract that includes a substantial pay increase of approximately 21% for this year.
The proposed deal, which includes back-dated raises dating back to 2020 and additional increases in the coming years, will be put forward for a ratification vote by the Allied Pilots Association (APA) members, representing over 15,000 pilots at American Airlines.
American Airlines Pilots Will Vote for New Contract
On Friday, the APA announced that its board of directors had unanimously voted to send the tentative agreement, which was reached in May, to its membership for a ratification vote.
This vote will determine whether the agreement becomes American Airlines pilots' new collective bargaining agreement. The voting period for members will be from July 24 to Aug. 7, allowing ample time for pilots to review and cast their votes.
If ratified, the new contract will be effective for four years, with an amendable date set for Aug 1, 2027.
Pilots will receive retroactive payments based on eligible earnings, including a 4% increase for 2020, 4% for 2021, 14% for 2022, and approximately 21% for 2023 during the three months prior to the signing of the agreement.
In addition to the pay raise of about 21% for this year, American pilots would see subsequent increases of 5% in 2024, 4% in 2025, 4% in 2026, and 3% in 2027. The contract also outlines a 17% contribution to pilots' 401(k) plans in 2024, increasing to 18% in 2026.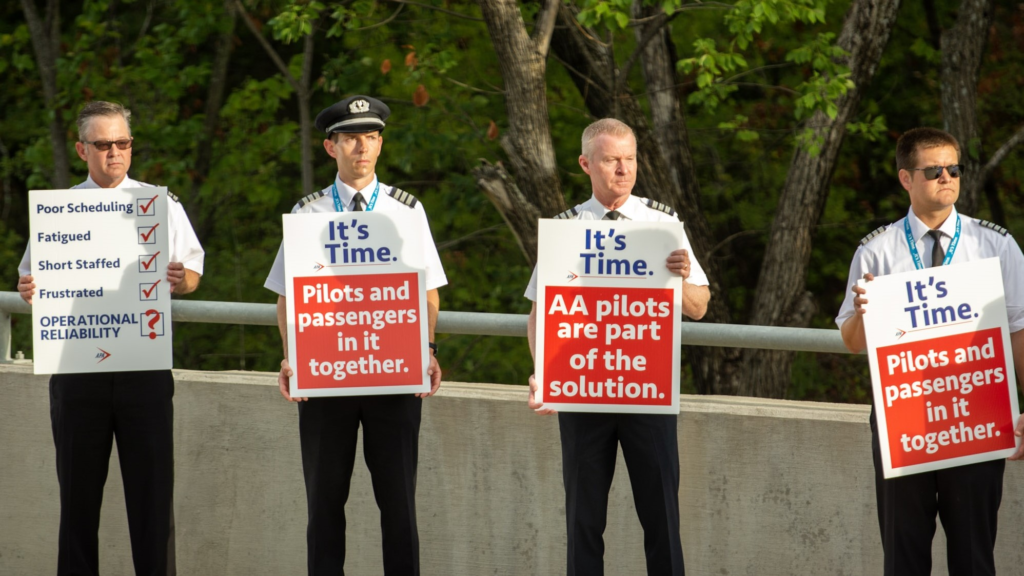 Enhanced Profit Sharing and Other Benefits
Under the proposed contract, profit sharing for American pilots would be improved to align with Delta Air Lines, reaching 10% up to $2.5 billion in pre-tax profit and 20% for any profit exceeding that amount.
The agreement also includes new provisions related to benefits, long-term disability, and other quality-of-life enhancements specific to American Airlines pilots.
Sarah Jantz, spokesperson for American Airlines, expressed the company's appreciation for the APA board of directors' review of the proposed tentative agreement.
She stated that the agreement would provide pilots competitive pay and profit sharing. Further bringing them in line with top industry standards. Jantz further emphasized that the contract reflects the company's commitment to its pilots and their well-deserved compensation.
While progress has been made in the pilots' contract negotiations, American Airlines still has ongoing discussions with flight attendants and passenger service agents. The goal is to reach mutually beneficial agreements with these employee groups as well.
Southwest Airlines Pilots Union Seeks Release from Mediation
In related news, the pilots' union at Southwest Airlines, based in Dallas, has requested to be released from mediation with the carrier after a three-year contract battle.
This move brings the union a step closer to potentially declaring a strike, particularly during busy travel periods if no resolution is reached.
Overall, the potential new contract for American Airlines pilots represents a significant step forward in compensation and benefits, aiming to align with industry standards and provide improved quality of life for the pilots.
Stay tuned with us. Further, follow us on social media for the latest updates.
Also Read: US Airlines, Including American, United, Delta, and Southwest, want you to Dress Properly – Aviation A2Z
Join us on Telegram Group for the Latest Aviation Updates. Subsequently, follow us on Google News.