DELHI- According to officials, an IndiGo (6E) Airlines flight carrying 108 passengers to Dehradun (DED) make an emergency landing at Indira Gandhi International Airport in Delhi (DEL) on Wednesday due to a technical problem.
Fortunately, the flight landed safely, and no injuries were reported, confirmed the police.
IndiGo Delhi to Dehradun Flight
The airline stated, "IndiGo flight 6E 2134, which was en route from Delhi to Dehradun, returned to its departure point due to a technical issue."
The pilot followed the necessary procedure and informed the Air Traffic Control (ATC), requesting a priority landing.
The aircraft safely touched down in Delhi and will resume operations after undergoing the required maintenance. Further, the airline expressed regret for any inconvenience caused to the passengers.
IndiGo officials dismissed reports suggesting that the emergency landing occurred due to an engine failure or fire.
"Contrary to such reports, the emergency landing is not a result of an engine failure or fire; it is solely due to a technical issue," they clarified.
Originally scheduled to depart from Terminal 2 of IGI Airport at 2:10 pm, the flight eventually took off at 2:36 pm, according to the airline.
A senior Delhi Police official confirmed that the IndiGo flight bound for Dehradun departed from IGI airport with 108 passengers on board.
However, due to a technical issue, the aircraft had to make an emergency landing at Delhi Airport. Thankfully, all passengers are safe, assured the police official.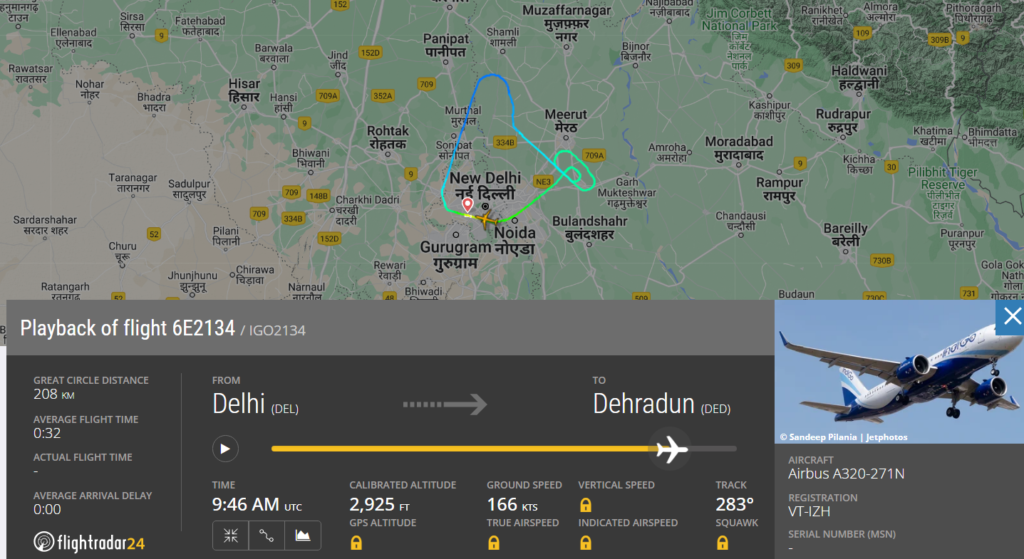 Flight Details
The IndiGo flight 6E2134 took off from DEL at 2:36 PM IST, with 15 minutes delay. It is scheduled to land at DED after covering 208 KM at 3:05 PM IST.
But the aircraft faced certain technical issues 10 minutes after the takeoff at around 2:46 PM IST. Following this, the 6E pilot contacted the ATC, and it made an Emergency landing at 3:19 PM IST.
The aircraft involved in the incident is an Airbus A320neo family jet. Further, IndiGo has placed a huge 500 aircraft orders for this same aircraft family type. The aircraft has the registration VT-IZH, and it is four years and seven months old.
Similar Incident
The United Kingdom-based Virgin Atlantic (VS) flight VS21 from London Heathrow Airport (LHR) to Washington (IAD), United States, has declared an Emergency.
The airline operating Airbus A330-300 is returning back to London Heathrow. Further, the aircraft has the registration G-VKSS.
According to Flight Radar 24, the flight tracking website, the Virgin Atlantic flight VS21 took off from Heathrow (LHR) at 6:19 PM UTC.
It is expected to land at Washington Dulles International Airport (IAD) after being airborne for almost seven hours. Further covering the approximately 6,000 km distance between the two important cities.
Stay tuned with us. Further, follow us on social media for the latest updates.
Also Read: US Airlines, Including American, United, Delta, and Southwest, want you to Dress Properly – Aviation A2Z
Join us on Telegram Group for the Latest Aviation Updates. Subsequently, follow us on Google News.