PARIS- The winners and the eagerly anticipated Airbus A350F final livery design have been unveiled at a special ceremony during the Paris Air Show.
After receiving an overwhelming 4,000 entries, the selection process proved challenging for its jury. Who ultimately chose two similar submissions and combined them to create the winning design.
Airbus extends its heartfelt congratulations to John Feehan and the talented brothers, Quinnten and Ellisten Iversen.
Airbus A350F Final Livery Winners
Congratulations to John Feehan, a 57-year-old graphic designer from Dublin, Ireland, and brothers Quinnten (16) and Ellisten (12) Iversen from Calgary, Alberta, Canada.
With a deep passion for aviation, Quinnten and Ellisten, who are aspiring pilots, drew inspiration from their love for planes. Further brought their creative concepts to life.
"I was reading the daily aviation news when the idea of "packaging boxes" suddenly clicked in my head. I sat down with my brother, and we started to bring our concept to life together"

Says Quinnten
John Feehan, encouraged by his aviation enthusiast son. He embraced the challenge of thinking outside the box to enter the contest. Further leveraging his graphic design skills.
"My son's enthusiasm for aviation affected the entire family. He pushed me to enter the contest, which was a good challenge to think outside the norm. I couldn't pass up the opportunity to work with a leader in aviation."

Says John Feehan
The Journey Ahead for the A350F
Before the chosen design materializes, the manufacturing of the A350F is already underway. Further progressing smoothly at Airbus plants.
The first parts of the center wing box have been assembled in Nantes, France. Subsequently, the center fuselage will be assembled and equipped in the near future.
By the end of 2024, Airbus anticipates painting the first aircraft. This will mark the winning design's realization as the A350F takes its maiden flight.
When it enters service in 2026, the A350F will boast an impressive payload capacity of up to 111 tonnes. Further, capable of covering a range of 4,550 nm.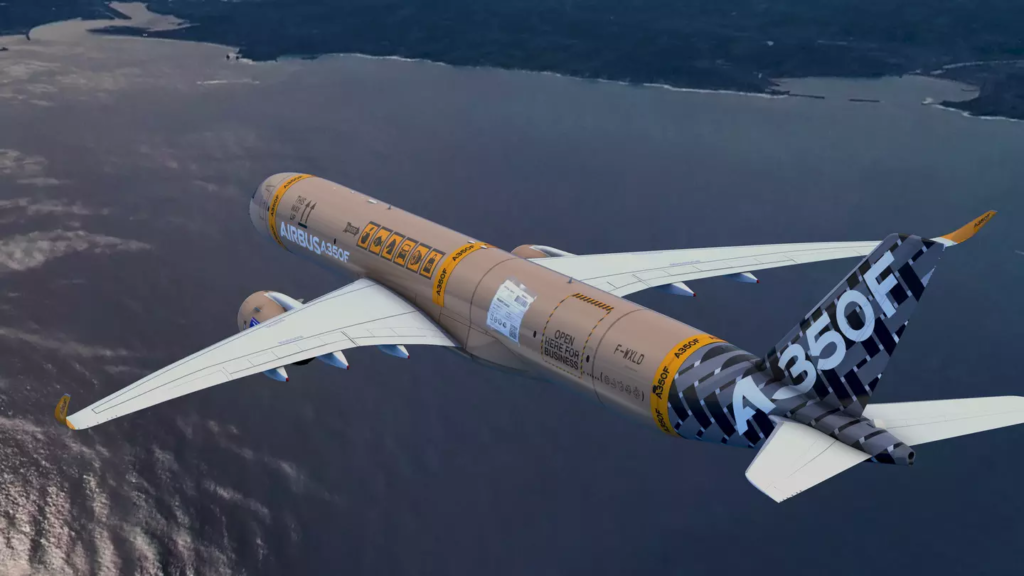 Discovering the A350F: Pioneering Sustainable Aerospace
The A350F Livery Design Competition aligns with Airbus' commitment to spearhead sustainable aerospace for a safe and united world.
Introduced in November last year, the A350F is a revolutionary large freighter that aims to reduce fuel consumption and carbon emissions by up to 40% compared to existing freighters.
Achieving this ambitious goal is made possible through a combination of factors. Advanced materials, state-of-the-art technologies, and the latest generation efficient engines contribute to significant weight savings, resulting in improved fuel efficiency.
As a result, the A350F offers the large air freight market an aircraft that is more operationally efficient, requiring less maintenance and delivering up to 40% cost savings compared to current freighters.
Equipped with an extra-large rear main deck cargo door and a heavy-duty powered loading system, the A350F can accommodate up to 42 pallets of goods, large modern aircraft engines, luxury cars, and even live animals as large as horses.
With eight different temperature zones, it can also transport perishable items such as fresh fish, vegetables, flowers, and vaccines while maintaining optimal conditions.
The A350F represents a significant step forward in the air freight industry, combining innovation, sustainability, and efficiency to meet the evolving needs of global cargo transportation.
Stay tuned with us. Further, follow us on social media for the latest updates.
Also Read: US Airlines, Including American, United, Delta, and Southwest, want you to Dress Properly – Aviation A2Z
Join us on Telegram Group for the Latest Aviation Updates. Subsequently, follow us on Google News.