DUBAI- Flydubai (FZ), the Dubai-based carrier, and Boeing announced today that flydubai committed to acquiring 30 Boeing 787-9 Dreamliners as part of the airline's strategy to diversify its fleet by introducing wide-body aircraft.
The signing ceremony took place in the presence of His Highness Sheikh Hamdan bin Mohammed bin Rashid Al Maktoum, Crown Prince of Dubai and Chairman of The Executive Council of Dubai; His Highness Sheikh Maktoum bin Mohammed bin Rashid Al Maktoum, First Deputy Ruler of Dubai and Deputy Prime Minister and Minister of Finance of the UAE; His Highness Sheikh Ahmed bin Saeed Al Maktoum, Chairman of flydubai; Boeing Commercial Airplanes President and CEO, Stan Deal; and Ghaith Al Ghaith, CEO of flydubai, during the opening day of the Dubai Airshow 2023.
Flydubai Orders Boeing 787
In response to the significant announcement, His Highness Sheikh Ahmed bin Saeed Al Maktoum, Chairman of flydubai, expressed,
"In 2008, when we placed our initial order for 50 Boeing 737 aircraft, we foresaw the crucial role flydubai would play in supporting Dubai's aviation hub. Today, I take pride in witnessing the continued evolution of flydubai, transcending labels and challenging traditional travel norms. This latest order underscores Flydubai's dedication to facilitating more accessible travel across its expanding network. The highly fuel-efficient Boeing 787 Dreamliner will empower flydubai to broaden its horizons and meet the growing demand on existing routes."
Discussing the aircraft selection, Ghaith Al Ghaith, Chief Executive Officer at flydubai, stated,
"Innovation is at the core of everything we do at flydubai. We are committed to providing the right product at the right time to meet evolving market and customer needs. The Boeing 787 Dreamliner offers an ideal blend of operational excellence, fuel efficiency, and passenger appeal."
Stan Deal, President and CEO of Boeing Commercial Airplanes, commented,
"The 787-9 is an ideal fit for flydubai's requirements as it seeks to establish new, longer-range routes and enhance capacity throughout its network. Passengers flying with flydubai will experience the Dreamliner effect—a unique airborne experience that offers increased comfort and leaves travelers feeling more refreshed upon arrival. We take pride in the continued trust that flydubai places in our products, opting for an all-Boeing fleet. We eagerly anticipate deepening this partnership and witnessing the pivotal role our 787-9 Dreamliners will play in flydubai's strategic expansion initiatives."
Flydubai's Aircraft Orders (2008-2023):
Farnborough Airshow, July 2008: Placed the initial aircraft order for 50 Next-Generation Boeing 737 aircraft, valued at USD 3.74 billion.
Dubai Airshow, November 2013: Placed the second order for 75 Boeing 737 MAX and 11 Next-Generation 737-800 aircraft, valued at USD 11.4 billion.
Dubai Airshow, November 2017: Placed the third order for 225 Boeing 737 MAX aircraft, valued at USD 27 billion, representing the largest single-aisle aircraft order in the Middle East.
Dubai Airshow, November 2023: Placed the fourth order for 30 Boeing 787 Dreamliners, marking its first wide-body aircraft order, scheduled for delivery in 2026 and valued at USD 11 billion.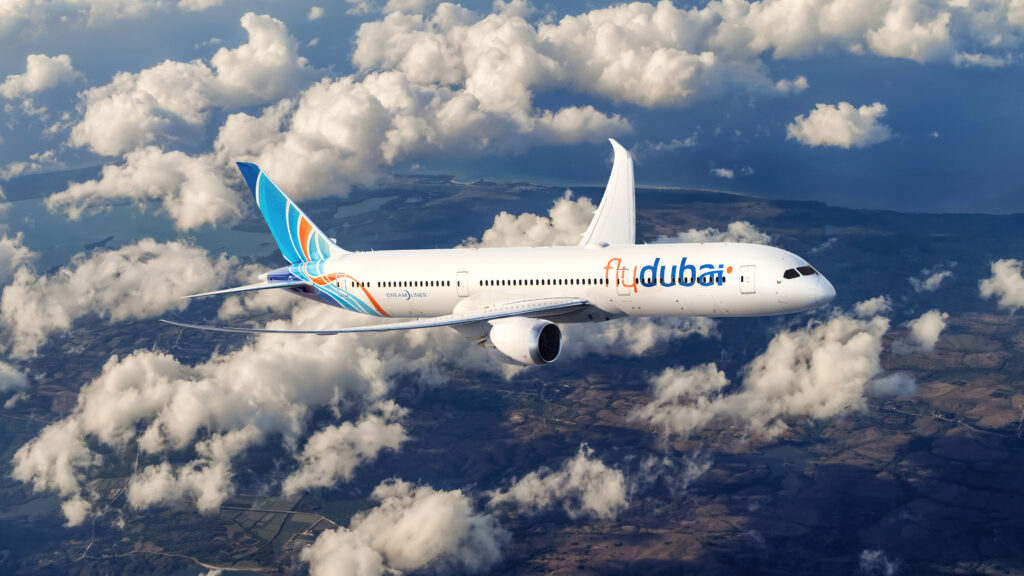 All Boeing Operator
The Boeing 787-9 aircraft can accommodate over 290 passengers and boasts a range of 14,010 km (7,565 nautical miles), along with increased cargo capacity. Since its commencement of revenue service in 2011, the 787 family has facilitated over 380 new nonstop routes globally.
Demonstrating its versatility and efficiency, half of all scheduled 787 Dreamliner flights cover short- and medium-haul markets below 5,000 km (2,700 nautical miles).
Flydubai operates an efficient single fleet comprising 80 Boeing 737 aircraft, including 30 Next-Generation Boeing 737-800, 47 Boeing 737 MAX 8, and 03 Boeing 737 MAX 9 aircraft.
The airline has an order backlog exceeding 130 Boeing 737 MAX aircraft, set for delivery by 2035. With a network spanning over 120 destinations in 54 countries from Europe to Southeast Asia, flydubai has established itself as a prominent player in the aviation industry.
According to Boeing's Commercial Market Outlook, the Middle East's fleet is anticipated to more than double over the next two decades. Almost half of these deliveries will involve wide-body aircraft, driven by the region's escalating role as a global aviation hub.
Stay tuned with us. Further, follow us on social media for the latest updates.
Also Read: US Airlines, Including American, United, Delta, and Southwest, want you to Dress Properly – Aviation A2Z
Join us on Telegram Group for the Latest Aviation Updates. Subsequently, follow us on Google News.